'The Masked Singer': All the Clues About Piglet's Identity and Who Fans Think It Is
The Masked Singer Season 5 is airing on Wednesdays on Fox, and the Piglet is an audience favorite after his soulful takes on some modern love songs.
The judges guesses for the singer include boy band icons like Zayn Malik, AJ McLean and Jonathan Knight, but based on the clues viewers think it is another boy band star behind the pig outfit.
The clues about Piglet's identity
First clue package
The package is reality-show themed, with Piglet appearing in a show called Love in the Mud
He calls himself a "part-time lover, full-time ham" and calls himself a "hopeless romantic" despite admitting to romantic troubles
There is also plenty of flower imagery. Piglet says he's "given away a few roses and the world saw my heart break" and has learned that "some flowers have very sharp thorns." He also throws rose petals
Other imagery includes a giant purple question mark, an alarm clock set to 6 o'clock, a yellow rose, and a fortune cookie
He also says, "it may sound crazy but I see a future on that stage... It may only be the first round, but I'm falling for you already."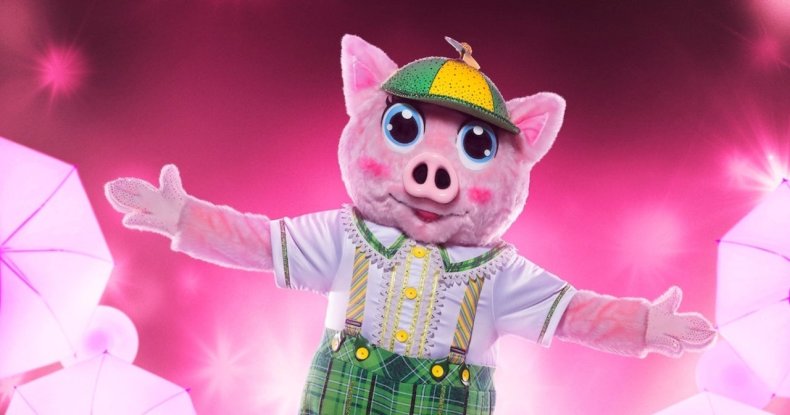 Second clue package
He says performing a love song in his first episode made him "feel right at home"
This second package is full of sports reference. He holds a football and we see him exercising in a locker room. He also talks about his competitive nature, how he "never throws in the towel" and how he is a "hometown hero"
He says of his career, "when I got to the big leagues, I never anticipated a lifetime of competition with my arch rivals"
He also says, "it's Friday night all over again, even on a Wednesday. Clear eyes, full belly, can't lose"
Other imagery: A whiteboard that reads, "Don't be a ball hog! 3528 Rushing In./Game," a knight, a red spot on a locker, a football helmet with a horse on it, a football stadium, and a scoreboard with the numbers 50:10, 11, 11, and 03 on it
Third clue package
The Piglet starts the third package in jail with a lollipop. He says, "years ago, I was really getting grilled"
He talks about meeting someone "unexpected," who he wants to grow old with, saying "she rescued me from the heat, and gave me a brand new start. And because of her, now I'm a family man"
Objects include a lei, a lamp, candles, a black spider with a pink bow, corn, palm trees, and a blue ribbon that says "1 DR"
Other clues
Said he "love[s] being on stage" after his first performance
Cluedle-Doo's clue: Piglet knows how to stay cool, even in the heat
First crush clue: He said of Meg Ryan, "look, I'm a romantic. She's the queen of rom-coms. It's a match made in heaven."
Meaningful object clue: Two dog tags and a charm in the shape of a letter P. "These dog tags represent the most important thing in my life. I always have them with me."
Songs performed
First performance: "Speechless" by Dan + Shay
Second performance: "Good to Be Alive (Hallelujah)" by Andy Grammer
Third performance: "7 Years" by Lukas Graham
Who fans think the Piglet is
The person who most Masked Singer fans believe the Piglet to be is Nick Lachey.
The Cluedle-Doo clue is the most obvious reference to Lachey's career – "the heat" being a reference to his temperature-named boy band, 98 Degrees.
The first clues package, with its very dating show vibe, seems to be a dual reference to Lachey's very public marriage and break-up with Jessica Simpson, whose marriage was the subject of reality show Newlyweds: Nick and Jessica. He is now also the host of Netlfix's dating show Love is Blind.
Lachey has also spoken about his dog tags before. He told Parents magazine in 2015, "I have a dog tag that Vanessa gave me with Camden's birthdate on it and now with Brooklyn's birthdate on it. That's my little symbol that they're always with me. That's why I always wear it."
The P charm seems like a reference to Lachey's youngest child with wife Vanessa, the four-year-old Phoenix.
As for "I never anticipated a lifetime of competition with my arch rivals," Lachey has previously talked about how the media tried to create a feud between 98 Degrees, the Backstreet Boys and N Sync. Asked by The Washington Post about inter-boy band rivalries, he said, "I think we just pretty much laughed about it. That was more a media-charged thing than anything else...it was definitely overblown in those days."
The Masked Singer Season 5 airs on Tuesdays at 8 p.m. ET (7 p.m. CT) on Fox.