'The Masked Singer': Who Went Home, Clue Packages and Best Fan Theories
The Masked Singer aired Wednesday night with a whole new group of celebrities. Taco, Banana, Kitty, Mouse, Elephant and Frog were the center of attention on the episode, which saw one unmasked already.
Fans had a handful of early theories for who could be under each mask. Piled together with the clue packages from Wednesday's episode, there's a chance viewers are already on the right track. Here's everything you need to know about the episode, clues, and guesses that could impact the rest of the season.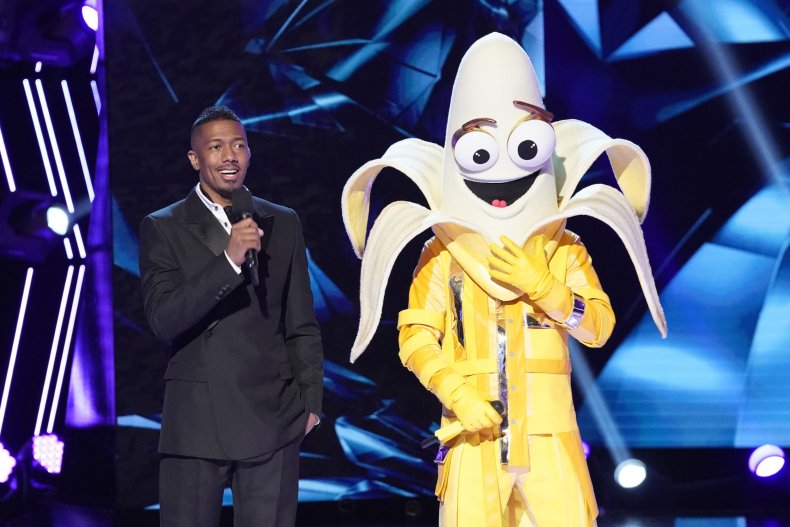 Frog
This dapper masked celebrity was the first to take the stage on Wednesday. Before his clues were shared, the judges commented on how small the celebrity must be, implying a lack of height in the costume. The clue package started with a "news flash" and claimed Frog has never had a chance to "do things my way." They mentioned both a lightning flash and a metamorphosis, seemingly related to their career. The video also showed $106.
To debut their "new side," Frog sang "U Can't Touch This" by MC Hammer. Judges had a handful of guests for the celebrity identity including former Olympian Michael Johnson, Carl Lewis and Ray J.
Fans had other ideas. Twitter users were quick to chime and suggest some musicians that could be under the mask. The first common guess was Bow Wow. Others guessed Kevin Hart as the celebrity in the costume.
Elephant
Elephant came next with some intriguing clues. The first was an obvious clue: Elephant sat down to play the drums, and seemingly called it their "calling." They said their career has allowed them to lead a parade to "white houses" They also claimed they've found a new calling. Bluebirds were a visual clue in the video.
The masked singer sang "Friday, I'm In Love" by The Cure. Judges were drawn to the clue that Elephant "led a movement." Lance Armstrong, Travis Barker and Tommy Lee were early guesses.
Online comments seemed certain one famous athlete may be under the mask. Many guesses kept with the theme of a possible athlete. Tony Hawk was guessed by many viewers.
Kitty
The glamorous Kitty's clues claimed they feel "at home among the weird and the wonderful" and that this "show is made for me." They followed up by explaining they'd like to "wipe the slate clean as the purest snow."
They also acknowledged that people acknowledge them as "the person I once was," seeming to imply their early career may have them stuck in a past public opinion. Rose petals were also shown, which judges immediately compared to The Bachelorette.
Kitty took the mike to sing "Dangerous Woman" by Ariana Grande. Judges guessed Julianne Hough, Paris Hilton and Nicole Richie, though they admitted they were totally stumped by Kitty's identity.
Fan guesses were lacking immediately after Kitty's performance. Twitter comments pointed to Keira Knightley and Christina Aguilera.
Taco
Taco took the stage with a bit of humor. They opened with a strong clue: Taco claimed to have been "a comforting part of your lives for decades." In addition, they claimed their routine can be a bit "mild," and they'd like to "spice up" their image.
On stage, Taco sang "Fly Me To The Moon" by Frank Sinatra, and debuted some impressive vocals. Judges were floored by Taco's performance and guessed Martin Short, Regis Philbin and Bob Saget.
Fans were majorly impressed with Taco's performance. They seemed to think Taco could be Tim Allen, Tony Bennett or Emeril.
Mouse
Mouse was up next with a loaded clue package. First, they claimed they're "small and cute." They also expressed that they're a "leader in [their] field" and "wrote the playbook." A whiteboard showed the words "bang bang formation." They also noted they "never accept anything less than gold."
The masked singer sang "Get Here" by Oleta Adams. Judges thought the celebrity singer may be Darlene Love, Dionne Warwick or Maya Rudolph.
Before the show aired, Mouse was rumored to be Hilton (who was a judge guess for Kitty.) Fans seemed to have strayed from their original prediction after hearing the celebrity sing. Comments suggested Mouse could be Warwick, even before the judges offered Warwick as a guess.
Banana
The wild Banana was last, and had some interesting clues. A cowboy hat was one of the first things pictured in the clue package. They admitted they're "tough on the outside but a total smoothie on the inside." A blue pet collar was spotted, just after Banana claimed they're fun to be around at parties.
Banana sang "A Little Less Conversation" by Elvis Presley. Judges guessed Bill Engvall, Ed Helms and Darius Rucker.
Fans thought Banana could be Engvall, too. Aside from the comedian, some guessed singers like Brett Michaels, Luke Bryan and Garth Brooks.
Who Went Home
At the end of the night, Elephant was the celebrity unmasked. The judges' panel was given another opportunity to guess the true identity before Elephant took off their mask. They continued with their original guess, Armstrong, adding Beto O'Rourke, Steve Aoki and Travis Pastrana.
While no judge guessed correctly, they were close. Elephant removed their mask to reveal skateboarder Tony Hawk as the masked singer. This means, many viewers were right.
Hawk explained some of his clue choices, like skating through the White House in 2010. He also claimed to choose "Friday, I'm In Love" was an ode to his wife, as the pair chose a song by The Cure as their wedding song.