California voters who show up at the polls on Election Day without masks on will still be allowed to vote in person, according to the state's election guidelines.
Exceptions to the state's mask mandate will be allowed to both ensure that every eligible voter who wants to cast their ballot is able to do so and to avoid confrontations at polling locations, according to the guidelines that the Los Angeles Times drew attention to in a report on Tuesday.
"Election workers must not turn a voter away for lack of face covering. The right to vote takes precedence," the guidelines said. Extra physical distancing may be needed to heighten safety measures, the guidelines added, but "confrontation is not advisable. Among other considerations, intense conversation and shouting increase the volume of exhalations and may increase risk."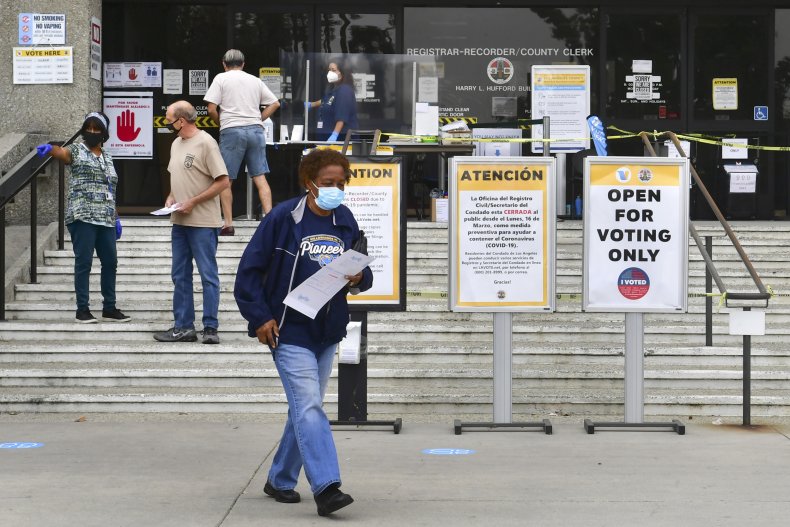 While the Centers for Disease Control and Prevention identified face coverings in April as a tool available to Americans to lower the risk of COVID-19 transmission, the agency left the decision regarding mask enforcement to the states, and some government leaders—including President Donald Trump—have questioned the necessity of face coverings. In California, Democratic Governor Gavin Newsom introduced a statewide mask mandate in June in response to the state's virus infection rate, which was rising at the time. California's mandate is still in place in several settings, including in all indoor public spaces and in outdoor public spaces where social distancing is difficult to maintain.
As California's case counts continued rising over the summer, California Secretary of State Alex Padilla issued guidance in July to help election officials prepare for the November 3 election. The recommendations, which were last revised on August 27, included protective measures for election officials, cleaning protocols for polling places and advice on how to encourage social distancing and mask-wearing at the polls.
Each county must provide election officials with masks for use at the polls, and face coverings must also be made available to voters who show up without them, the guidelines said. But if a voter refuses to wear a face mask, election officials cannot ask them to leave and must make it possible for them to vote safely.
"If a voter refuses to wear a mask, greater care must be given to maximizing physical distancing," the guidelines said. The voting booth that maskless voters use should be disinfected after every visitor, the guidelines added.
State election officials acknowledged the controversy surrounding face masks and devoted a section within the guidelines to advice on how poll workers could handle sensitive situations involving maskless voters. Poll workers were advised to prepare de-escalation exercises that they can use in the event that a maskless voter doesn't immediately realize that they will still be able to vote and becomes visibly or audibly frustrated. If those de-escalation exercises don't work, election workers should be ready to call security officials in to help, the guidelines said.
In response to the coronavirus pandemic, Newsom signed an executive order earlier this year designed to provide safe alternatives to in-person voting by declaring that all registered voters in the state would receive mail-in ballots for the 2020 election. According to Padilla's office, more than 4 million voters had already returned their mail-in ballots for this election season by Monday.
Even so, polling locations throughout the state will remain open on Election Day to assist voters who prefer to cast their ballots in person. The election comes at a time when several states have reported record-high numbers of new COVID-19 infections in recent weeks, and health experts have expressed concern that the cooling fall temperatures will continue to bring new infection spikes in the months ahead.
By Monday, October 19, California had an average seven-day positive testing rate of 2.4 percent, a rate that researchers at Johns Hopkins University said was well within the World Health Organization's guidelines for reopening. The state had a total of 870,791 reported infections and 16,970 virus-related deaths by the same date, according to the California Department of Public Health.
In a statement shared with Newsweek, the California Department of Public Health encouraged voters who choose to cast their ballots in person to follow local health officials' recommendations for protecting themselves and others from the virus.
"The state of California has provided an opportunity for every voter to vote-by-mail," the statement said. "If a voter chooses to vote in person, they should follow the protocols set up by their local public health officer. As always, CDPH recommends that when Californians go out into the community, they should do their part to limit the risk of COVID-19 transmission by wearing a mask, maintaining 6 feet of physical distance, and washing their hands frequently."
Updated 10/21 at 2:02 p.m. ET: This article has been updated to include a response from the California Department of Public Health.