Maskless Frat Party of Over 100 Students Linked to New Hampshire COVID-19 Outbreak
A fraternity party of more than 100 people at the University of New Hampshire has been linked to 11 new COVID-19 cases.
The cluster comes after students and non-students attended the party on August 29, organised by the Theta Chi fraternity, not wearing masks.
A statement by the university's president, James W. Dean Jr., said that the New Hampshire Department of Health and Human Services connected 11 positive cases, including members of UNH, to the gathering.
The fraternity has been placed on an interim suspension and all members of the organisation, located in Durham, N.H., are on a 14-day quarantine.
The Interfraternity Council, the coordinating and governing board of fraternities, together with the university have opened an investigation into Theta Chi.
The fraternity will also go through student conduct judicial proceedings by the university's Office of Community Standards, given the size of the party and the lack of mask-wearing, the president's release said.
"We will be pursuing student conduct charges against the organizers and all students who attended the event. Theta Chi is under interim suspension immediately, as will any fraternity/sorority or other student organization that behaves in a similar manner, while we conduct the investigation," the president said.
The statement also asked that anyone who attended the party and who is not a member of the fraternity but is part of the university's community to immediately quarantine.
"Let me be clear: this is reckless behavior and the kind of behavior that undermines our planning and will lead to us switching to a fully remote mode," Dean said.
"We have repeatedly asked all members of our community to practice and adhere to public health guidelines to reduce the spread of COVID (mask-wearing, social distancing, no large gatherings, etc) and I've been pleased that the overwhelming majority of you are following these guidelines."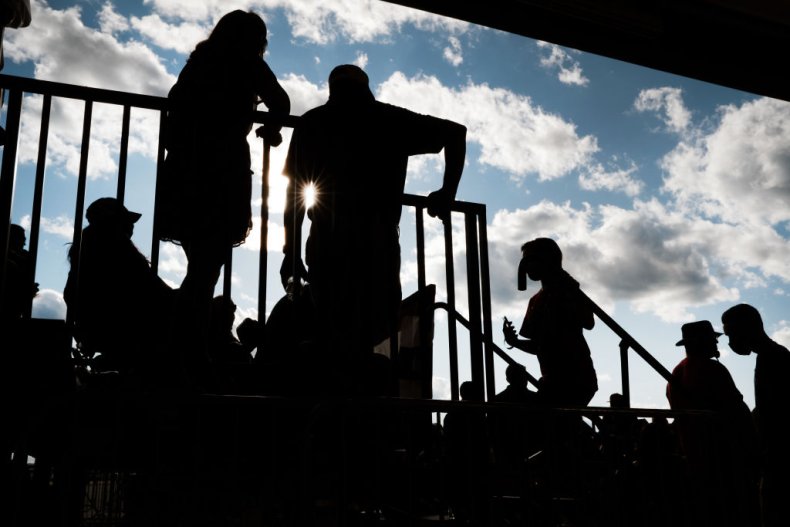 Classes at the University of New Hampshire began on August 31, with in-person and online options for students. Durham's campus, where the fraternity is located, has more than 15,000 students.
Coronavirus cases linked to another fraternity party at the Georgia Institute of Technology's Atlanta campus reached more than 600 last week. The Sigma Phi Epsilon fraternity first reported dealing with its outbreak and locking down its residence to non-members on August 22.
Confirmed coronavirus cases have reached 7,447 in New Hampshire, and 433 people have died from the virus according to the Johns Hopkins coronavirus resource centre. The state has one of the lowest rates of cases and deaths per 100,000 citizens.
The graphic below, provided by Statista, shows the spread of coronavirus across the U.S.