Maskless Guests at Biden's State of the Union Show Pandemic Policy Shift
Few masks were seen in the House chamber as guests began sitting for President Joe Biden's State of the Union address Tuesday night, highlighting the nation's changing stance on masks as a means of containing COVID-19.
Congress dropped its mask mandate on Sunday night, with Congress' attending physician Brian Monahan calling it "now an individual choice option." Previously, anyone without a mask in congressional chambers could have been fined or asked to leave, according to chamber rules.
Before the address, Interior Secretary Deb Haaland posted an image to Twitter showing herself and others closely congregating in a room, all maskless.
Last Friday, the U.S. Centers for Disease Control and Prevention (CDC) announced that most Americans could go maskless in areas with low COVID-19 hospitalization rates. But even before the CDC's announcement, almost all U.S. states had either ended their indoor mask mandates for businesses or announced an end date.
The lack of masks represents the Biden administration's shift toward preventing new cases and protecting Americans from severe symptoms through vaccines and antiviral treatments.
Conservatives, who have long railed against masks as ineffective violations against personal freedoms, criticized the lack of masks at Biden's address online.
Liz Harrington, a spokesperson for former President Donald Trump, wrote via Twitter, "The fact they can all decide to take their masks off today shows what a farce it was."
Charlie Kirk, the founder of the conservative student organization Turning Point USA, wrote on Twitter, "Isn't it convenient that 'The Science' around masks conveniently happened to change just 48 hours before Biden's State of the Union?"
However, KCBS reporter Doug Sovern noted via Twitter, "There are many empty seats in the House chamber for Biden's first #SOTU, some because of social distancing requirements, and some because of boycotting Republicans who did not want to submit the required negative #COVID19 test to attend. Masks no longer required."
Biden's address discussed the nation's changing attitude from the pandemic, especially after the Delta and Omicron variants initially scuttled initial hopes for a quick end to masking and vaccine mandates.
"I know some are talking about 'living with COVID-19,'" Biden said in his address. "Tonight, I say that we will never just accept living with COVID-19. We will continue to combat the virus as we do other diseases. And because this is a virus that mutates and spreads, we will stay on guard."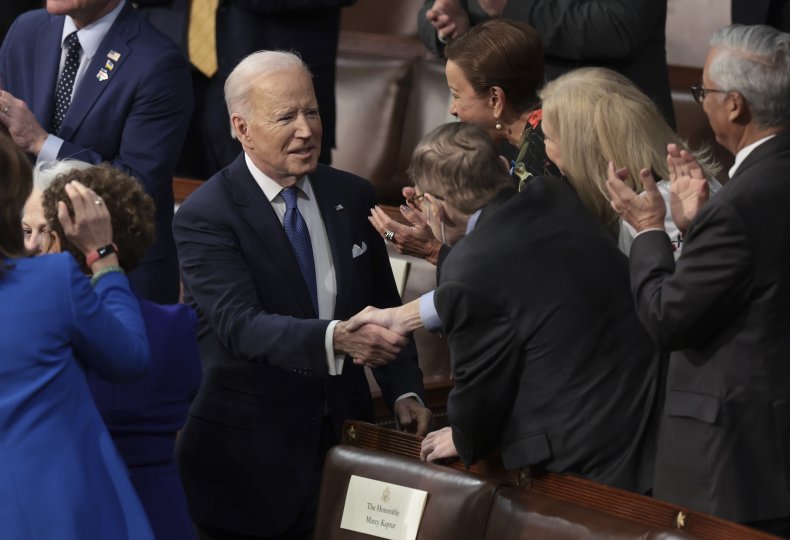 Biden said that his administration will continue providing funding to provide masks, free testing and antiviral treatments. He called for the end of school and business shutdowns and also said that if a new variant emerges, "We'll be able to deploy new vaccines within 100 days instead of many more months or years."
Tomorrow, the White House is expected to unveil a wide-ranging pandemic strategy that will continue to ease public health restrictions while transitioning to a "less disruptive endemic stage of the virus," Politico reported.
The plan will reportedly allot billions to continued vaccines, testing and treatment efforts while providing flexibility if a deadlier or more contagious variant of the virus emerges.
"Let's stop looking at COVID-19 as a partisan dividing line and see it for what it is: a god-awful disease," Biden said. "Let's stop seeing each other as enemies, and start seeing each other for who we really are: fellow Americans. We can't change how divided we've been. But we can change how we move forward, on COVID-19 and other issues we must face together."