Maskless Man Shoves Anytime Fitness Gym Trainer in Viral Video
The man captured on camera shoving a trainer at a gym during a dispute about mask-wearing has allegedly been arrested.
The man, identified by WBBM as 30-year-old Anthony Myers, is seen in the video pushing trainer Adrian Aguilar at an Anytime Fitness location in Chicago.
"Walk away," Myers is seen telling Aguilar, who had his hands up in the air. "Then I'll push you away."
He went on: "If you had just kept your f****** mouth shut and not played games, I'd be working out and you'd be minding your own business but you wanna be a big guy and you wanna play games."
The five-minute clip was initially posted on Facebook by Leo Mikulich on February 11. It went viral after being circulated on other social media platforms, including Twitter.
"My very own first hand account of white fragility in the wild," Mikulich wrote alongside the video. "This guy wouldn't wear his mask and the gym staff (who happened to be Mexican) had to address it. So the white guy did what white guys do and called the cops."
In the video, Myers—who is seen with a mask around his chin—says he was wearing his mask properly while working out.
"It was on when I was working out. It's down because I'm dealing with this s***," he says.
"It's a joke. You're ruining my f****** country," he later adds, pointing at Aguilar and other people in the vicinity.
After Aguilar says he is Mexican, Myers responds: "It's not a racist thing, it's a liberal thing."
Later in the video, Myers claims to be a lawyer and threatens to sue.
"What I am is a lawyer and I'm going to sue the f*** out of you," he says. "So I hope at the end of the day when I file this report and when I sue you guys that this is all worth it."
In a lengthy post on Facebook, Aguilar explained that the incident captured on camera occurred after prior attempts to get Myers to wear a mask, as per the gym's policy during the COVID-19 pandemic.
After the first attempt, Aguilar said Myers "unleashed a truly unhinged tirade that covered a lot of weird bases, but the takeaway was this: I was dealing with a very unstable person."
Aguilar said he called the gym's owner and had him speak to Myers directly. "He hung up on him and still refused to leave," Aguilar wrote.
"I feared that upon receiving the call, this guy might go bonkers and break things or hurt someone, so I quietly approached the members and one by one let them know that I felt like an altercation was probable and that they should be sure to be aware and be safe. I then went and positioned myself between the members and the trouble, just in case.
"Hooboy he REALLY didn't like that. That was what led to this video. "
Aguilar added that he kept his distance and had his hands up or behind his back "to indicate that I meant him no harm."
"I also continuously told him, 'I'm not going to touch you or do anything to you.' Despite all of that, he closed the distance and got physical. At some point, he called the cops himself and told them that I was a threat and a danger and that he didn't feel safe in my presence…," he wrote.
Aguilar added that what wasn't filmed was the next 90 minutes during which Myers told police that Aguilar had threatened him.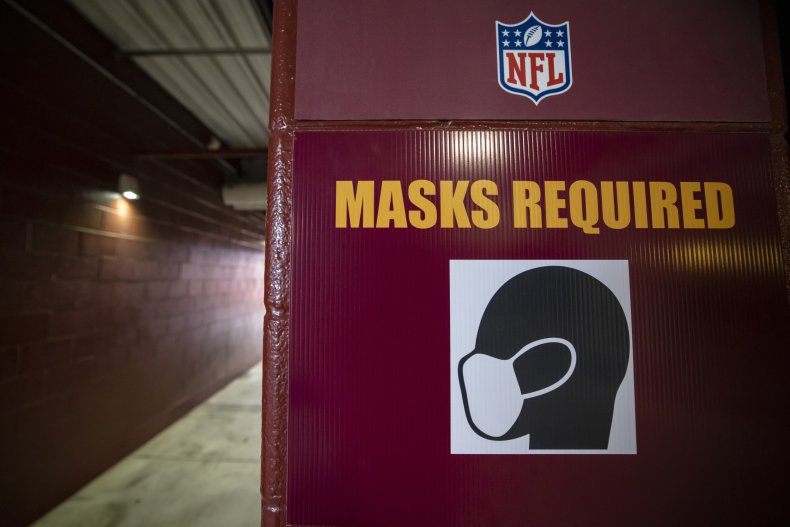 "The police looked at this footage, heard the testimony of all the members, and looked at our security cameras and essentially told him, 'what are you, nuts? There's nothing here but evidence of you attacking him, unprovoked,'" Aguilar wrote.
Aguilar said Myers was then arrested and led out of the gym.
"It's worth noting that on his way out, in the most low-budget, Scooby-Doo villain, hilarious way, he said 'This isn't over…'" Aguilar added.
Aguilar told Newsweek that he wants people to understand that "de-escalation and non-violence can and should be the proper tactics to handle a situation, even if one party tries to make it physical."
He added that he hopes Myers gets some help. "I hope a family member or friend can see what happened and support him in getting the help he needs," he said.
Myers is facing misdemeanor charges of trespassing and battery.
Anytime Fitness have been contacted for additional comment. Myers could not immediately be reached for comment.
A spokesperson for the Chicago Police Department declined to comment to Newsweek, citing a possible ongoing investigation.
This article has been updated with comments from Adrian Aguilar.