Masks Finally Arrive At Chicago Schools, But Parents Left Nervous on Supply
Chicago schools are finally receiving the KN95 masks that the teachers' union was promised by the district following a work stoppage last month, but the sluggish rollout of PPE resources has left some parents worried about what happens when these supplies run out.
Although the agreement with the Chicago Teachers Union was reached on January 12, the district wasn't able to immediately distribute the higher-grade masks, which have been recommended as the standard of protection against the highly contagious Omicron COVID variant.
School systems often need time to implement new policies or wait for materials to arrive, but during the city's Omicron wave, parents did not have time to spare to wait for the masks.
When masks weren't showing up at Chicago Public Schools' (CPS) Goudy Technology Academy, parent Kristin Brody joined her fellow local school council members in quickly securing KN95 masks for the students at her son's school.
Using the funds earned from renting out the school parking lot at night, the school council was able to buy more than 1,500 masks for Goudy students.
"We actually purchased our own," Brody told Newsweek. "We were given masks from our alderperson, which I was grateful for—not all of the city council people gave them directly to schools and ours did, he gave us 2,000 masks—and we ordered 1,600 masks on our own."
At the time of the CTU work stoppage on January 10, the district had more than 410,000 student KN945 masks on hand, plus another 80,000 from the Office of Emergency Management and Communications. The district also began receiving additional masks at its warehouse on January 14.
However, it was not until January 24 that Goudy eventually received its full allotment of 1,735 student KN95 masks.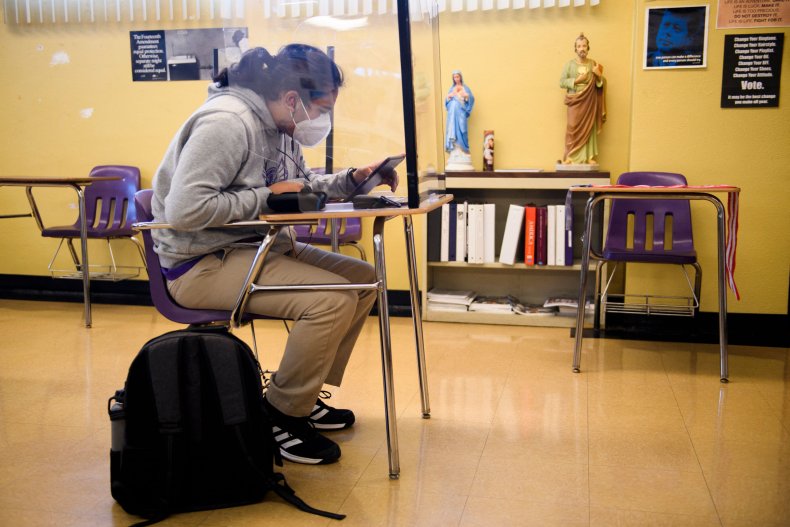 "I'm grateful for [CPS' distribution] because kids need masks and they're expensive and we're a school with overwhelmingly low-income families," Brody said, but she added that she worries what will happen when those masks run out.
"I believe they were given two to three masks per student, so that will last us two weeks," she said. "How is that support?"
A district spokesperson told Newsweek that KN95 masks are "replenished upon request" and that CPS plans to order four million more KN95 masks at the end of February.
To date, CPS says it has used $734 million to cover school re-openings, including costs related to PPE, technology, building supplies, cleaning, testing and vaccination efforts.
"I imagine now that the masks have been distributed this week, there will be some press release about how they spent X amount of dollars on masks," Brody said. "But the truth of the matter is—two years into this pandemic, a year and a half into that level of federal funds—we should have a very, clear accounting of exactly what happened."
Brody has also been frustrated by the lack of transparency provided about how federal COVID funds have been spent in Chicago's public schools, especially since her son's school has had a custodial vacancy this entire school year, which has left the cleaning of buildings up to other school staff.
"Why are we short a custodian when you've got $2 billion to make sure our schools are clean?" she asked.
She said that when she met with the Chicago Board of Education to express her concern, one of the board members suggested the school council host a job fair to fill the position.
"That was offensive," Brody said. "We are not Chicago Public Schools' human resource department. It is not for us to fill this position. It's for [the board]. They got back to us and said they were now offering bonuses to custodians and were trying to fill these positions but struggling to do it—Why weren't you offering bonuses when you got that $2 billion?"
Under the American Rescue Plan and CARES Act, Chicago Public Schools was allotted $2.6 billion in relief funding to use between 2021 and 2024.
Aside from the $734 million allocated to reopening—which covers emergency cleaning, the district also put aside $447 million to support teacher and school-support personnel costs.
"I was so glad to hear of all this money we were going to get, and our school did receive after-school money and we're grateful for those enrichment programs, but why on earth, with that level of money, are we still missing a custodian? Why are our children taking out the trash and our staff are helping to clean up?" she said. "It's mind-boggling."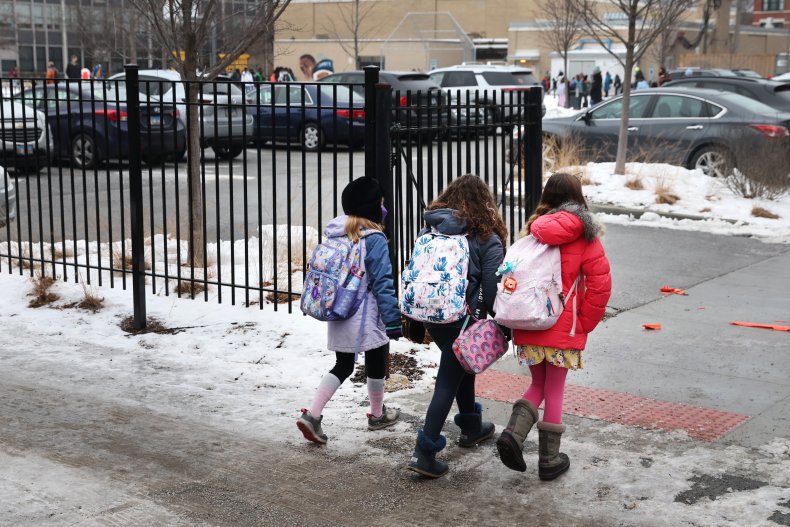 Brody said the uncertainty around COVID safety protocols at Chicago schools has put her in between a rock and a hard place.
"It's very nerve-racking to be in-person," she said. "Most of the people I know, know [kids] need to be in-person and that we could do it safely, but they're terrified to send their kids in because they know it's not safe."
"We don't have any other choices—you got to work, the kids need to be in person—but we could do this better," Brody added. "I'm personally very uncomfortable with my child being at school, I'm very uncomfortable with a lot of things, but I put them in a high-quality mask and I hope for the best."
She compared the protocols at CPS to those of private businesses—some of which have extensive contact tracing to prevent outbreaks.
"If [Cirque du Soleil] doesn't contain COVID at their Vegas show, they don't make their money, but [CPS] makes money on our kids," she said. "They give federal funding to the schools regardless of if we get sick or not."
"They don't seem to care about preventing the spread, they don't seem to care about providing the services our kids need and they sure don't seem to care about the incredible stress and trauma that has happened to our children, teachers and staff over the course of the last two years," she said. "If they did, you would see hundreds of millions of dollars being spent on lots of different things."