The American Academy of Pediatrics (AAP) supports schools returning to in-person instruction this fall but recommends all students should wear masks, according to new guidelines.
In the updated guidelines released on Monday, the AAP strongly recommends the return to classrooms for all students, but they emphasized the importance of getting students vaccinated.
"We need to prioritize getting children back into schools alongside their friends and their teachers—and we all play a role in making sure it happens safely," said Sonja O'Leary, MD, chair of the AAP Council on School Health. "The pandemic has taken a heartbreaking toll on children, and it's not just their education that has suffered but their mental, emotional and physical health."
The AAP advocates for a "layered" approach to keeping kids safe in schools, which includes mandating masks for all students over 2, regardless of whether or not they are vaccinated.
"Combining layers of protection that include vaccinations, masking and clean hands hygiene will make in-person learning safe and possible for everyone," O'Leary said.
The universal mask recommendation will help slow the transmission of COVID-19 in children while schools and parents navigate barriers to getting students vaccinated, according to the APA. School-age children under 12 are not yet eligible for the vaccine, thus making them more vulnerable to getting the virus.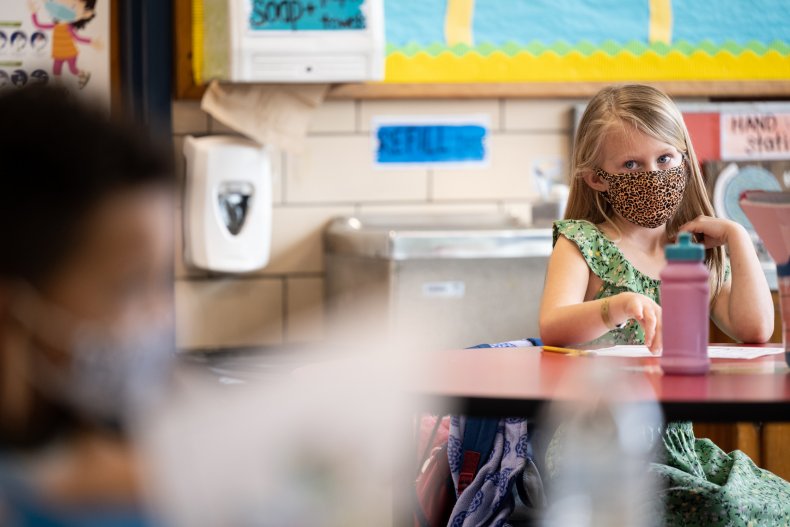 The guidelines also note that many schools will not be tracking who gets the shot, making it more difficult to differentiate between those who need to wear a mask and those who don't.
"This is why it's important to use every tool in our toolkit to safeguard children from COVID-19," said Sara Bode, MD, chairperson-elect of the AAP Council on School Health Executive Committee. "Universal masking is one of those tools and has been proven effective in protecting people against other respiratory diseases, as well. It's also the most effective strategy to create consistent messages and expectations among students without the added burden of needing to monitor everyone's vaccination status."
The APA highlighted research in the guidelines that revealed reopening schools will not contribute significantly to the spread of COVID-19 if students, teachers and staff following safety measures.
The APA is, however, concerned about the impact keeping kids out of the classroom will have on their mental health. It recommended an "all-encompassing" mental health support system in all schools to combat the effects of the pandemic and online learning.
The guidelines also urged parents to talk with their child's pediatrician and make sure that their child has all of their vaccines for various illnesses, not just COVID-19.
"Now is the time for all of us to work together to keep our kids healthy and safe," O'Leary said. "Your pediatrician can help families who have any questions or concerns about returning to the classroom."