As far-right protests continue in eastern Germany for the third day, police said a 20-year-old Syrian was badly beaten while walking home Wednesday evening in the city of Wismar. Police said they were investigating the incident as a hate crime, and claimed that the attackers had used xenophobic slurs as they beat the young man.
Protests began Sunday in Chemnitz, Germany, following the death of a 35-year-old German man who was stabbed during a fight. The leader of the far-right group Pegida mysteriously obtained the arrest warrant for the murder suspects, which showed that two men, an Iraqi and a Syrian, had been detained in connection with the death.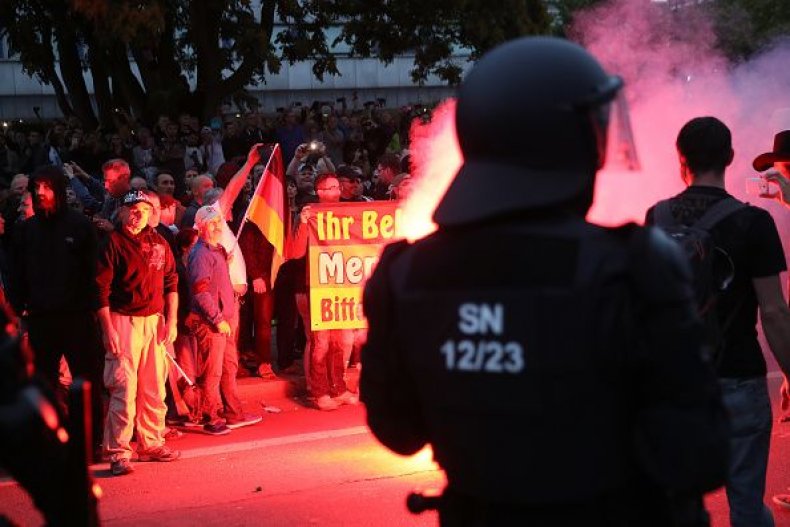 Lutz Bachmann, the head of Pegida, then spread the arrest warrant across social media to rally members of Germany's far-right and spark anti-immigration protests. The protests took place on Sunday and Monday, and then were relaunched Thursday. Throughout the week, groups of far-right protesters scoured the city in search of refugees and migrants. German Chancellor Angela Merkel condemned the violence, stressing that vigilante justice has no place under German rule of law.
Immigration has become a contentious issue in Germany, however, and has made the position of Merkel's center-right party, the Christian Democratic Union, increasingly precarious. The German state of Saxony, which is emerging as a stronghold of the far-right, will hold elections for its state parliament in September 2019. Currently, Merkel's CDU dominates the local government in Saxony. But the far-right Alternative for Germany (AFD) is making significant inroads.
In recent days, the AFD has vacillated between distancing itself from the protesters in Chemnitz and using them as an excuse to criticize Merkel's immigration policies. Germany took in around 1.6 million migrants during the height of the refugee crisis that saw millions of migrants leave the Middle East and Northern Africa in search of safety in Europe. Recently, however, Merkel has been forced to seek deals with other European countries, like Spain and Greece, to ensure that migrants who are seeking asylum in Europe do not all move to Germany. She has also agreed to speed up the deportation of asylum seekers whose claims have been rejected.
Germany is experiencing a significant demographic shift that has launched debates over who can be considered German and about the nature of German identity. The population of foreign-born residents reached a record 10.6 million in 2017, according to the Federal Office of Statistics. The overall number of foreigners in Germany grew by 5.8 percent that year.