Mass Food Poisoning as Child Dies, 800 Hospitalized After Eating at Shawarma Restaurant
A 5-year-old has died and some 826 people have been hospitalized after allegedly eating rotten shawarma from a restaurant near Jordan's capital.
Health officials paid the establishment, just outside Amman, a visit on Monday. They found the meat had not been refrigerated during heatwave temperatures. Amman has been experiencing temperatures above 100F in recent days.
Adnan Ishaq, a spokesperson from Jordan's health ministry said that lab tests had shown poor hygiene and bacteria in the poultry and meat from the restaurant.
"A 5-year-old boy died of massive poisoning," the health ministry reported in a statement. The the young boy who died, suffered heart failure, Mohammad Abed, the director of Prince Hussein Hospital, told Agence France-Presse.
Hundreds of medical staff were moved to the various hospitals to deal with the mass food-poisoning crisis, and care for the large number of patients affected.
"All those affected said they had eaten meals from the same restaurant," said Abed.
A shawarma dish in Jordan usually costs around $1.50, but a half-price discount had drawn far more customers than normal to the restaurant in the Baqa'a district.
On Wednesday, four people were in intensive care and 321 people were in a stable condition being treated in hospital. As of today, the people in intensive care had been discharged, other patients were stable, some had their stomach pumped and were receiving fluids.
No new cases of food-poisoning relating to the same restaurant have been reported.
The eatery responsible for the food poisoning supposedly closed on June 27 after an official warning, reported Roya News. Then the establishment reopened after making changes to its operations.
Health Minister Saad Jaber said "any offender will be held accountable, regardless of who they are."
The restaurant owner, plus three other people have been arrested in connection with the outbreak.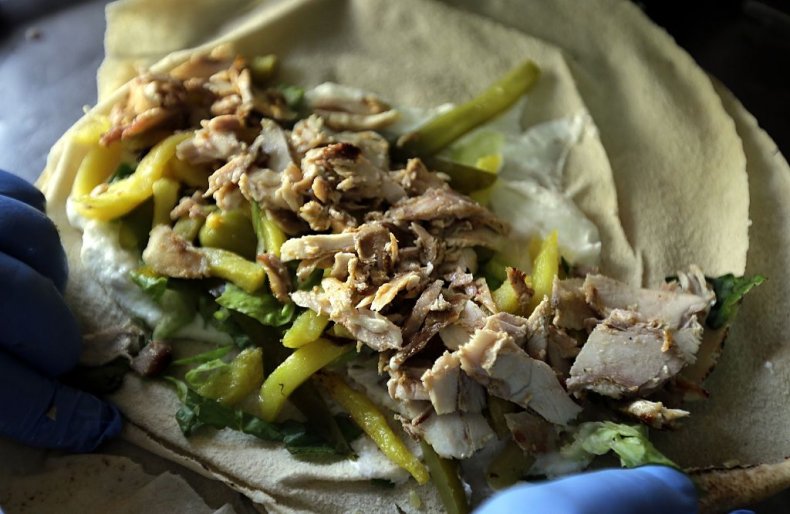 The classic shawarma dish is one of the most recognizable Middle Eastern foods in the West. It is often served with pita bread, meat, garlic paste, grilled tomatoes, chopped parsley, french fries and salad. Chicken or lamb is usually slow-cooked on a vertical spit before being cut of and placed on the bread.
If the meat is not stored or cooked properly it can be life-threatening. Common symptoms of food poisoning include diarrhea, nausea and vomiting. Extreme cases can cause a high fever, dehydration, bloody urine and difficulty seeing and communicating.
In the U.S., the most serious cases of food poisoning are caused by salmonella. Salmonella bacterium multiples fast in warm weather. Each year in the U.S. there are roughly 420 deaths relating to salmonella, plus 1.35 million infections, 26,500 of which result in treatment in hospital, according to the U.S. Centers for Disease Control and Prevention.