Mass Graves of Soldiers Massacred by ISIS Found in Iraq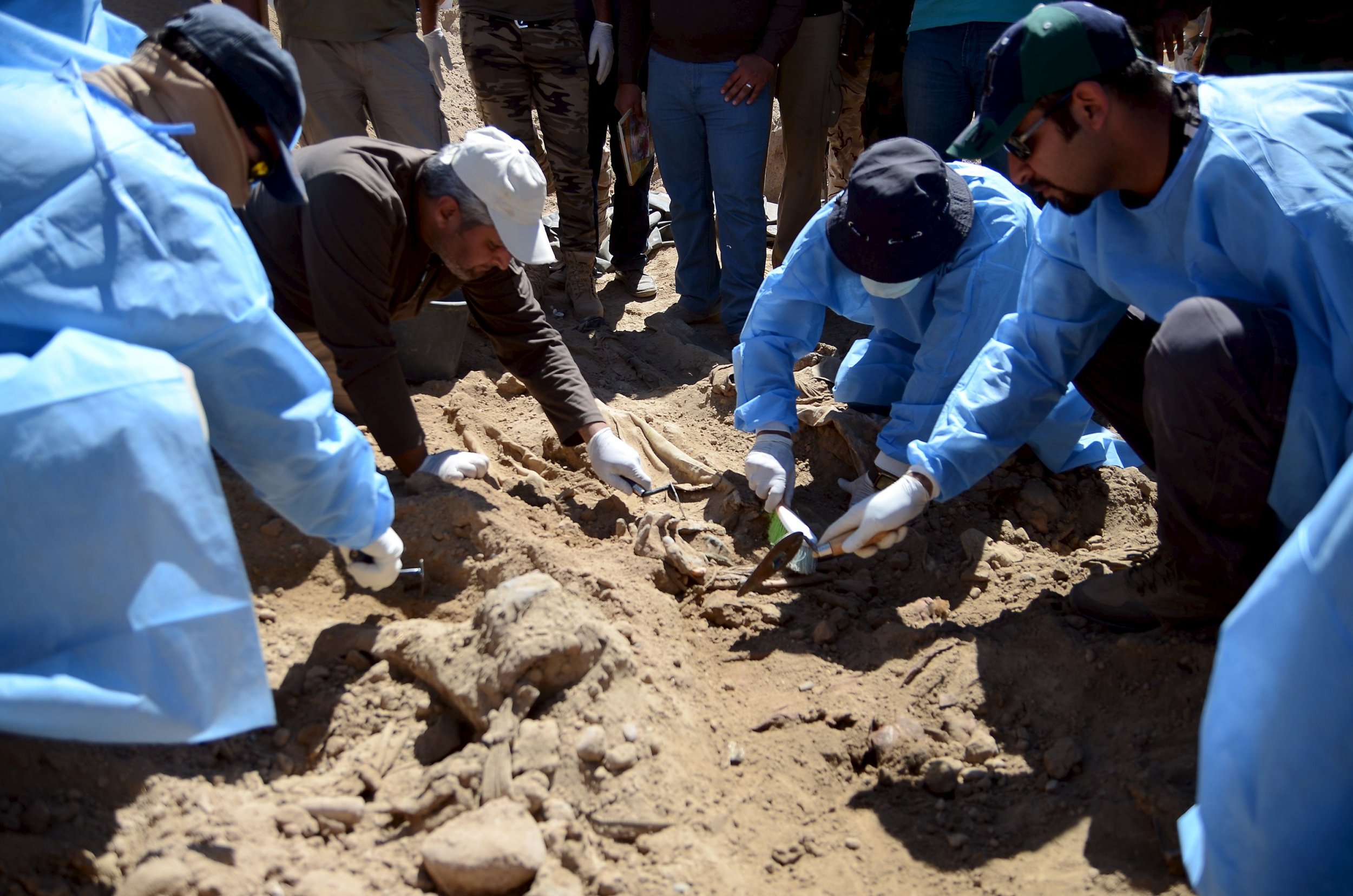 Forensic teams in Iraq have begun exhuming a mass grave in the northern city of Tikrit believed to contain the bodies of Iraqi soldiers murdered by Islamic State militants last summer, Iraqi officials have said.
The grave, thought to be one of several containing as many as 1,700 bodies, is located outside Camp Speicher, a former U.S. military base outside Tikrit, CNN reports. Remains will be sent to Baghdad for DNA testing to identify the bodies and notify families.
Sunni Islamic State captured and massacred the Shia Iraqi soldiers at Camp Speicher last June before taking control of Tikrit and other key cities in a bid to establish a caliphate across Iraq and Syria. The execution of the soldiers was celebrated as an early victory for Islamic State, also known as ISIS, which shared photos of the massacre on social media.
Iraqi government forces battled militants for the past month to regain control of the area. On March 30, Iraqi President Haider al-Abadi said Iraqi government forces, with the support of small militia groups, had driven ISIS out of Tikrit. Following the retaking of Tikrit by government troops, there were reports of fighters looting and vandalizing the city and the killing of a suspected Islamic State fighter.
There could be as many as 12 graves sites throughout the area containing bodies of the Iraqi soldiers, including within the compound of former Iraq president Saddam Hussein, whose hometown was Tikrit, Reuters reports. According to NPR, the soldiers were killed by machine guns in front of mass graves. Iraqi state television is reportedly broadcasting scenes of the uncovering of the graves as families of the dead look on nearby.
"We dug up the first mass grave site today. Until now we found at least 20 bodies. Initial indications show indisputably that they were from the Speicher victims," Khalid al-Atbi, an Iraqi health official working with the forensic team at the site, told Reuters.
"It was a heartbreaking scene. We couldn't prevent ourselves from breaking down in tears. What savage barbarian could kill 1,700 persons in cold blood?" he said.