Mass Graves, Torture Chambers Discovered in Liberated Mykolaiv: Officials
Ukraine officials have unearthed more atrocities from the war of Russian aggression as horrors in the liberated Mykolaiv have been discovered.
Ivan Kukhta, who's head of the Sniguriv city military administration, said torture chambers and mass graves have been found as well as known looting by Russian soldiers who didn't leave much behind.
"They had time to get together, to collect all the looted property. The Russians took everything, all the equipment from utility companies, from private businesses, they took cars, tractors from private individuals," Kukhta wrote on Suspilne media. "It was a terrible mess, ripped out batteries and boilers, etc., everything possible was taken they took everything with them."
Kukhta also talked about abuse of Ukrainians, torture, harassment, transport of prisoners and discoveries of mass graves.
"There are a lot of stories of torture, abuse, people were taken to Kherson, to Kakhovka," Kukhta said. "Now we are finding tortured people, we have an understanding of where the mass graves are. There are many stories and they are in one way: abuse, harassment. The Russians told the people of Snowy: "Here is Mykolaiv "It will fall, we will take Odesa, we will take Kyiv."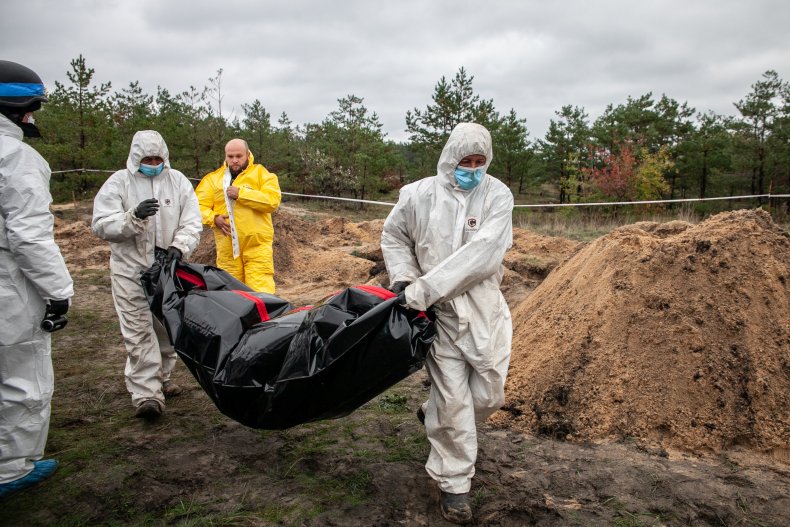 Kukhta said torture chambers were found in the police station and eventually restaurants, and that there were reports of screams that could be heard throughout the city.
"The torture chamber was in the district police station, then the torture chamber was placed in a restaurant in Snyuriv, we knew about it," Kukhta said. "People called us and said that the screams of people being tortured were very audible. People who lived there in high-rise buildings had to move to relatives on other streets, so as not to hear screams."
Sniguriv is the largest settlement in the eastern Mykolaiv Oblast. Russian troops occupied Sniguriv on March 19, almost a month after the invasion of Ukraine. It was occupied for more than half a year before it was liberated last week.
The war enters its 264th day on Monday, and it's quickly approaching the 10-month mark.
Russia amassed troops along Ukraine's northern and western borders in late January while it also conducted military with neighboring Belarus. Russia attacked Ukraine on February 24 this year and there have been heavy casualties on both sides. That includes more than 40,000 Ukrainian civilians, foreign fighters, Ukrainian military and about 80,500 Russians, according to the Ukraine Ministry of Defense and the Pentagon.
Since the war began, Russia has failed to overtake Kyiv, Lviv and Odesa, but they occupied many regions in the eastern portion of Ukraine.
One month ago, Russia annexed four Ukrainian regions–Donetsk, Luhansk, Zaporizhzhia, and Kherson-claiming the citizens of those regions overwhelmingly voted for it. Zelensky said called the situations in Donetsk and Luhansk "difficult."
Newsweek reached out to the Ukraine Ministry of Defense for comment.