Psychiatrist Randi Rosenqvist said Norwegian Neo-Nazi, mass murderer and far-right extremist Anders Behring Breivik, 42, cannot be trusted if he is released from prison.
Breivik legally changed his name to Fjotolf Hansen in 2017, according to Euronews. Newsweek previously reported that Breivik killed 77 people on July 22, 2011, after setting off a bomb in Oslo, which killed 8 and injured more, then going to a summer camp in Ut­­­­­­­­­­­­­­­­­­­­­­­­­­­­­­­­­­­­­­­­­­­­­­­øya and killing 69 more, mostly teenagers.
He was convicted in 2012 and is serving Norway's maximum sentence of 21 years, which can be extended; however, he is eligible for his first parole hearing after 10 years. The hearing began January 18, 2022, at a high-security prison in Skien, south of Oslo, and is expected to take place over three days.
Rosenqvist first assessed Breivik in 2012 and said Wednesday that he "has not changed (the) risk for future acts of violence compared to the way he was," according to the AP.
"He is not consistent, and you cannot trust him," she said while appearing as a witness for the prosecution. Rosenqvist is the only psychiatrist to be called to the bar, according to The Local.
She also told the court Breivik still suffers from "asocial, histrionic and narcissistic" personality disorders, according to The Local. "He still has narcissistic traits. He still tends to construct scenarios. It is not psychotic, but he could in several contexts live out fables in reality," she said, according to the AP.
Euronews also reported that Rosenqvist said she "could not detect great changes in Breivik's functioning" since his original trial in 2012.
While being questioned by his lawyer, Øystein Storrvik, Breivik said "They give everyone a chance. Why cannot I also get a chance?"
Newsweek previously reported that Breivik said if he was granted parole, he would move to a non-western country or to the Arctic.
Breivik also said he renounced violence, yet he professed white supremacist views and flashed Nazi salutes during the first day of the hearing.
"I've been crushed into atoms for the last 10 years," Breivik told the court. "I have changed so much that it is not possible to change anymore."
Breivik is being held in isolation in three cells at the Skien prison during the hearing.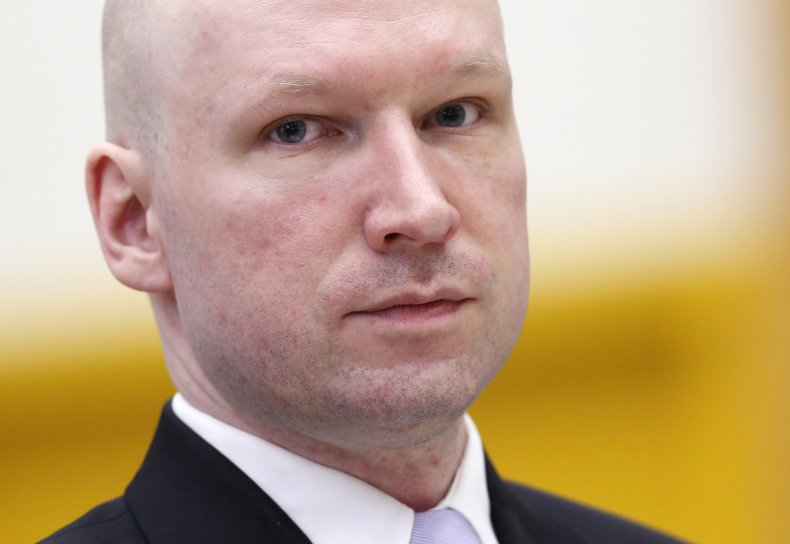 "The only thing I am afraid of is if he has the opportunity to talk freely and convey his extreme views to people who have the same mindset," said Lisbeth Kristine Royneland to Euronews. She is the head of a family and survivors support group of those affected by Breivik's crimes.
While the hearing is expected to last for three days, the sentence is not expected for several weeks, according to Euronews. Prosecutor Hulda Karlsdottir said the hearing will determine if Breivik still poses a danger.
"There is an imminent danger of violence or terror if released," said Emily Krokann, a jurist with the Norwegian Correctional Service who works at Skien. "The conditions are not enough to safeguard social protection."
She also stated the prison authorities believe "that there is an imminent danger that he will again commit serious crimes for which he has been convicted if he is released at the present time."