Mass Killers Like the Vegas Shooter Should Not Be Named in News Coverage, Experts Say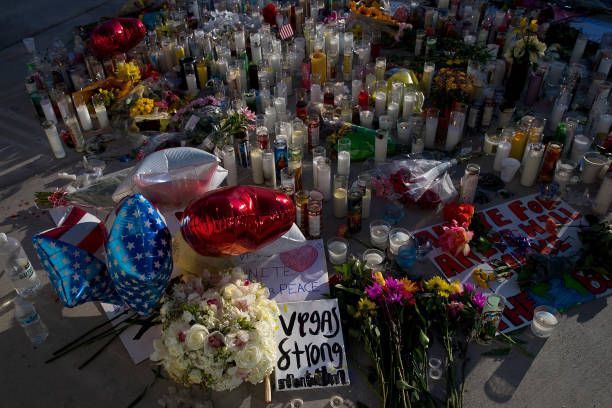 A group of more than 140 experts are urging the media to stop naming mass killers in their coverage of shootings. A letter—signed by scholars, professors and law enforcement professionals—was provided to Newsweek on Tuesday, two days after a gunman opened fire on a music festival in Las Vegas, killing at least 59 and injuring more than 500 others.
"We do not agree on everything," the letter reads. "Some of us believe that by denying mass shooters fame, we would deter some future fame-seekers from attacking. Some of us believe that by no longer creating de facto celebrities out of killers, we would reduce contagion and copycat effects. Some of us believe that by no longer rewarding the deadliest offenders with the most personal attention, we would reduce the competition among them to maximize victim fatalities.
"However, all of us agree that it is important to stop giving fame-seeking mass shooters the personal attention they want," the letter says.
Related: Study: Mass Shootings 'Exceptionally American Problem'
The letter, organized by Adam Lankford, a criminology professor at The University of Alabama, and Eric Madfis, a sociology professor at the University of Washington, Tacoma, urges journalists to report everything but names and faces "in as much detail as desired" (such as background stories, potential risk factors and warning signs). It mentions exceptional cases, such as when a suspect is still on the loose, and points to other situations in which this approach is used, such as in stories about victims of sexual assault.
The debate over naming mass shooters, like the occurrence of mass shootings in the U.S., is hardly new. With each tragic event, there seems to come a call to refrain from using the name of the assailant—from family of victims, government officials and experts of various backgrounds.
In 2012, after the shooting at a screening of The Dark Knight in Aurora, Colorado, Tom and Caren Teves, the parents of one of the victims, started No Notoriety, a campaign whose slogan is "No name, no photo, no notoriety." Dave Cullen, journalist and author of the book Columbine, argued in an op-ed the day after the 2013 shooting at the Washington Navy Yard that the name of a perpetrator should be used sparingly. After the massacre at Umpqua Community College in Oregon in 2015, Douglas County Sheriff John Hanlin said he would not name the shooter and encouraged the media and others to follow suit. "I will not give him the credit he probably sought prior to this horrific and cowardly act," he said.
But each renewed call also stokes the counterarguments, usually from journalists and media organizations explaining to the public why they do name shooters in their coverage. The debate became particularly vociferous after the Umpqua Community College shooting. WUSA9 published an op-ed by Garrett Haake, who said arguments against naming shooters were "deeply misguided, and for journalists, especially pernicious abdications of our most important functions." He further argued that "when law enforcement fails to provide the facts, or journalists fail to report them, we cheat ourselves out of the hard debates and discussions that should follow such appalling violence."
Megyn Kelly and Don Lemon took to Twitter following the 2015 incident, with the former arguing against naming the shooter and giving him "the infamy he probably desired," and the latter responding, "My heart agrees with you, but I believe we (journalists) must name shooters. Sparingly though." Erik Wemple of the Washington Post asked the media to ignore the sheriff's request, and Cameron Barr, then the paper's national editor, said that "comprehensive information about those responsible for mass shootings and other horrendous events informs the public debate. While I can appreciate the revulsion that people feel in the wake of such an incident, we see no benefit in withholding information from readers." Kelly McBride, vice president of the Poynter Institute, laid out several reasons why it's important to name the shooter, including to provide context and backstory, identify trends and prevent misinformation.