Hundreds of mass shootings occurred in the U.S. last year, and almost all within a mile of a school or a place where a child might visit, a study has revealed.
In 2019, 3,774 children, aged up to 18 years old, experienced gun violence, with 985 killed and 2,789 injured, according to data from the Gun Violence Archive—which tracks shootings across the U.S. via news sources—published in the journal JAMA Pediatrics.
Those included 418 mass shootings across 40 states, the highest number since reporting began in 2014. A child was involved in 121 of these, with 182 injured and 42 killed. A mass shooting was defined in the study as incidences where four or more people were killed or injured by a firearm.
Of the total mass shootings, 9.6 percent happened at a school or location of interest for a child, including athletic fields, playgrounds, parks, recreation centers, and zoos. One in five mass shootings occurred at or within a block (less than 0.1 miles) from such a location, 73 percent up to half a mile and 91 percent happened within a mile, the study showed.
On average, mass shootings occurred 0.4 miles from a school, and 0.7 miles from a "place of interest" for children. Data was not broken down by time of day, day, or month, which could have shown whether the events happened during school hours or in good or bad weather.
Firearms are the second leading cause of trauma-related deaths in children in the U.S., according to a past study cited by the authors. Between 2009 and 2018, school homicides involving multiple victims spiked "significantly," after a 15 year decline.
"Once random and rare, mass shootings have now become commonplace, high-profile events in the United States with an accelerating rate of occurrence," the authors wrote.
"Children may experience gun violence in a variety of ways including direct exposure, observing the event, hearing gunshots, or building lockdown. Exposure to gun violence has been shown to be detrimental to children."
The authors looked at publicly available data on mass shootings from 2019 from the Gun Violence Archive, and used Google Maps to calculate the walking distance to the nearest K-12 school or place of interest for a child.
Co-author Michael Nance, director of the pediatric trauma program at Children's Hospital of Philadelphia, told Newsweek via email the Gun Violence Archive is only as good as the reporting, but is likely to under-represent the number of shootings. "The proximity to where our children spend much of their time is alarming," he said. "More than a quarter of these mass shooting events involved children. We are all aware of mass shootings. This highlights how close these events are to our children.
"Many of these events are murder/suicide with a parent killing an entire family. These happen in places where children go because guns in general are ubiquitous. There are few places children go where a gun is not far away."
Asked to offer advice for parents worried about the findings, Nance said: "Despite the alarming findings of this study, mass shootings are still the minority of deaths from gun violence. Schools are still remarkably safe places for children regarding gun violence.
"It emphasizes the need to understand the prevalence of guns in our community and understand where children are likely to come into contact with guns."
Dr. Michael Vella, assistant professor of surgery at the University of Rochester School of Medicine and Dentistry who did not work on the study, told Newsweek via email: "the study adds to the growing body of literature about the devastating effects of firearm violence—from those who are killed every year, to the thousands of survivors (and the associated long term physical and mental effects of gunshot injuries) and, as this study shows, to those who are potential witnesses to this violence."
The study was limited, he said, because "we cannot conclude that children were injured as a result of proximity. Things like time of day were not accounted for, so it is possible that the majority of shooting events happened at night when children are not at school or at a place of interest.
"In addition, the study does not account for incidents that do not qualify as mass shootings, potentially underestimating the magnitude of the problem."
This article has been updated with comment for Michael Vella.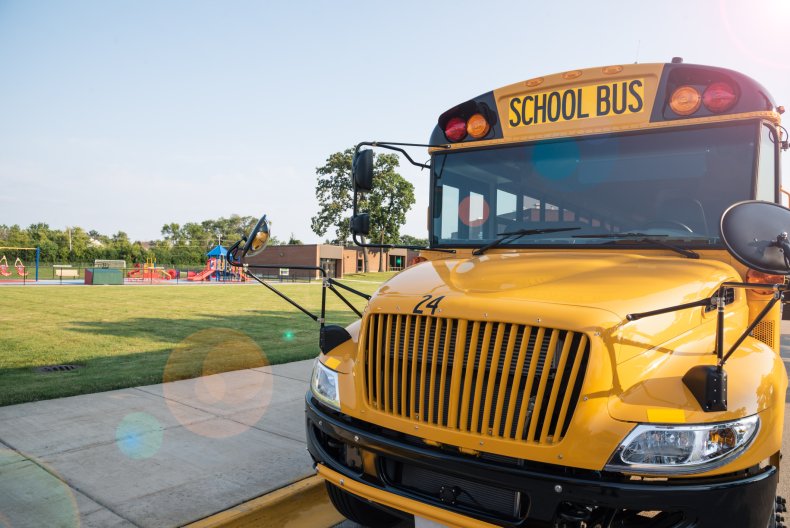 Uncommon Knowledge
Newsweek is committed to challenging conventional wisdom and finding connections in the search for common ground.
Newsweek is committed to challenging conventional wisdom and finding connections in the search for common ground.
About the writer
Kashmira Gander is Deputy Science Editor at Newsweek. Her interests include health, gender, LGBTQIA+ issues, human rights, subcultures, music, and lifestyle. Her work has also been published in the The Independent, The Independent on Sunday, The i Newspaper, the London Evening Standard and International Business Times UK.