Children Are More Likely To Die In Mass Shootings at Home Than At School, Study Shows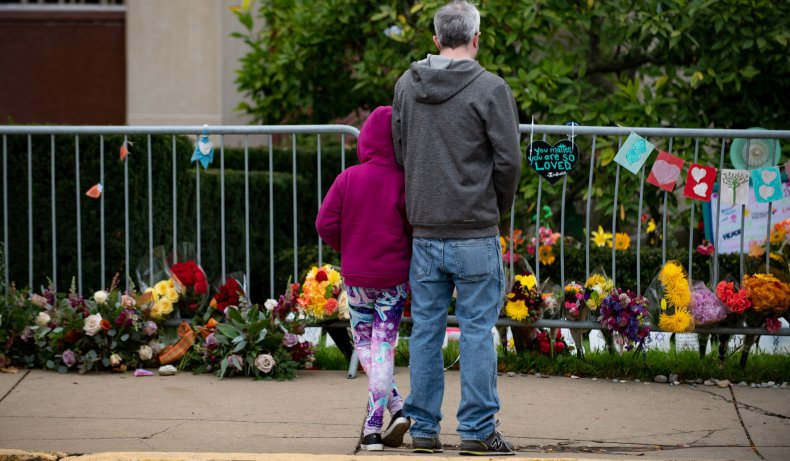 Almost three-quarters of children who die in mass shootings are killed in an incident linked to domestic violence, new research from the gun-control group Everytown for Gun Safety has shown.
The findings have complicated a narrative about gun violence—often distorted by media coverage—that tends to favor certain depictions of violent crime. A 2015 report published by the non-partisan Congressional Research Service (CRS) observed that incidents involving mass murder of family members "do not garner the same level of media attention or public concern" as other shootings.
"In some cases, media coverage of [family murder] is sparse, maybe an article or two in a local paper, often with little or no statewide or national coverage," the paper found.
And yet, according to Everytown's database, these kinds of killings are far more common than the sort typically scrutinized by the media.
Over 60 percent of mass shootings—culled from a list compiled by Everytown which covers incidents occurring over the last decade—occurred entirely within a private home. An additional 10 percent of mass shootings occurred partially within a private home and partially in public.
The researchers behind the analysis defined a mass shooting as one causing at least four victims, not including the perpetrator, to be shot and killed. In part because of the lack of comprehensive research on gun violence, individual studies are forced to determine their own threshold for what should be considered a mass shooting.
While incidents occurring at least partially in public spaces constituted a minority of mass shootings, Everytown found that they still produced 52 percent of the total body count.
In total, the report documented 194 mass shootings over the last decade which killed 1,121 victims, more than a quarter of whom were children, and wounded 836 others.
At least 54 percent of mass shootings were linked to domestic violence, meaning that at least one of the victims was a current or former romantic partner of the shooter. The vast majority—79 percent—of domestic violence mass shootings took place entirely in a private home, and a further 13 percent of these shootings occurred partially inside a private home.
Mass violence linked to domestic or family disputes has proven stubbornly difficult to address. The CRS report noted that "there is often little or no opportunity for law enforcement officers to intervene in the actual shootings, because these murders are typically committed late in the night or in the early morning hours in private residences or remote, isolated areas."
Since 1996, federal law has prohibited convicted domestic abusers or family members subject to a protective order from possessing firearms. However, loopholes in the law allow for non-cohabitating partners to keep their firearms in such circumstances. Closing the so-called boyfriend loophole has become a major priority for gun-control activists.
Moreover, 17 states and the District of Columbia have provided for the issuance of extreme risk protection orders, according to a count by Giffords Law Center to Prevent Gun Violence. These orders, resulting from legislation commonly known as red flag laws, are more expansive than federal protective order rules in two key ways.
First, they are generally crafted to cover a much broader set of risk-related activity, whereas the scope of federal law is limited to domestic violence, harassment and stalking. Second, they also allow for immediate and temporary confiscation without the abuser being notified, though the abuser is afforded a later opportunity to provide a defense in court.
To help stem the tide of domestic violence involving firearms, Attorney General William Barr announced in June the formation of the Domestic Violence Working Group, a coalition of nine U.S. attorneys devising best practices "aimed at keeping guns out of the hands of convicted domestic abusers."
The group's mandate would also include advising U.S. attorneys across the country on how to best avail themselves of the tools available to federal prosecutors in order to prevent domestic abusers from gaining access to firearms, according to the announcement.