A tweet listing four mass shootings in the past five years that were perpetrated by transgender people has gone viral, attracting 5.4 million views as of 8 a.m. ET on Tuesday and the attention of Twitter's owner, Elon Musk.
Benny Johnson, a political columnist and Turning Point U.S.A. official, wrote in his viral tweet: "One thing is VERY clear: the modern trans movement is radicalizing activists into terrorists."
Musk—who has expressed varying views on transgender issues and is reported to have a transgender child—replied to the tweet with an exclamation mark, itself seen 2.2 million times.
The tweet follows a school shooting in Nashville on Monday, in which Audrey Hale—identified by police as transgender—is suspected to have shot and killed six people, including three members of staff and three nine-year-old children.
"The trans movement is pushing more and more extremism each day," said Oli London, a media personality who has become critical of the transgender movement since deciding to detransition. "They recruit people, indoctrinate them and pump them full of propaganda until they become filled with hate and rage."
While some used the apparent prevalence of shootings by transgender individuals to highlight mental health concerns, others pointed out that there had already been more than 100 mass shooters in 2023 alone. Therefore, the number of mass shootings perpetrated by transgender individuals mounted to a fraction of the total number in the U.S. over the past five years.
According to figures from the Gun Violence Archive, there have been 131 mass shootings this year, and there were 647 in 2022. In total, there have been 2,861 mass shootings in the U.S. since 2018. Some have had more than one perpetrator.
Newsweek reached out to the Gun Violence Archive for further details via email on Tuesday.
On its website, Everytown Research & Policy cites 306 mass shootings in the U.S. since 2009.
"4 shooters out of over 300 mass shooters since 2009 are transgender or non binary. That's just 1.3 percent of all shooters," Anthony Zenkus, a lecturer in social work at Columbia University, wrote on Twitter. "You just proved our point: 99 percent of mass shooters in the United States are cis gendered."
According to the Williams Institute research center, around 0.6 percent of Americans over the age of 13 identify as transgender.
Three of these shooters identified as transgender, with one later identifying as non-binary. An exact number of shooters involved in such incidents, and whether there may have been more transgender shooters than those listed, remains unclear.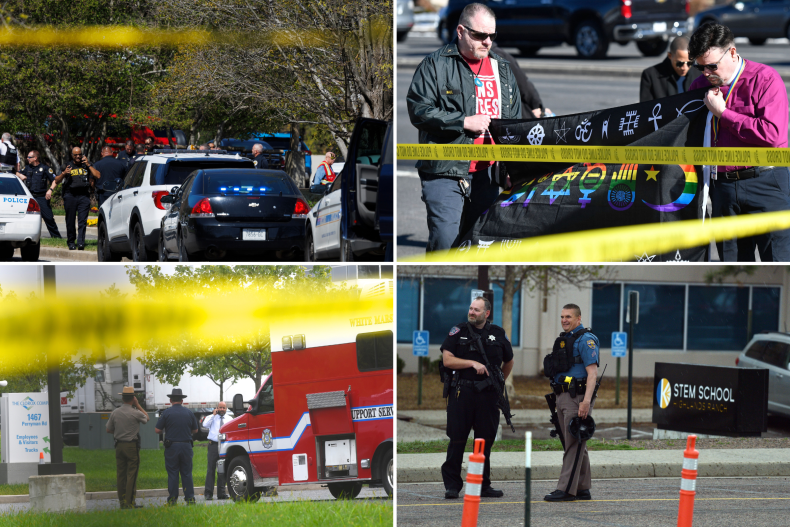 Nashville, Tennessee—March 27, 2023
In a statement on Monday, the Metropolitan Nashville Police Department said officers had been called to the Covenant School, a private Christian institution, to the southwest of the city, at around 10:13 a.m. local time (11:13 a.m. ET) following reports of shots being fired in the building.
Children Evelyn Dieckhaus, William Kinney and Hallie Scruggs were killed along with school head Katherine Koonce, 60, Mike Hill, 61, and Cynthia Peak, 61. Police identified Hill as a janitor and Peak as a substitute teacher, according to the Associated Press.
Officers encountered the suspect, later identified as 28-year-old Audrey Elizabeth Hale, on the second floor of the school, where they fatally shot the assailant. Hale, who had previously attended the school, had arrived that day with three guns, including two assault weapons.
Chief of Police John Drake told reporters that Hale identified as transgender and said officers were investigating whether Hale's gender identity was related to the crime, but could not comment yet on an exact motive.
Colorado Springs, Colorado—November 19-20, 2022
A mass shooting that began just before midnight at an LGBTQ nightclub left five people dead and 25 injured. Lee Aldrich, 22, was identified as the shooter, and has since been charged with more than 300 criminal indictments. He remains in custody while awaiting trial.
Aldrich's lawyers have written in court documents that their client identified as non-binary, however experts and neighbors of the accused have argued that this could be disingenuous. Jared Holt, senior research manager at online extremism watchdog Institute for Strategic Dialogue, told NBC he was "immediately skeptical" of the assertion.
Neighbors have alleged that Aldrich made hateful remarks about the LGBTQ community, and the Colorado Sun, reporting on police testimony given to a court in February, said officers had found rainbow-colored shooting targets and documents planning the assault at Aldrich's home.
Denver, Colorado—May 7, 2019
One student was killed and a further eight were injured during a shooting at STEM School Highlands Ranch, south of Denver.
Devon Erickson, who was 18 at the time, and then-16-year-old Alec McKinney entered the school with several concealed weapons before carrying out the attack.
They were later detained by law enforcement and, in July 2020, McKinney was sentenced to life in prison after pleading guilty. Erickson pleaded not guilty but was convicted in June 2021, later receiving a life sentence without the chance of parole.
McKinney was born female, but asked to be referred to as male as they were transitioning at the time of the shooting.
Aberdeen, Maryland—September 20, 2018
Four people were shot and killed at a pharmaceuticals distribution center in the city, located 26 miles north east of Baltimore. The suspect had opened fire after entering the facility shortly after 9 a.m. ET, before shooting themselves in the head. They later died of their wounds.
Police said the shooter was Snochia Moseley, a 26 year old who they identified as female. A friend told the Washington Post that Moseley had suffered from bipolar disorder and depression, which they linked to feelings of rejection when Moseley had first come out as gay and later transgender.
The friend said Moseley had begun receiving hormone therapy a year prior to the incident, and planned to undergo gender-reassignment surgery, but had been struggling with the transition.