Mass Vote Registration in Georgia Brings Accusations of Voter Fraud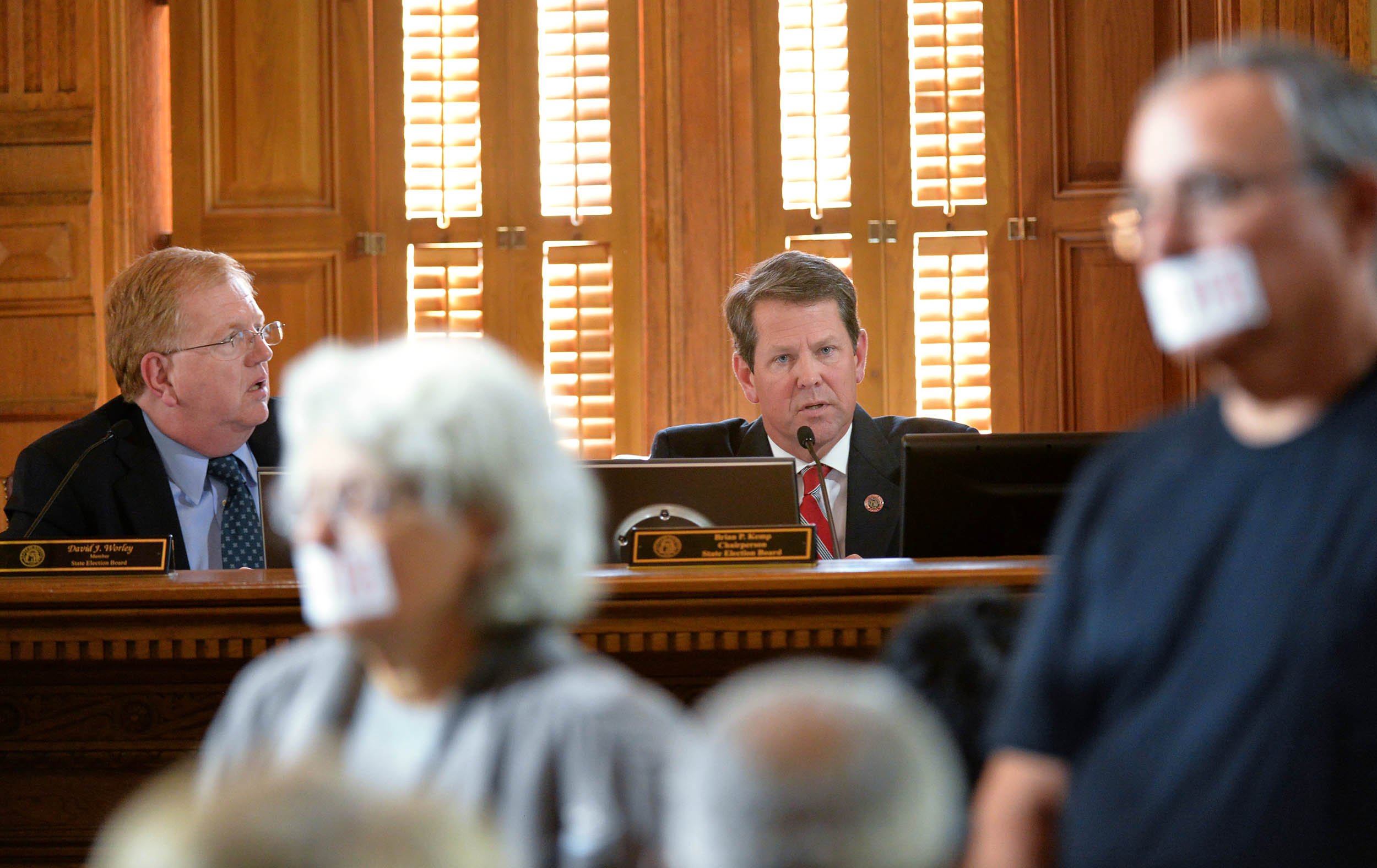 There's something fishy going on in Georgia.
On the eve of the midterm elections—with high profile Senate and gubernatorial races on the line—a group undertaking a historic effort to register tens of thousands of minority voters is all of a sudden under investigation by Georgia's Republican secretary of state's office. And the crime doesn't quite match the punishment.
Georgia Democrats' chance to win this year hinges on registering and turning out new voters on Election Day. Namely, Democrats need to draw from the Peach State's swelling black, Hispanic and Asian populations, communities that largely support Democrats and are slowly turning Georgia from a red state to a purple one.
These new voters will be critical if Democrat Michelle Nunn (daughter of former Georgia Senator Sam Nunn) is to stand a chance at winning this year's Senate contest against Republican candidate David Perdue (cousin of former Georgia Governor Sonny Perdue), and the only hope of state Senator Jason Carter (grandson of former President Jimmy Carter) to unseat the Republican governor, Nathan Deal.
Enter the New Georgia Project, a group spearheaded by the minority leader in the Georgia state House, Representative Stacey Abrams, a rising star in the Democratic Party. So far, her group has collected 85,000 voter registration applications. Together with around 20,000 registration forms collected by smaller partner groups, Democrats are close to registering 120,000 new voters—mostly black, Hispanic, Asian and young people—before the November elections.
But on September 9, the group received a broad subpoena from the office of the Georgia secretary of state, Republican Brian Kemp, as part of an investigation into the group stemming from evidence of fraudulent registration applications. Kemp's office also sent a letter to county election officials in Georgia's 159 counties warning that a "preliminary investigation has revealed significant illegal activities." At an emergency meeting of the State Board of Elections last Wednesday, the deadline for the subpoena was extended to Friday.
Abrams is quick to point out, however, that her group is required by law to turn in every application they collect, even if it contains errors. "If the form says Mickey Mouse registered in Anaheim, California, we have to turn that form in," Abrams said in an interview with Newsweek last week.
That's why she's calling the investigation a witch hunt. "There was no way to win. And that's what this really resembles," Abrams said. "We were being told if you follow the law, you were wrong. And if you didn't follow the law, you're wrong."
At the the State Elections Board meeting, Kemp's office stated that there were 25 forms that are not valid and another 26 that are suspect. Kemp's chief investigator, Chris Harvey, acknowledged that the New Georgia Project has been helpful in identifying the problematic forms.
"Essentially, there could be 51 out of 85,000 forms that were turned in by law that could be invalid. That's the story," Abrams said. "Our reaction has been fairly aggressive because to suggest as he did in that letter that we were engaged in something that was nefarious was not only wrong on its face, it had the very real effect of trying to stymie registration through our organization."
That's what has Georgia Democrats up in arms. They feel a few inevitable errors are being used as a pretext to attack an organization that is registering large numbers of Democratic voters.
"The irregularities that they have found have actually been a fraction of a percent of the overall number of voter registration forms that the New Georgia Project put in," said Andra Gillespie, a political science professor at Emory University in Atlanta. "It would seem as though the tenor of the investigation so far doesn't necessarily match the scope of the problem."
Gillespie, an expert in African-American voter participation, says she fears the "chilling effect" an investigation might have on voter registration groups. "The attitude that one can infer from this is that if somebody makes one mistake, or if somebody makes a few mistakes, then all of a sudden you get labeled as potential scammers," she said. "And that might be the type of thing that would actually deter people from registering folks to vote. And that would actually be very, very unfortunate."
Abrams made the same argument: "If we were to allow ourselves to be bullied in the way that the subpoena initially sought to do, we would be setting a precedent for any other group in the state," she said. The New Georgia Project says it is currently negotiating the scope of the subpoena with the secretary of state's office.
In response to requests for comment, Kemp's spokesman Jared Thomas pointed Newsweek to a fact sheet the office put together about the investigation. "The confirmation of 25 forged voter registration applications warranted an expansive investigation and that is why a subpoena was issued to the New Georgia Project," it reads. "The claim that the New Georgia Project has submitted 85,000 voter registration applications has no bearing on this investigation. Each instance of forgery can result in multiple felonies and the Office of the Secretary of State has a constitutional obligation to pursue every illegal act to the full extent of the law."
In a state where party politics often break down along racial lines, the fact that a group that aims to register minority voters is being targeted by Republicans two months before a big election raises red flags. Just two weeks ago, a Republican Georgia state senator lambasted a local official on Facebook for deciding to hold Sunday voting in an Atlanta suburb with a large black population. The lawmaker, Fran Millar, defended his comments saying, "This is politics. It's not about race." Racist or not, it is in Republicans' political interest to make it harder for black citizens to vote.
Black civil rights leaders believe the investigation is the 21st century incarnation of voter suppression. "These kinds of attacks and allegations, wild allegations of voter fraud, we've seen before all across the country as a pretext for voter suppression, particularly where minorities are concerned," Reverend Raphael Warnock, the senior pastor at Ebenezer Baptist Church in Atlanta, where Martin Luther King Jr. was once the pastor, and a spokesman for the New Georgia Project, told Newsweek.
On the other side of the aisle, polls show Republicans are more likely to believe that voter fraud is a real and pervasive problem generally—and that certainly seems be the case in Georgia today. "Republicans are skeptical of the accuracy and the manner by which this group has undertaken this voter registration process," said Chip Lake, a Republican consultant in Georgia.
"I think what happens is it starts from a perspective of disbelief that this could possibly be real, because they've never seen or heard of anything like this on this scale," said Todd Rehm, a Republican strategist in Georgia and the editor of GaPundit.com. "If you believe something is not real, if you believe it's impossible to generate 85,000 new voter applications, then the natural next step you're going to take is there must be something underhanded going on here, there must be some sort of fraud going on."
For his part, Rehm believes an investigation into the improper forms is warranted. "When do you go beyond that and question everything done by an organization of this magnitude? I don't have an answer to that," he said.
"I don't think that Stacey Abrams or Reverend Warnock are engaged in some massive fraud conspiracy. That's not plausible to me," Rehm continued. "It is plausible to me that you might have a bad egg out there who is trying to cheat somehow."
Abrams and Warnock have attacked Kemp, claiming that 51,000 new voter registration forms have not yet been processed. If they don't go through by the October 6 deadline, then tens of thousands of voters could be disenfranchised. Kemp has pushed back by stressing that his office is on schedule and the backlog is taking place at the county level. The New Georgia Project says that as the top official in charge of elections in the state, the buck stops with Kemp.
The political tensions over the New Georgia Project run high because the group's efforts could be the extra push that puts Nunn or Carter over the top in November. Polls show Republican Senate candidate Perdue with a small lead in the polls—the RealClearPolitics Average has him up by 3.3 percentage points and rates the race a toss-up, while incumbent Deal is up by an average of two points.
But Republicans are the first to admit that while they see their candidates winning, the race will be close and that the Democrats' voter registration effort—like President Obama's in 2012—is making a difference.
"What [Republicans] thought, many of us, myself included, was that demographically, politically, 2014 was going to be much like 2010 because there would be an enthusiasm gap on the part of Democratic voters," said Rehm, referring the trend of Democratic-leaning voters, including minorities, young voters and single women, "dropping off" in midterm elections without a presidential candidate on the ballot to drive up turnout. "So as Republicans we were caught a little bit flat-footed by this effort."
"There is kind of a prevalent feeling both outside the state and among the grassroots inside the state that it's a Republican state and everything will work out. We certainly can't take that for granted," said Lake, the Republican consultant who is working on a super PAC supporting Deal, "especially in light of the fact that the New Georgia Project has claimed to register 85,000 new voters."
Come Election Day this year, he says, "it's all turnout" that will decide the winner.
When it comes to turning out voters, Abrams and Warnock hope that Kemp's investigation will drive up turnout among voters who feel their franchise is being threatened.
"Ironically, the secretary of state through his unjustified and unfortunate actions has turned out to be an unlikely ally in our efforts to register new voters," said Warnock. "The African-American community, because of a very painful history, takes great exception to any efforts to take away people's right to vote—even people who weren't planning to vote, somehow they hear that someone's trying to take it from them become very motivated to make it to the polls."
"So to the degree that this is politically motivated, and I think that it is, I think it will backfire," he said.