Up to 500 National Guard members have been called in to assist overwhelmed Massachusetts hospitals after a surge of COVID-19 cases in the state, Governor Charlie Baker said on Tuesday.
The Guard members are expected to assist in five major areas. These will include security, escorting patients between hospital rooms, non-emergency transportation, meal delivery to patients and watching over patients at risk for self-harm.
At a news conference, Marylou Sudders, state Secretary of Health and Human Services, said that as many as 300 Guard members are set to start training this week, with deployment scheduled for December 27. They will assist 55 acute care hospitals, or facilities for acute and usually short-term illnesses and injuries, as well as 12 ambulance providers.
According to the Mayo Clinic, Massachusetts has seen a rise in its positive COVID-19 test rate, which has increased from 1.8 percent in late October to 5.5 percent in mid-December. Massachusetts government statistics show that there are currently over 1,500 people hospitalized for the virus in the state, 347 being in intensive care units.
"There's no question the next few weeks will be enormously difficult for our health care community," Baker said.
The Massachusetts Department of Public Health will require hospitals to postpone nonessential medical procedures beginning December 27. Officials hope this will free hospital beds for both COVID and non-COVID patients.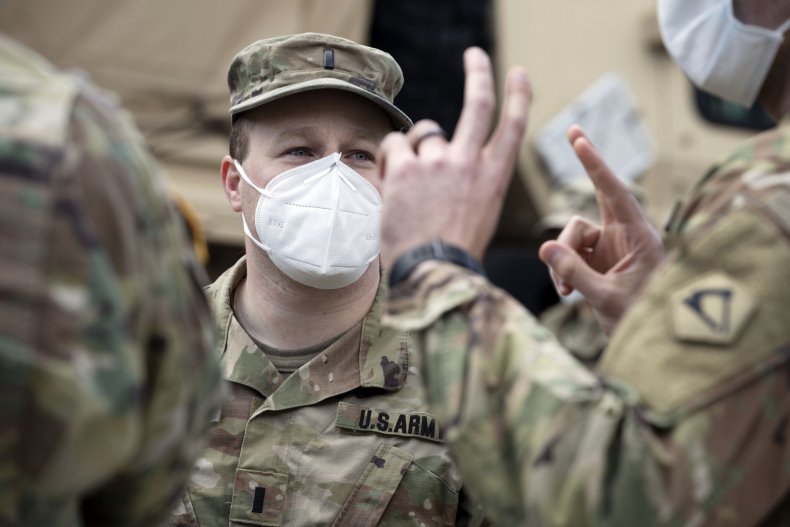 "This will allow hospitals to free up clinical staff to provide higher levels of care to those who need it," Sudders said.
The state's health care system faces a staffing shortage that has contributed to the loss of about 500 medical/surgical and ICU hospital beds this year, at a time when patient levels are on the rise, the office said.
The help was welcomed by the Massachusetts Health & Hospital Association.
"The measures taken by the state today reflect how critical our circumstances have become in Massachusetts, and they have the full support of MHA and our members," President and CEO Steve Walsh said in a statement.
With the holiday season here, he urged people to wear masks, get vaccinated and boosted, get a flu shot, and to seek care from their doctor or urgent care center if not facing a medical emergency.
Massachusetts also updated its masking advisory, recommending that everyone, regardless of vaccination status, wear a face covering in indoor, public spaces.
While there is no statewide mask mandate, many cities and towns, including Boston, require masks in indoor public spaces.
The Associated Press contributed to this report.