Massachusetts AG Accuses Grubhub of Overcharging Restaurants During Height of Pandemic
The State of Massachusetts on Thursday filed suit against Grubhub, alleging the online food delivery service charged restaurants fees that exceeded limits set during the Covid-19 pandemic.
The lawsuit, filed by Massachusetts Attorney General Maura Healey, accuses Grubhub of violating caps that prohibited third-party delivery service platforms from charging fees that surpass 15 percent of an order's menu price.
The caps were put in place during the Covid-19 pandemic and sought to help strained businesses. They were in effect between January 14, 2021, and June 15, 2021, expiring when the state lifted its Covid-19 state of emergency, according to Healey.
"We allege that Grubhub knowingly and repeatedly violated the fee cap statute, raising costs by thousands of dollars and harming restaurants that were already financially distressed and trying to survive," Healey said in a statement.
"We are suing to get money back to these establishments and to hold Grubhub accountable for its unlawful conduct. Our restaurants have been hard hit by this pandemic and we will do everything we can to help get them the relief they need to recover," she added.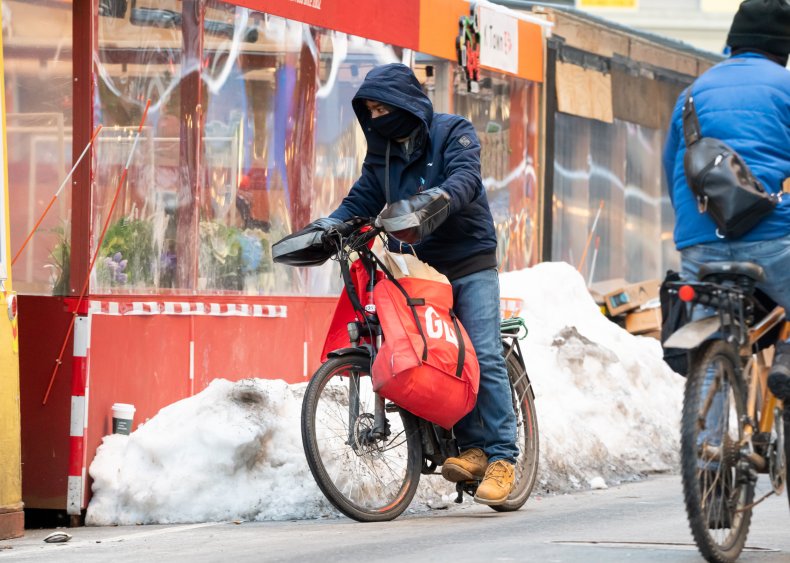 The attorney general's office says the company "routinely and knowingly charged fees to restaurants that exceeded 18 percent of the order's menu price, in violation of state law."
According to the complaint, which was filed in Suffolk County Superior Court in Boston, Grubhub charged restaurants fees amounting to "18 percent or more of the order's purchase price."
"Grubhub continued to charge fees above the 15 percent limit, even after covered establishments complained to it that its fees did not comply with the Delivery Fee Cap Statute," the complaint says.
The attorney general's office also said that in May, it sent Grubhub a cease and desist letter that ordered the company to stop charging fees that exceed 15 percent.
The office says it seeking to secure refunds for businesses impacted by Grubhub's alleged actions, and impose civil penalties of $5,000 per violation.
In a statement to Newsweek, Grubhub called the Massachusetts attorney general's allegations "baseless."
"Serving restaurants is at the heart of everything we do at Grubhub and we strongly disagree with the allegations in this lawsuit," said Grant Klinzman, a spokesperson for the company.
"While we do not believe the temporary price control was either legal or appropriate, we complied with it while it was in effect and for an additional month after it expired, effectively conveying millions of dollars to local restaurants across Massachusetts," he added.
In San Francisco, officials recently made 15 percent caps on delivery service restaurant fees permanent. In response, Grubhub and fellow online food delivery service company DoorDash sued the city.
In a statement released July 16, Grubhub said that price controls "create strict limits on what local restaurants can do to promote their business, find new diners, engage regular customers and send more orders out their doors."
"Price controls severely impact the ability of Grubhub to offer its suite of services to support restaurants and generate orders since they don't impact the hard costs we incur to provide support restaurants, like advertising, search engine optimization and promotions," the company said.
"A permanent price control would eliminate our ability to offer many of these services to restaurants, and as a result, their ability to generate orders would be adversely impacted," Grubhub added.