Massachusetts COVID Alert System Texts Residents That Over Half of State Is 'High Risk'
Officials in Massachusetts used a COVID-19 alert system on Thursday to discourage residents from going out to ring in the new year, as the coronavirus virus is posing a "high risk" in more than half of the state.
"Over half of MA is now high risk for COVID-19. Resolve to not be a super spreader on New Year's Eve. Don't go out and party, stay home," the alert says.
The alerts were sent to an estimated 4.5 million people, according to MassLive. The state launched the alert system earlier this year to keep residents updated about the state's response to the virus and has sent a handful of alerts in recent weeks to discourage holiday gatherings.
As new virus cases have surged in Massachusetts and throughout the U.S., state officials encouraged residents to sign up to receive the alerts by phone, text or email. The state government's Twitter account tweeted a link to the alert system sign-up page on Tuesday, which Governor Charlie Baker also retweeted.
By Wednesday, state health officials had reported a total of 352,558 cases in Massachusetts since the start of the pandemic. The U.S. had more than 19.7 million reported infections by Thursday morning, according to Johns Hopkins University's data tracker.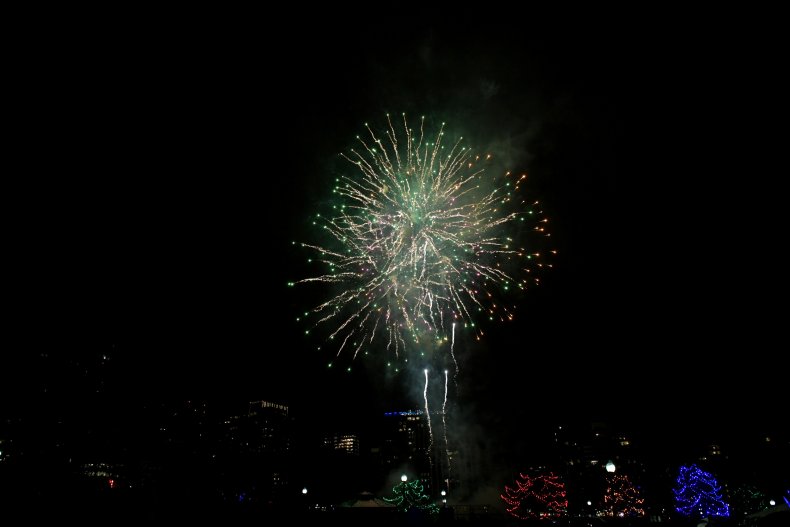 As Americans prepare to start the new year with the virus still a critical threat, health officials at the local, state and national levels encouraged citizens to hold off on holiday celebrations until the bulk of the U.S. population has access to COVID-19 vaccines. The late-December holidays especially concerned health officials, who urged Americans to avoid gatherings with individuals outside their immediate households.
A new variant of the virus, which researchers believe is highly contagious, was identified in Colorado and California earlier this week, raising concerns about the extent to which the variant may be spreading throughout the U.S.
The U.S. Centers for Disease Control and Prevention (CDC) updated its holiday guidance earlier this week with reminders and tips for New Year's Eve celebrations, which include avoiding travel, wearing masks, practicing social distancing, avoiding crowds or gatherings and frequently washing hands.
"The safest way to celebrate the new year is to celebrate at home with the people who live with you or virtually with friends and family," the CDC's guidelines say. "Staying home is the best way to protect yourself and others."
On Thursday morning, the Massachusetts Department of Public Health tweeted its own reminders for residents to celebrate the new year only with those within their households and to avoid traveling. The department also provided a link to holiday guidelines on its website, which include suggestions for virtual celebrations and no-contact food deliveries for friends and family members.
Newsweek reached out to the Massachusetts COVID-19 Command Center for comment but did not receive a response in time for publication.