Massachusetts Firm Says It Has 1.5 Million Coronavirus Tests Ready to Ship, Millions More on the Way
A Massachusetts-based firm has revealed it has more than a million tests that can diagnose COVID-19 in four hours ready to ship days after the U.S. Food and Drug Administration (FDA) issued an emergency authorization for its test.
Thermo Fisher Scientific said Monday that the company currently has 1.5 million tests available under the Emergency Use Authorization (EUA) label and that it expects to quickly ramp up production to reach 2 million tests per week.
A spokesperson for the company also confirmed to Newsweek that production is expected to scale up to five million tests a week at some point in April.
The company said the available tests will initially be distributed to approximately 200 labs in the U.S. "Thermo Fisher will continue to work in partnership with government agencies and private partners to expand access," the company added in a news release.
On Friday, Thermo Fisher Scientific said the FDA has issued an emergency authorization for its test, which can provide results within four hours of a sample arriving at a lab.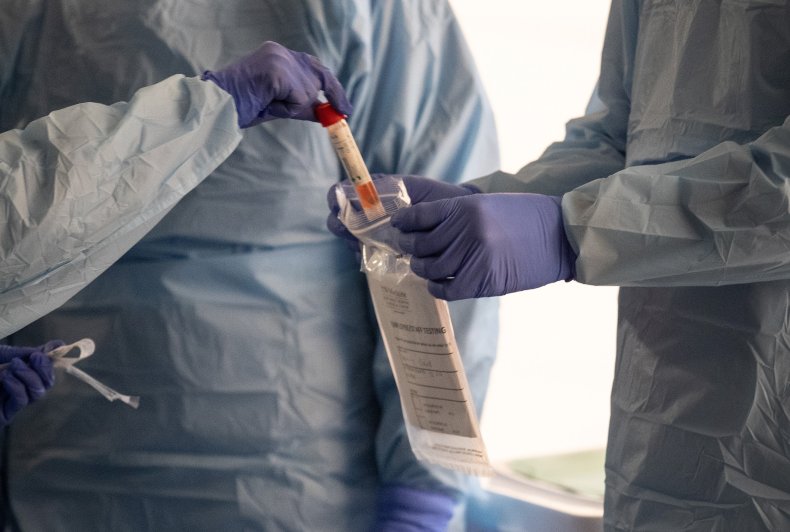 "The authorization of our diagnostic test for COVID-19 will help to protect patients and enable medical staff to respond swiftly to treat those who are ill and prevent the spread of infection," Marc N. Casper, the CEO of Thermo Fisher Scientific, said.
"In partnership with the FDA and regulatory authorities around the world, we are committed to expanding the availability of diagnostic testing to prevent the spread of this disease," he added.
The company, which makes lab equipment, is selling two types of test kits—one has the capacity to diagnose up to 100 people and another that can diagnose as many as 1,000 people.
"We plan to produce up to 5 million reactions per week. Each reaction has the potential to test one patient. The test will be available as part of a kit. Each kit can produce either 100 or 1,000 reactions depending on the specific kit," Ron O'Brien, a spokesperson for the firm, previously told Newsweek.
FDA Commissioner Stephen Hahn has said that the agency has been in touch with 80 test developers that want to make their kits available through the EUA process since the beginning of the new coronavirus outbreak.
Also on Friday, Swiss pharmaceutical firm Roche announced that it had also received emergency authorization for a rival test kit from the FDA. "Roche is committed to delivering as many tests as possible and is going to the limits of our production capacity," the company said in a news release.
Both companies were mentioned by President Donald Trump during a news conference on Friday after he declared the COVID-19 pandemic a national emergency.
The testing capacity of the U.S. has been widely criticized, with doctors, politicians and patients across the county complaining about the lack of available testing.
Last week, Dr. Anthony Fauci, the director of the National Institute of Allergy and Infectious Diseases, acknowledged in a House hearing that the U.S. has failed to meet the capacity for coronavirus testing.
"The system is not really geared to what we need right now," Fauci, who is the top expert on infectious diseases in the U.S. and is on Trump's coronavirus team, told a House hearing. "That is a failing. Let's admit it."
This graphic, provided by Statista, shows the number of confirmed COVID-19 cases in the U.S. as of 7 a.m. EST on March 16.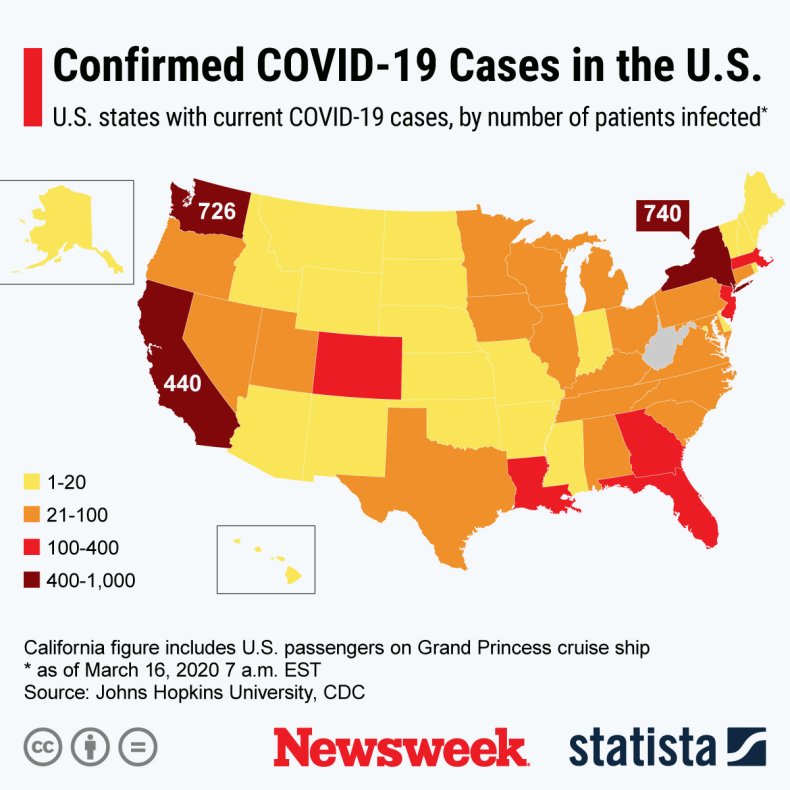 World Health Organization advice for avoiding spread of COVID-19
Hygiene advice
Clean hands frequently with soap and water, or alcohol-based hand rub.
Wash hands after coughing or sneezing;
When caring for the sick; before; during and after food preparation; before eating; after using the toilet; when hands are visibly dirty; and after handling animals or waste.
Maintain at least 1 meter (3 feet) distance from anyone who is coughing or sneezing.
Avoid touching your hands, nose and mouth. Do not spit in public.
Cover your mouth and nose with a tissue or bent elbow when coughing or sneezing. Discard the tissue immediately and clean your hands.
Medical advice
If you feel unwell seek medical care early and call local health authorities in advance.
Stay up to date on COVID-19 developments issued by health authorities, follow guidance.
Mask usage
Healthy individuals only need to wear a mask if taking care of a sick person.
Wear a mask if you are coughing or sneezing.
Masks are effective when used in combination with frequent hand cleaning.
Do not touch the mask while wearing it. Clean hands if you touch the mask.
Learn how to properly put on, remove and dispose of masks.
Clean hands after disposing of mask, do not reuse single-use masks.