Great White Shark Bumps into Fishing Boat, Circles Dead Humpback Whale in Terrifying Video: 'He's Coming Right up to the Boat!'
A curious great white shark was caught on camera this week approaching and bumping a fisherman's boat that was stopped close to a whale carcass in Massachusetts.
Footage of yesterday's close encounter was shared to Instagram by commercial fisherman Matt Riley, of Hingham. "The most epic thing I've ever witnessed on the water. Great white sharks up to 20ft in length feeding on a dead [humpback] whale in Cape Cod Bay," he wrote.
According to the Atlantic White Shark Conservancy research group, which attracted hundreds of comments and shares after posting the videos to social media, the apex predators were spotted at roughly 11 a.m. by Riley and his friend as they were catching lobsters in the area.
"He's coming right up to the boat!" one man is heard saying in the clip before noting the vast size of the stealthy fish, which clearly had a torn dorsal fin. The fisherman, who indicated that there was more than one shark in the waters at the time, also uploaded an image of the great white popping its head out of the sea beside its free lunch—sharp rows of teeth clearly on show.
The great white shark with the torn fin was also recorded yesterday by a man named Paul Richardson, the Atlantic White Shark Conservancy tweeted. "That one's even bigger, holy smokes," a person was heard saying, noting there were two sharks circling the whale.
Earlier this month, a slew of beaches along the Massachusetts coast, including Cape Cod and Nantucket, had been forced to close due to rising shark sightings, Boston.com reported.
The region has been on alert since June, when a 26-year-old man called Arthur Medici became the first person to be killed by a shark in the state in decades. Medici was attacked in waters off off Newcomb Hollow Beach in Wellfleet and passed away after being rushed to hospital.
Joe Booth, a local fisherman who witnessed the fatal shark attack on Medici, told local media outlet NBC Boston at the time: "I was that guy on the beach screaming, 'Shark! Shark!' It was like right out of that movie Jaws. This has turned into Amity Island real quick out here."
The Atlantic White Shark Conservancy, which manages a mobile application called Sharktivity in collaborating with marine authorities that tracks sightings, says on its website that white sharks were officially named as a protected species in Massachusetts state waters in 2005.
"White shark numbers have increased on the Cape because of a growing seal population which has rebounded after being hunted to near extinction," the U.S. National Park Service says.
The agency advises all beachgoers to stay close to shore, avoid areas with seals present, surf in group, avoid murky or low-visibility water and always pay attention to lifeguard flag warnings. "People have been seriously injured and killed by white sharks along this coastline," it warns in an online brochure about the species.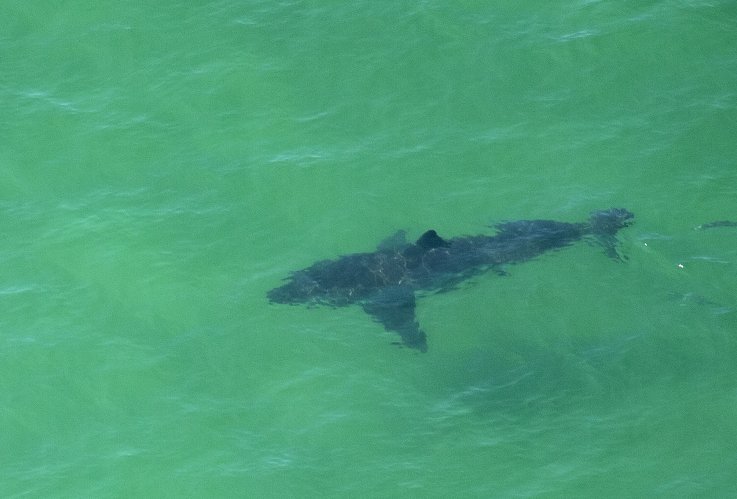 Great White Shark Bumps into Fishing Boat, Circles Dead Humpback Whale in Terrifying Video: 'He's Coming Right up to the Boat!' | News