Massachusetts Hikers Report Presumed 'Trip Wires' on Popular Trail
What Massachusetts police had worried were trip wires placed on a hiking trail are actually part of an electric dog fence, they said Wednesday
On Monday, police in Spencer, Massachusetts said that they were looking into trip wires along the Midstate Trail, a 92-mile footpath in the state's Worcester County which runs through 14 towns.
"Spencer Police are looking for your help. Someone has been placing trip-lines across segments of the Mid State Trail," police wrote, including a photo of the long yellow wire.
But on Wednesday, police said the case of the tripwire had been "SOLVED."
"According to the Midstate Trail Maintainer Supervisor - the alleged
hiker 'trip wire' was actually a yellow strand of electric dog fencing lying flat across the trail placed there by the property owner. The property owner added that countless hikers have crossed the fencing without issue," the department said on Facebook.
After hearing concerns about the wire, Edward Faron, a Midstate Trail supervisor, visited a home near Leicester close to where it had been seen.
"What I was shown were a couple of yellow strands of electric dog fencing keeping the family pup from running off, one strand placed across where the hiking trail crosses into the woods through her yard and a second strand on the lawn closer to Bond Street," Faron told the Telegram & Gazette.
Faron added that there has never been a report of an assault on a hiker on the Midstate Trail.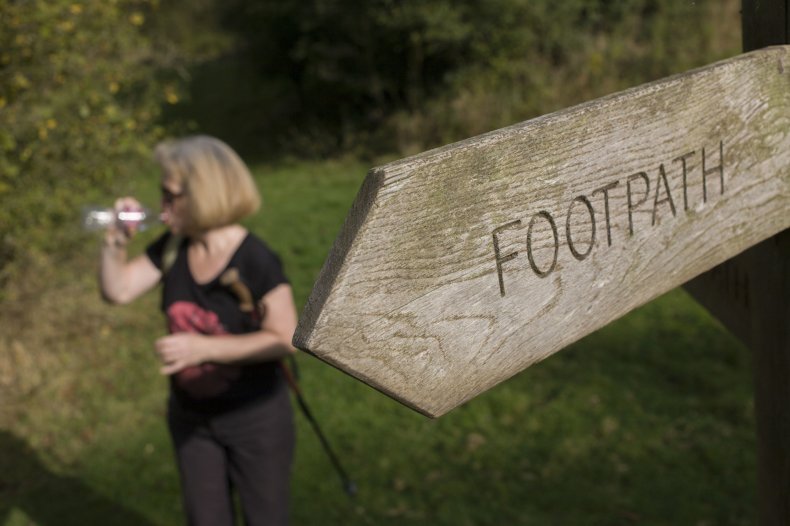 "The only threats to hikers are the occasional nest of yellow jacket bees too close to the footpath and the concern about ticks carrying Lyme disease," Faron said.
Mike Peckar, chair of the Midstate Trail Committee, told Boston.com that the electric fencing has been stepped over by hikers many times in recent years.
Sarah Gates, of Leominster, told Boston 25 News that she encountered the wire while on a 10-mile hike.
"I tripped, and I looked back. I thought I tripped on a branch, and I saw a yellow rope tied between two trees," Gates said.
"At first, I kind of didn't believe what I saw. But then, when I thought about it, I was like, 'That's pretty dangerous,'" she added.
Gates' friend found another piece of rope tied across the path, according to Boston 25. That rope was tied between two trees, and 15-20 feet away from the first wires. Gates warned hikers on social media and informed the police.