Massachusetts ICU Beds Almost Full as COVID Positivity Rate Nearly Doubles in a Week
Hospital officials in Massachusetts are warning that intensive care unit (ICU) beds are nearing capacity as the state's positivity rate nearly doubled in a week due to the highly contagious Omicron variant.
"I was searching for an ICU bed for one of our patients, and every single facility is full. They are at full capacity. They have no ICU beds left," Dr. Melisa Lai-Becker, the medical director for the emergency department at Cambridge Health Alliance's Everett Hospital, told WGBH on Monday.
"There is no bed capacity right now in the UMass system," Dr. Richard Ellison, who works at the UMass Memorial Medical Center in Worcester, added. "As soon as someone gets discharged, the bed is being filled immediately."
"It's really a math issue," Lai-Baker noted. "It's the sheer volume, that so many more people have been infected with COVID."
The latest figures from the Massachusetts Department of Public Health show that the state's positivity rate jumped from 11.75 percent last weekend to 20.67 percent on Monday.
Massachusetts, like much of the rest of the country, has seen a sharp uptick in cases over the holiday weekend, when health officials expected many to gather in larger groups indoors. On Monday, the state reported 31,184 new infections.
Hospitalizations are also increasing once again and are nearing the peak that state officials saw last January.
As of Monday, there are 2,372 patients hospitalized in Massachusetts for COVID-19. More than 60 percent of the hospitalizations are among those who are either unvaccinated or not fully vaccinated.
According to state figures released Tuesday, there are currently 441 patients in the state's ICUs and 262 patients intubated.
As of Monday, 91 percent of surgical beds and 85 percent of ICU beds are occupied.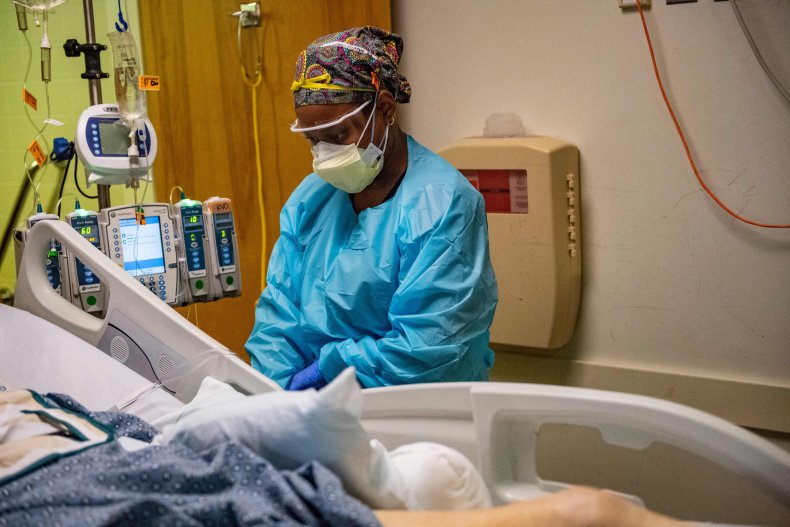 Hospitals are also struggling with staffing shortages that have been driven by infected doctors and nurses.
On Monday, the Massachusetts College of Emergency Physicians and the Massachusetts Emergency Nurses Association released a joint statement warning of a bleak and imminent future for state hospitals.
"Our Emergency Departments are at critical capacity and things will get worse.
Waiting rooms are overflowing and hospital admission beds are limited throughout Massachusetts," the unions said.
"In the coming days and weeks, we will see more nurses, doctors, and support staff become infected and stay home to isolate and get well," they added. "This situation will challenge our Emergency Departments and hospitals even more."
"We are overwhelmed," the statement read. "Your Emergency Departments are at a breaking point."
Doctors and nurses are calling on the public to help alleviate the current hospital situation by getting vaccinated and getting a booster shot, by avoid using emergency departments for routine COVID testing and by wearing a mask and social distancing regardless of vaccination status.