Massachusetts Joins a Dozen Other States by Creating Digital COVID Vaccine Card Choice
Massachusetts joined a list of a dozen other states across the U.S. when it announced a digital COVID vaccine card Monday to make it easier for residents to carry their proof of vaccination on them wherever they go.
The state's version is called My Vax Records and uses the SMART Health Card platforms used by at least 12 other states for residents to enter their name and date of birth along with other information to receive a digital copy of a vaccine card, or a QR code that can be scanned as a means of entry to a business or building that requires a vaccine.
The card can display information about original vaccine doses as well as boosters, state health officials announced.
Governor Charlie Baker Monday pointed to the app used to display California's SMART Health Card app as the most similar to the one being released in his state, according to Boston.com.
The list of states outside Massachusetts that provide a digital card includes California, New York, Colorado and Louisiana along with several other states and localities that provide a similar option like New York City, according to CNET.
The QR code can provide an individual's name, birth date, the date the person was vaccinated and the manufacturer of the vaccine they received, similar to the system in place in many other states, according to a list of states with digital passports compiled by PCMag.
The digital option comes as COVID cases rise across the country and an increasing number of businesses, cities or states are requiring a vaccine to enter a building, use public transportation or work certain jobs.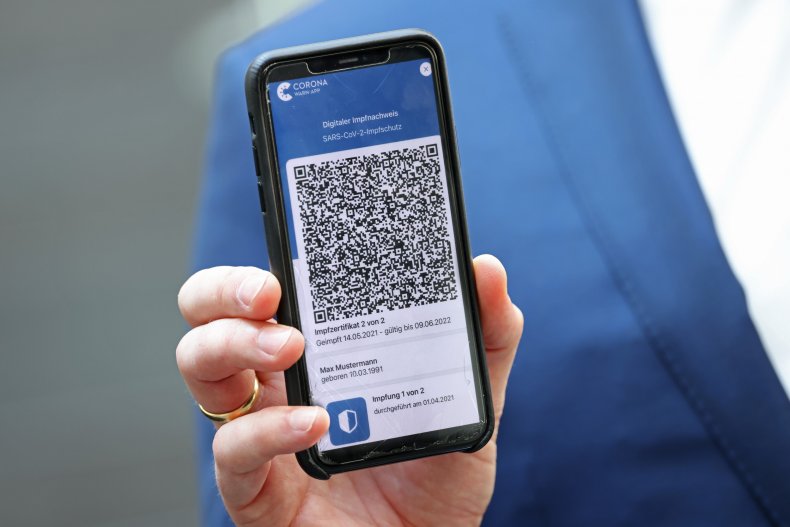 The Baker administration isn't requiring residents to create the digital card and isn't mandating residents to show proof of vaccination to enter any venue.
Some places of businesses are requiring proof of vaccination, however, and beginning Saturday, Boston Mayor Michelle Wu is requiring workers and customers at restaurants, gyms and many other indoor locations to show proof of coronavirus vaccination to curb a rise in COVID-19 cases.
Individuals can save the QR code to their phone, screenshot the information and save it to their phone's photos, or print out a copy for a paper record.
The cards rely on the Massachusetts Immunization Information System—the official database used by healthcare providers across the state to record vaccination information.
Residents whose vaccination records cannot be found or are incomplete can either contact their health care provider or the Massachusetts Immunization Information System team to update their records, state officials said.
The Associated Press contributed to this report.