Each year when fall comes around, flocks of people seek out a nearby farm to pick apples, pumpkins and the like. With Halloween and Thanksgiving just around the corner, it's that time of year when apple pies and pumpkin spice become culinary staples.
While many of us think of pumpkins as an ingredient for a yummy dessert or a porch decoration, for one man in Massachusetts growing these vegetables is a passion.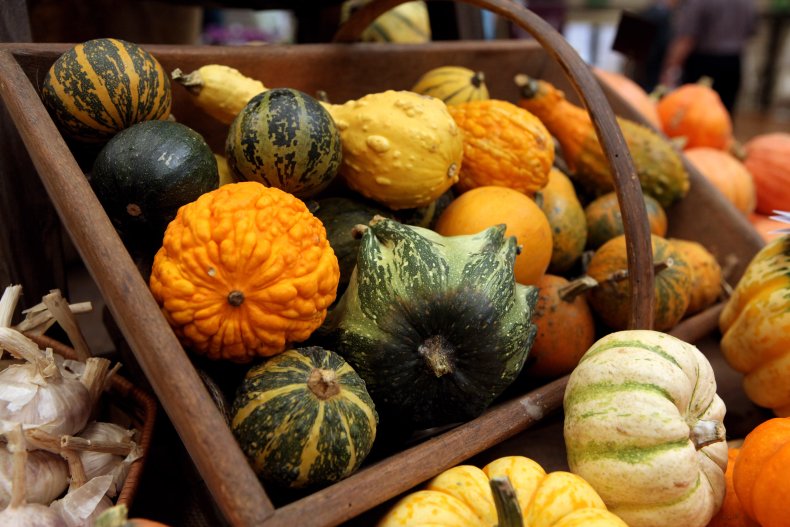 Steve Connolly, a pumpkin grower in Sharon, Massachusetts, says that he has just broken a Guinness World Record with his 470.5-pound bushel gourd. According to The Boston Globe, Connolly has been growing large pumpkins for 30 years.
Growing these larger-than-life veggies is no small feat and is not for the faint of heart. Connolly told the Globe that he needs a 600-square-foot plot of land to let a single gourd grow.
When speaking to WCVB-TV Boston, Connolly says that he enriches his soil with organic nutrients like fish, seaweed and even crab shells. He also told the station that this mega-gourd can consume up to 30 gallons of water a day.
The current Guinness World Record for heaviest bushel gourd was made in 2018 in Allardt, Tennessee; it weighed in at 384 pounds, 8 ounces.
Connolly's gourd is almost 100 pounds heavier. The Globe reports that it could take Guinness World Records up to 15 weeks to confirm the success—or failure—of Connolly's efforts.
After using mostly regular-sized vegetables in our daily meals, it might be hard to imagine a fruit or vegetable growing so large—but it is not unheard of. In 2016, a man in the United Kingdom broke the record for longest carrot at a little more than 20 feet long. In 2005, the heaviest apple was grown in Japan weighing in at 4 pounds, 1 ounce. The heaviest pumpkin on record? 2,624.6 pounds grown in Germany.
Each year the Safeway World Championship Pumpkin Weigh-Off takes place in Half Moon Bay, California, where pumpkin enthusiasts compete to see who has grown the biggest orange gourd. This year, the event took place for the 47th year in a row on October 12, minus the spectators. First place went to a 2,350-pound pumpkin, its owner taking home $16,450 in prize money—that's $7 per pound.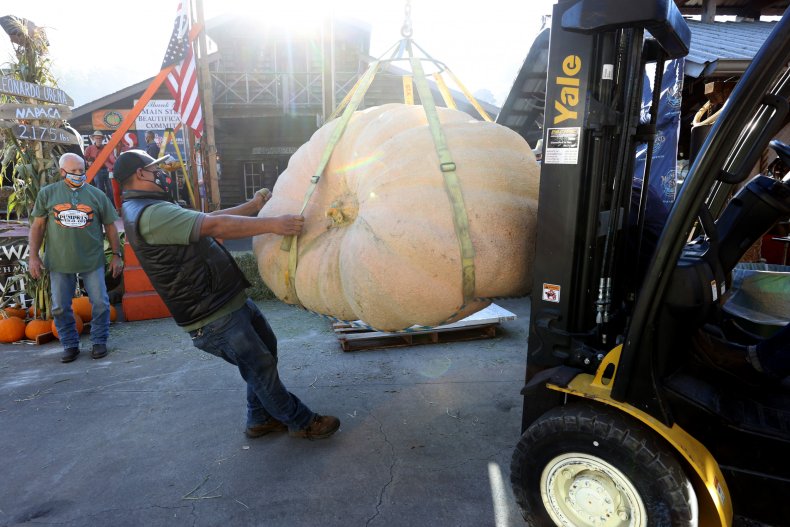 While it might seem a little unusual for such a specific category to be in the record book, there actually is no shortage of quirky records waiting to be broken. The fruits and vegetable categories alone show a range from the largest vegetable stew to largest mixed-vegetable sculpture to even largest gathering of people dressed as vegetables.
For those looking to get a real-life look at what could be Connolly's record-breaking gourd, it will be on display for a few more weeks at Ward's Berry Farm in Sharon.