Massachusetts Man Says Intruder Broke Into His Home and Cleaned It: 'It's Terrifying'
A Massachusetts father arrived home last week to find that an intruder had broken into his home and cleaned it.
Nate Roman, 44, of Marlborough, called the local police department after he returned home with his 5-year-old son to an open back door and a home far cleaner than how the family had left it when they went out. Upon inspection, Roman found that nothing was missing from the house.
"It was terrifying just to know someone was in your house," he told WCVB. "They scrubbed everything down, did the shower, did the toilet. Nothing has been taken, other than just being rearranged, cleaned, put away and put straight."
"I was immediately worried that someone was in the house," Roman added.
The intruder also cleaned the bedrooms, made the beds, stacked all the stuffed toys and left toilet paper shaped into origami roses on the toilet paper rolls. Roman's son's room, which was left messy that morning, was immaculate and smelled of cleaning products.
The kitchen was the only area in the house left uncleaned.
The Marlborough Police Department have asserted that they are taking the intrusion very seriously but are yet to find a suspect. "This is still a B and E [breaking and entering], it's just for misdemeanor because it did appear there was any intent to steal to take anything from the property," Sgt. Dan Campbell told the local news channel.
Roman has speculated that the incident could have been due to a cleaning service being directed to the wrong house, but in the case that it was something more sinister, the father has since changed all the locks to the house.
While home invasions do not appear to be rampant in Marlborough, the incident comes after a man was tied up and left in a bathroom in January after several men broke into his apartment. The victim, whose identity has not been made public, told authorities that the intruders stole two watches, a cellphone worth $1,800 and a pair of earrings.
Marlborough, a city in Middlesex County, has a crime rate — 19 crimes per one thousand residents — considerably higher than the national average across all communities in America, according to Neighborhood Scout. Around 85 percent of communities of all sizes in Massachusetts has a crime rate lower than Marlborough's, whose roughly 38,499 residents have a 1 in 52 chance of becoming victim to either a violent or property crime in the area.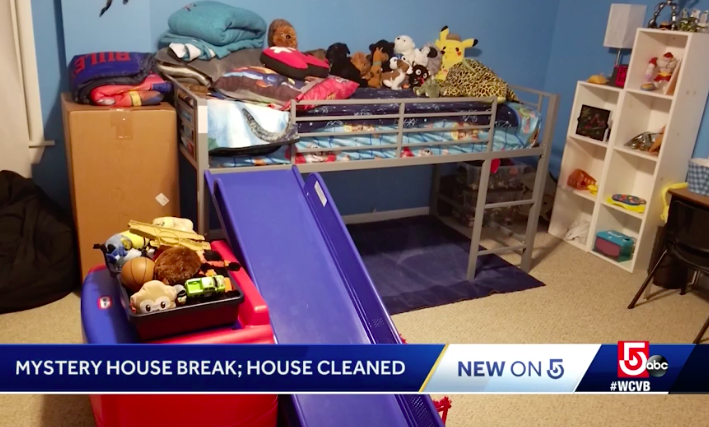 Massachusetts Man Says Intruder Broke Into His Home and Cleaned It: 'It's Terrifying' | U.S.