Newly released video footage shows the moment an escalator malfunctioned at a rail station in Boston.
The clip, released by local transportation agency Massachusetts Bay Transportation Authority and obtained by NBC10, showed the shocking incident at Back Bay Station on September 26.
In the video, the escalator, which was initially going up, can be seen suddenly reversing at speed.
People can be seen scrambling off the escalator over the handrail as they attempt to avoid falling on people below them. Nine people were taken to hospital.
NBC10 Boston's Kathryn Sotnik shared the video on Twitter, calling it "disturbing" and adding that many New England Patriots fans had been heading home to Boston when the malfunction occurred.
Two families are suing the MBTA and KONE, the engineering company hired to maintain the escalators, following the incident.
Responding to the footage, Attorney Robert W. Norton, who is representing the two families said the families were aware of its existence and that "viewing it causes them to relive the incident."
"They continue to recover and still face a long road following this incident," Norton said in a statement.
"They respectfully request continued privacy at this time, with enormous gratitude to their friends, family and well-wishers as they try to heal and return to their normal lives."
The statement also thanked the City of Boston for its hospitality, doctors, nurses and emergency services for their support at the time.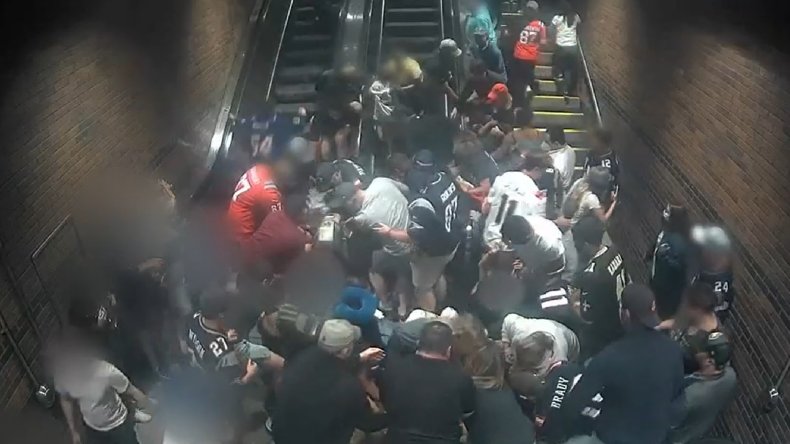 KONE has asked that the public not speculate about the reason for the malfunction and insisted the escalator unit passed an inspection on July 30.
In a statement, KONE said it "does not believe that any speculation serves the public interest." It said that the escalator involved was not manufactured by Kone, and passed a state inspection performed on July 30.
"This inspection included a brake torque test," it added. "KONE continues to work with the Department of Public Safety and the MBTA to perform stringent evaluation of units within the MBTA system.
Witnesses at the time of the incident spoke of the severity of the injuries sustained.
Claire Maia spoke to CBS Boston and said: "This little girl at the bottom, she had most of the side of her face gone, and her ear was almost off her head."
Another witness, Eli Smith, said he thought there had been a shooting due to the amount of blood.
He said: "There was a whole bunch of commotion coming from this escalator, so out of pure curiosity I go over and look and there was like four people laying down and like a puddle of blood at the end of the escalator."
Newsweek has contacted KONE and MBTA for comment.