Power Outage Map as 260,000 Without Power in Massachusetts and New York
More than 260,000 residents of New York and Massachusetts are still without power after a hail storm with strong winds hit the East Coast on Wednesday. At one point, more than 500,000 customers were without power, and though the restoration process has begun, half of the impacted customers are still experiencing an outage.
The thunderstorm knocked down trees across the region, damaging power lines. The storm damaged structures and outdoor dining areas, and Albany media reported that a 24-year-old driver was killed in the storm.
Massachusetts Power Outage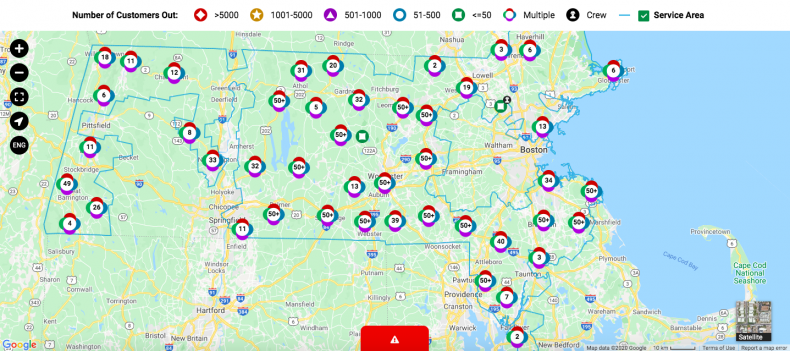 In Massachusetts, 33,363 Eversource customers and 65,156 National Grid customers are without power.
The Eversource outage is impacting customers in Berkshire, Franklin, Hampden, Hampshire, Middlesex, and Norfolk counties.
Eversource said its crews have worked through the night and restored the power of more than 110,000 customers since the windstorm. Eversource has crews coming from New Hampshire, Ohio, Pennsylvania, and Canada.
The National Grid outage in Massachusetts is mostly affecting Worcester, Plymouth, Hampden, Hampshire, Berkshire, Norfolk and Bristol.
The National Grid said that more than 1,700 field employees and contractors have made significant progress in New England overnight and that hundreds of additional contractors would be arriving throughout the day.
New York Power Outage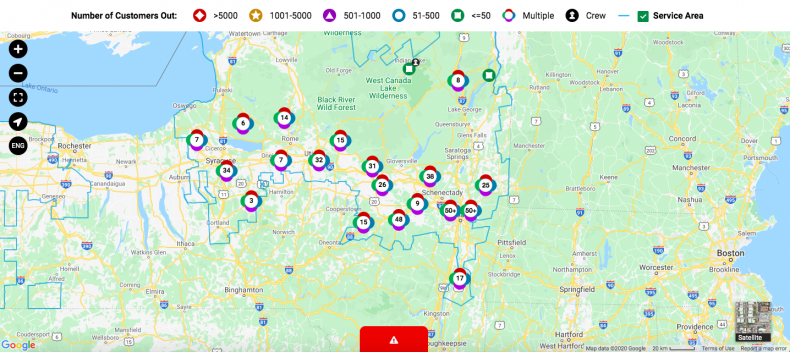 In New York, 138,984 National Grid customers, 15,229 New York State Electric and Gas customers and 9,420 Central Hudson Gas and Electric Corp customers are without power.
The National Grid outage in New York is mostly affecting customers in Albany, Columbia, Montgomery, Rensselaer, Schoharie, Saratoga, and Schenectady.
The New York counties most impacted by the New York State Electric and Gas outage are Columbia, Madison, Otsego, Rensselaer, and Schoharie.
New York State Electric and Gas said that prior to the storm, the storm response team was monitoring the weather forecast and prepared crews and equipment, who are now working to restore power in the most significantly impacted areas of the state.
The Central Hudson Gas and Electric Corp outage is mostly impacting Albany, Dutchess, Greene, and Ulster counties.
On Wednesday evening, Charles A. Freni, president and CEO of Central Hudson, said in a statement: "Wednesday's storms and damaging wind gusts of 40-50 mph caused electrical outages throughout our service area.
"Our crews will continue to work through the night to restore service to our impacted customers as safely and efficiently as possible."