Massachusetts Bans Police Chokeholds in Sweeping Reform Bill
A police reform bill in Massachusetts banning police chokeholds passed the state's house of representatives, although the the American Civil Liberties Union (ACLU) has said it does not go far enough.
The bill, passed in the house following a 93 to 66 vote, would require officers to intervene if they saw their colleagues use excessive force and would also curb qualified immunity, which can protect officers from civil lawsuits in cases of misconduct.
Among other wide-ranging measures in the bill, officers would be required to be licensed, face restrictions on firing a weapon at a fleeing vehicle and there would be curbs on the use of tear gas, rubber pellets or dogs to control behavior unless there was no other option. There would also be limits on no-knock warrants, NBC Boston reported.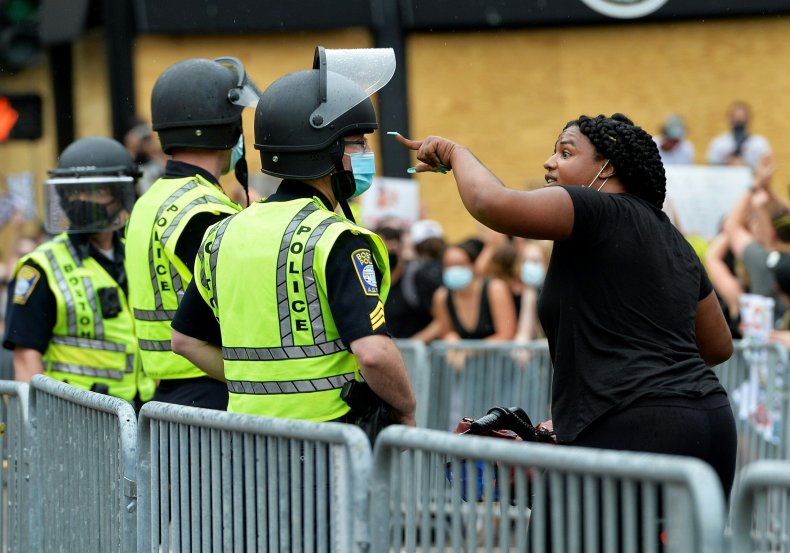 House Speaker Robert DeLeo tweeted the bill was passed after discussion with community groups and members of the Massachusetts Black and Latino Legislative Caucus.
"Change is never easy, but with this vote, the House of Representatives acts to ensure fairness and equality," he said in a statement.
The bill will now go to a conference committee to iron out differences with a police bill passed by the state Senate, the Boston Herald reported.
The bill was spurred by a debate about police racism since the death in May of George Floyd in Minneapolis while in police custody.
However the ACLU raised concerns that it would not help the victims of violence to hold police accountable.
Carol Rose, executive director of ACLU Massachusetts, said in a statement the bill did not not reflect the "fierce urgency that deadly police violence against Black people demands."
"Instead, it reflects the depth of entrenched opposition to necessary police reform. Police unions and officers used the weapon of fear to maintain the status quo and undermine even very moderate reforms."
"In order to make any laws about excessive use of force or other police abuses meaningful, Massachusetts must reform our civil rights laws—including by ending qualified immunity, which denies victims their day in court."
She said the final bill should "empower victims of police violence" get justice and "hold abusive officers directly accountable."
Police chiefs in Massachusetts criticized both House and Senate versions of the bills and the speed with which they are being passed. The Massachusetts Chiefs of Police Association [MCPA] which had backed setting up a commission to certify and decertify officers, say the bills go too far.
"As law enforcement leaders, our primary mission is to ensure the safety of our residents and our communities. We do not believe that this legislation will do that," Yarmouth Police Chief Frank Frederickson said, NBC Boston reported.
"It has a very real possibility of doing just the opposite. The legislation, at a minimum, will diminish the pool of candidates who wish to become police officers," he added.