Massachusetts Police to Investigate Incident of Cop Allegedly Slapping Man on a Stretcher
The Worcester Police Department in Massachusetts announced on Wednesday that it has opened an internal investigation, after a video posted on Facebook appears to show a police officer allegedly slapping a man lying on a stretcher.
"Today, I was made aware of a video that appears to show a Worcester Police officer using force after a man was spitting at officers," Worcester Police Chief Steven Sargent said in a statement, as reported by MassLive.com. "The incident has been referred to the Bureau of Professional Standards for investigation. We hold our officers to the highest standard and are fully committed to investigating every complaint, regardless of its source."
The statement from Sargent comes shortly after a video of the incident was posted to Facebook by John A. Smith, with a caption that read: "WorcesterPD cmon bro."
According to the report, police officers were summoned to the scene for a mental health call. When the video starts, Smith shows himself driving down a street, when he notices officers surrounding a man near the rear door of an ambulance.
As Smith was talking about how the police had to strap the man up to the stretcher, one of the officers appears to slap the man.
"Smack him again. Hit him again, he deserves it," Smith can be heard saying.
"Hit him again, hit him again," he says again, before laughing and driving away from the scene.
According to MassLive.com, Smith said he made those remarks to let the officer know that the incident was being recorded.
"He (the officer) smacked him in the head twice, I couldn't have been the only one who saw that," Smith said, adding that he posted the video on Facebook to bring public awareness.
Newsweek reached out to Smith on Facebook for comment, but did not receive a response in time for publication.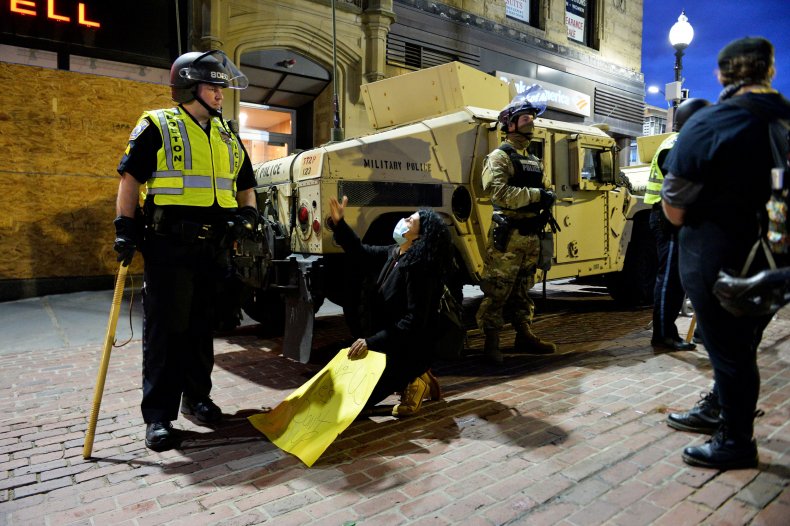 Shortly after it was posted on Facebook, the video gained traction and sparked criticism from some around the city and state of Massachusetts. Councilor Khrystian E. King said that he received several text messages throughout the day about the video.
"I brought it to the attention of the appropriate parties, and I am interested to see what the official report will be," King told MassLive.com.
King added that he made certain the City Manager Edward Augustus Jr. and the police department were informed about the video.
Newsweek also reached out to the Worcester Police Department.