Massachusetts Ranked Most Supportive State Amid Coronavirus Pandemic
Across the U.S., Massachusetts has ranked as the most supportive state for at-risk individuals amid the coronavirus pandemic, according to a new study published by WalletHub.
The study compared the 50 states and District of Columbia in how they have provided three types of coronavirus support: coronavirus relief and medical services; food and housing assistance; and unemployment support.
According to the study, these three categories were then evaluated using "17 relevant metrics" and were graded on a 100-point scale—with 100 being the best possible score. These key metrics include a number of different statistics, such as coronavirus relief fund per capita, share of sheltered homeless population and average unemployment weekly benefit.
The states were then given a weighted average across all metrics, which equated to the overall score and rank given.
Using those metrics, Massachusetts ranked No. 1 among all states and the District of Columbia, for the most coronavirus support given to its residents. The state received a total score of 69.94 out of 100: It ranked first in coronavirus relief and medical services, second in food and housing assistance and third in unemployment support.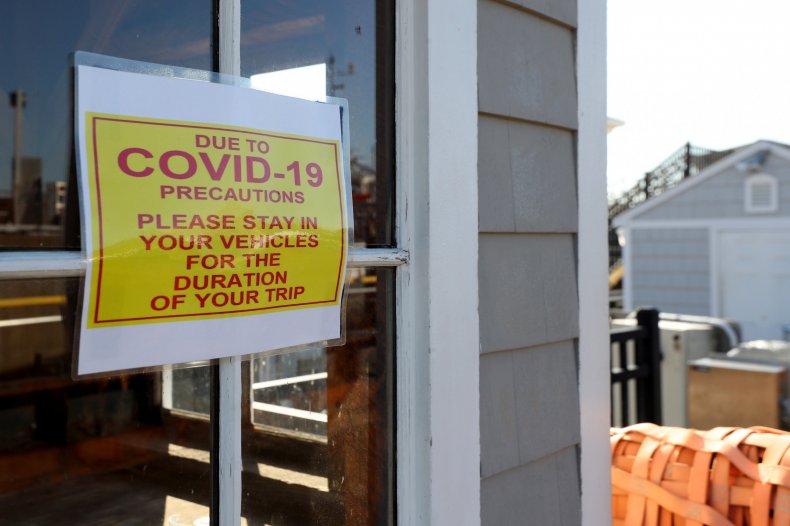 Among the 17 relevant metrics, Massachusetts had the second-highest unemployment insurance recipiency rate, the third highest share of sheltered homeless population and the fifth highest share of elderly residents served a home-delivered meal.
Behind Massachusetts were, in order, the District of Columbia, Rhode Island, Maine and North Dakota. New York and New Jersey, two states that were hit hardest by the coronavirus pandemic, ranked 12 and 19 respectively.
While Massachusetts ranked No. 1 overall, some other states were ranked higher across the relevant metrics.
According to the study, New Hampshire had the highest share of elderly population that was served a home-delivered meal, while Indiana had the lowest share of this metric. The study also ranked each state on coronavirus relief funds per capita. Wyoming, Vermont and Alaska were tied for first in this metric, while New York and Illinois ranked 50 and 51 respectively.
Melissa J. DuPont-Reyes, associate professor of epidemiology and biostatistics at Texas A&M University's School of Public Health, told WalletHub what state residents can do to help their local at-risk population.
"Individuals should be writing to their local and state politicians, to request effective allocation of resources/policies to at-risk populations and to demand mail-in voting for the upcoming elections to ensure all have access to safe voting participation," DuPont-Reyes said. "Individuals can also look for volunteer and donation opportunities to local charities and nonprofits who work with at-risk populations; the local food bank is a great start but make sure to maintain all advised safety precautions such as physical distancing, hand washing and mask wearing during any kind of volunteer effort."
Throughout the coronavirus pandemic, some states have faced backlash for their lack of support for residents.
In early March, homeless people in Las Vegas were forced to sleep in a parking lot after a local shelter temporarily closed. After the city faced criticism, it built an "isolation and quarantine complex," in the same parking lot, providing homeless with tents and beds to sleep on.
In Wisconsin, outrage sparked after the state decided to proceed with in-person voting, a decision that created at least seven new coronavirus cases, according to state health officials.
The decision to continue the in-person voting was criticized by many, including Milwaukee Mayor Tom Barrett and two commissioners of the Wisconsin Election Committee, Ann Jacobs and Mark Thomsen.
The federal government has also received its fair share of backlash over its response to the virus, with many feeling that President Donald Trump downplayed the virus during the early stages. Some critics also feel that Trump failed to provide adequate testing supplies as well as protective equipment to medical facilities.
WalletHub collected data from sources such as the U.S. Census Bureau, the Department of Housing and Urban Development, the Department of Labor and the Council for Community and Economic Research, in order to rank the states.
The new coronavirus, which causes the respiratory disease COVID-19, originated in Wuhan, China, but has spread across the U.S., which is currently the virus' epicenter. The U.S. currently has over 1 million confirmed cases and at least 57,266 deaths. On the other hand, over 112,000 Americans have recovered from the virus.