Man Pulls Gun on Walgreens Customer For Not Wearing Mask Inside Store
Massachusetts man Todd Goulston has been arrested on suspicion of wielding a gun during an argument with a man who was not wearing a mask inside a store.
Bridgewater Police said they were called to the Walgreens Pharmacy at 4 Central Square to a report about two men arguing inside the store at around 5:20 p.m. on Friday, July 3.
The dispute about one of the men not wearing a mask inside the pharmacy continued into the parking lot, police said. The suspect, 59-year-old Goulston, allegedly pulled out a gun from his vehicle and pointed it at the other man. Goulston then got into his vehicle and left the scene.
The 30-year-old victim who was allegedly not wearing a mask inside Walgreens was not injured during the incident.
Police identified Goulston and he was arrested a short time later at his home with the assistance of the East Bridgewater Police Department. He is accused of assault with a dangerous weapon, disorderly conduct and disturbing the peace.
Soon after he was taken into custody, the suspect complained of a medical issue and was transported to a local hospital.
Police confirmed Goulston had a license to carry firearms. His license and other firearms were seized from his home by police as part of the investigation.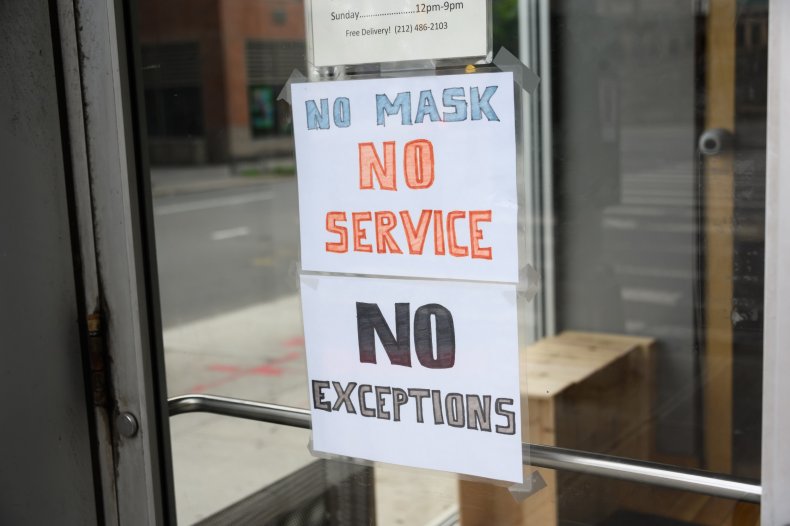 Massachusetts Gov. Charlie Baker issued an Executive Order effective from May 6 requiring all those over the age of two to cover their faces in public places where social distancing is not possible in order to help combat the spread of the COVID-19 virus.
People must wear a mask in Massachusetts when inside groceries, pharmacies or other retail stores. Businesses are allowed to refuse entry to anyone who is not wearing a mask for non-medical reasons.
In Arizona, two people were arrested after allegedly intentionally coughing on two Walmart employees while refusing to wear a mask inside the store.
The Yuma Police Department said Frank Montoya and Victoria Parra Carranza were arrested on "multiple charges" after getting into a confrontation with staff and then fighting with police after management attempted to remove them from the store for refusing to wear a mask inside.
Arizona is one of a number of states seeing a second wave of COVID-19 cases.
There are now more than three million confirmed cases of COVID-19 in the U.S., with 132,000 deaths according to Johns Hopkins University. A total of 953,420 people have managed to recover from the virus across the country.
This graph, provided by Statista, compares the number of confirmed cases of COVID-19 in several states as of July 6.