To Defend Against School Shootings, Massachusetts District Is Passing Out Emergency Buckets With Hammer, Rope
More than 1,000 blue buckets were assembled to be passed out to classrooms in the Brockton, Massachusetts, school district, filled with curated items aimed at saving lives in the event of an emergency, including a school shooting.
The Brockton school district partnered with the mayor's office, the Brockton Police Department and a local Lowe's to put together buckets filled with four items to help defend classrooms. Each blue five-gallon bucket contains a wooden wedge, a one-pound hammer, a 50-foot length of rope and a roll of duct tape, according to The Enterprise.
Brockton Public Schools Deputy Superintendent Mike Thomas told WCVB that the wooden wedge is designed for teachers to place under their doors as an extra defense against someone being able to get into the classroom. Teachers can use the hammer to jam the wedge further under the door.
The hammer, which could be used as a weapon, could also be used to break a window to help kids escape if the classroom is on the first floor. Thomas said the rope could also be used to help reinforce the door from the inside. The buckets aren't only to prepare for an active shooter situation and duct tape was included in the event of a fire so teachers can seal their doors and prevent smoke from seeping into the classroom.
"If something bad happens, you have to think quickly on your feet," Thomas told The Enterprise. "Teachers can't be running around the room looking for cords, or looking for something to smash a window. Now they know exactly where everything is."
He added that teachers are taught to assess the situation and decide if it's safer to leave or stay in the room. In the event that they must remain in the classroom, Thomas explained the bucket can be used for emergency bathroom situations.
Mayor Bill Carpenter applauded the decision to put the buckets in the classrooms and said that the tools combined with training that is provided to teachers will strengthen existing safety initiatives and make sure the school district continues to be a safe learning environment.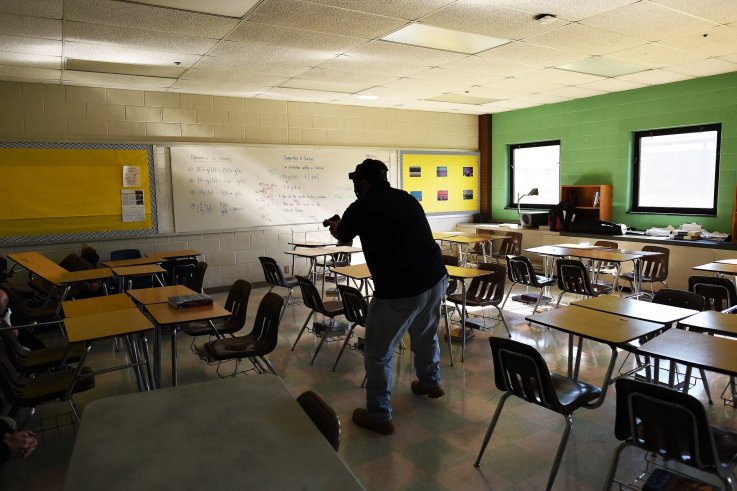 Thomas praised Lowe's for providing the buckets and its contents to the city at wholesale cost, making the implementation of the safety tools more cost efficient. The buckets will be placed in every classroom for the start of the new school year and ahead of classes, nurses in New Bedford, Massachusetts, located about 40 miles south of Brockton, learned life-saving techniques.
New Bedford Fire District Chief Scott Kruger and a combat medic taught nurses how to treat gunshot victims, including how to properly pack wounds, open airways and apply tourniquets.
Kruger told WBZ that these were all simple measures that people can take to save others who, without the immediate response, would die right in front of them. One nurse said it is important for nurses to adjust to the current reality and other participants said the teaching shouldn't be confined to just nurses. Given that any bystander could find themselves in a position to help, they believe everyone should learn these lifesaving tips.
The issue of school safety was thrust back into the spotlight after 17 people were killed during a shooting at Marjory Stoneman Douglas High School on February 14. The shooting amplified calls for increased gun control and raised the possibility of hiring armed security guards or even training teachers to carry firearms and respond to an active shooter.
To Defend Against School Shootings, Massachusetts District Is Passing Out Emergency Buckets With Hammer, Rope | U.S.