Massachusetts State Representative Gets Death Threat After Urging Governor to Extend Coronavirus Lockdown
Massachusetts state Representative Mike Connolly received a death threat on social media after he urged Governor Charlie Baker to extend his stay-at-home order amid the novel coronavirus pandemic.
Connolly, a Democrat who represents the 26th Middlesex District, posted an open letter, which was signed by 10 other state representatives, on Facebook on May 15. The letter, which has since been signed by an additional state representative, called on the governor to extend the state's lockdown measures. Below the letter in the comments, a Facebook user posted a photo of a large firearm with the threatening message: "You might want to rethink your letter."
Boston television station WCVB 5 reported on Monday that an investigation by police is underway into the incident.
"My understanding is that the Cambridge Police Department and other relevant authorities are investigating the matter," Connolly told Newsweek in an email. "It has been an unfortunate and sad situation. I am doing okay and plan to continue advocating for the health, safety, and well-being all of our Cambridge and Somerville constituents."
Jeremy Warnick, director of communications and media relations for the Cambridge Police Department, told Newsweek that the threat was under investigation.
"State Representative Connolly contacted CPD on Sunday morning notifying the Department about threats he received in response to information he shared on his Facebook page requesting the Governor extend the state's stay-at-home advisory. We opened up an investigation into the matter," Warnick explained in an email. "At this point, the Facebook user has been identified, and an investigation is ongoing."
In an interview with The Boston Globe in an interview, Conolly said he was "taken aback," by the threat. "It gave me the chills to be honest," he said, adding that most people in his state and district support social distancing measures put in place to curb the spread of the novel coronavirus, noting that he has received overwhelming support from his constituents.
"It seems like an unfortunate reflection of the rhetoric that comes from Donald Trump and others," he told The Globe.
Posting to Twitter on Monday morning, Connolly said that he would continue to put the health and safety of his constituents first.
"This has been an unfortunate and sad situation. I am doing okay and plan to continue advocating for the health, safety, and wellbeing of all of our #CambMA and #Somerville constituents. Thank you to everyone who has reached out to offer support," he wrote.
In a Saturday tweet resharing the letter to the governor, Connolly said that Massachusetts does not appear to be ready to reopen.
"Currently, our 7-day average for positive #COVID19 test results exceeds @WHO benchmarks, and there's too much confusion about what to expect on Monday," he cautioned.
Baker already extended the stay-at-home order by 24 hours. The order was set to expire at midnight on Sunday but was extended through the end of Monday. The governor, a Republican, plans to announce the first phase of reopening on Monday as well.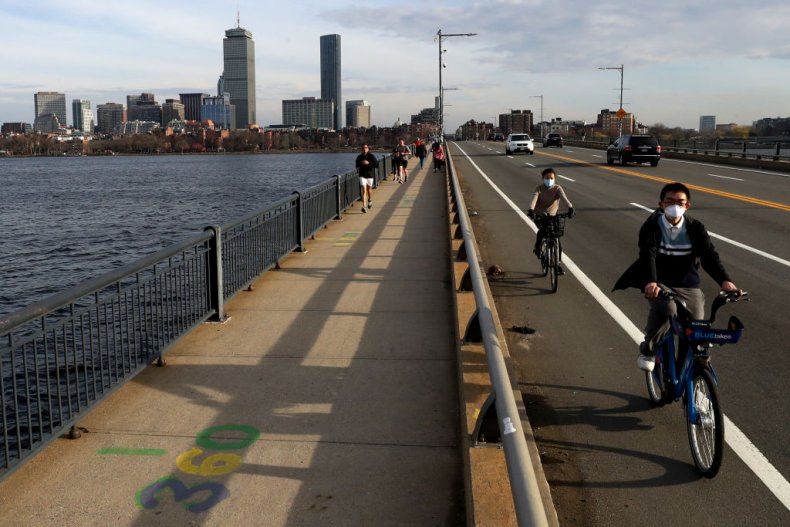 According to NBC 10 Boston, the new order from the governor will allow places of worship, construction and manufacturing to resume with safety measures put in place. While many like Connolly are urging the governor to err on the side of caution, others are calling for Baker to move swiftly to reopen the state's economy.
"Thirty percent of our members have said if we can't be open in the month of May they are somewhat to extremely concerned that they will never reopen," Jon Hurst of the Retailers Association of Massachusetts told NBC 10.
As of Sunday afternoon, the Massachusetts Department of Public Health had reported a total of 86,010 confirmed cases of the novel coronavirus. Of those infected, 5,797 had died while 702 were in intensive care. The state saw 1,077 new cases between Saturday and Sunday as well as 92 newly reported deaths.
This article has been updated with further comment from state Representative Mike Connolly and the Cambridge Police Department.