Massachusetts Towns Raise Risk of Deadly Brain Disease to Critical
Massachusetts has confirmed its first human case this year of the potentially deadly brain disease Eastern equine encephalitis (EEE), prompting public health officials to raise the risk level in two communities.
EEE is a rare disease caused by a virus that can be transmitted to humans by infected mosquitoes.
On Monday, the Massachusetts Department of Public Health (DPH) announced that a male under the age of 18 had been infected with the EEE virus in Plymouth County.
Subsequently, the DPH raised the EEE virus risk level to "critical"—the highest category—in the towns of Carver and Middleborough, both of which are located in Plymouth County.
Furthermore, the communities of Kingston, Plympton and Rochester are now considered at "high risk"—the second-highest category—while Bridgewater, Halifax, Lakeville, Plymouth, and Wareham are at "moderate risk," according to the DPH.
Public health officials are advising residents in high- and critical-risk communities to avoid outdoor activities at dusk and dawn, when the chances of being bitten by the mosquitoes that spread EEE are highest.
In fact, Middleborough Town Manager Robert Nunes said that no outdoor activities will be allowed on town-owned property until further notice.
Furthermore, the DPH recommends all residents use an Environmental Protection Agency-approved mosquito repellent whenever they go outside. In addition, wearing long sleeves and pants can significantly reduce the chance of being bitten.
"EEE is rare, but it is a serious disease and public health concern, and we remind residents of the need to protect themselves from mosquito bites as EEE activity increases," Massachusetts Public Health Commissioner Monica Bharel said in a statement.
"The single best prevention tool continues to be avoiding mosquito bites by using repellent, wearing long sleeves and pants, weather permitting, and avoiding outdoor activity between the hours of dusk and dawn in the highest risk areas."
When a mosquito infected with the EEE virus bites a person, symptoms can appear anywhere from 4 to 10 days after, according to the Centers for Disease Control and Prevention (CDC).
Infection with the virus can cause two kinds of illnesses: systemic or neurologic. The neurologic illness can involve encephalitis, or swelling of the brain, and this is what is referred to as EEE. Only around 5 percent of people infected with the EEE virus will go on to develop EEE.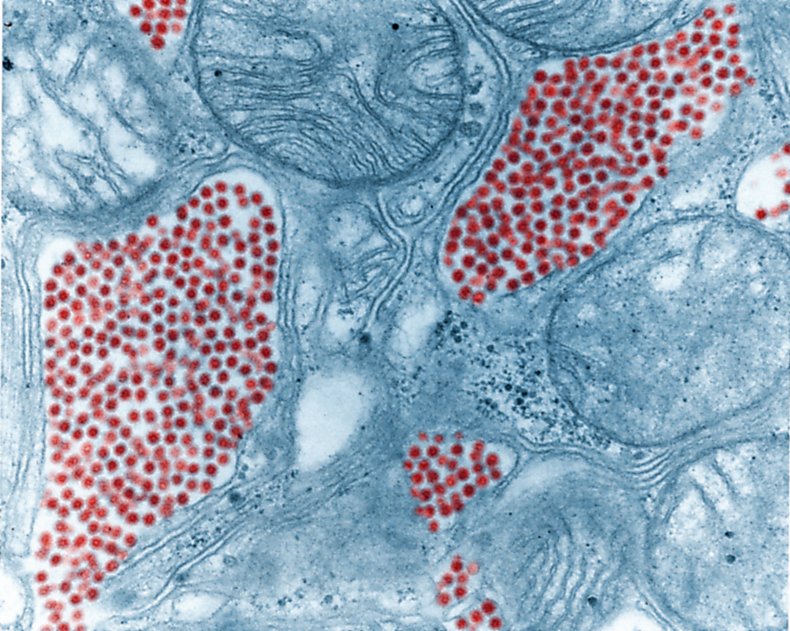 Most people with the systemic illness recover completely after 1-2 weeks, suffering symptoms such as fever, chills, malaise, and muscle/joint pain.
Those with neurologic disease may experience symptoms such as fever, headache, vomiting, diarrhea, seizures, behavioral changes, drowsiness and coma. In older adults and children, encephalitis may occur after several days of systemic illness.
While EEE is a rare disease, around 30 percent of patients die and others will suffer ongoing neurological problems, ranging from mild brain dysfunction to severe cognitive impairment, personality disorders, seizures and paralysis. Many patients who experience ongoing problems require long-term care, and some die within a few years.
In 2019, the CDC recorded 38 cases of EEE across the U.S. and 15 deaths. Massachusetts alone reported 12 cases last year—more than any other state—as well as 6 deaths.
EEE cases tend to be clustered in the Atlantic and Gulf Coast states, and most commonly occur from late spring through early fall.