Massachusetts Brides Angry at Governor Charlie Baker for Slashing Guest List During COVID-19
Massachusetts Gov. Charlie Baker announced on Friday that he would be cutting the number of outside guests allowed at events by half, leaving frustrated brides throughout the state.
Bride-to-be Arianna Brangiforte found out, while on her bachelorette weekend, that her wedding guest list would be slashed to 50 people.
"I just wish it wasn't 50, because we have to cut people, and I can't push our wedding to next year, because my fiancée is in the United State military and he's getting deployed," she said to WCVB News. "If we can get it back to 100 that would be just fine, but 50 is just too small, especially for my family - I've got a big family."
Amid COVID-19 concerns, Massachusetts residents are allowed to host outside events up to 100 people and inside events up to 25 people, with strict social distancing guidelines in place.
The new rules will limit outside events to 50 people, while inside events will remain capped at 25 people. The adjustment will take effect beginning Tuesday and will apply to both public and private gatherings.
Gatherings of more than 10 people will be required to wear face coverings at gatherings. Those found breaking the new regulations could be liable for a $500 fine or may receive a cease and desist order, which will be served by a new COVID-19 enforcement team in the state of Massachusetts.
Gov. Baker cited a number of high-profile gatherings that had resulted in the spread of the novel virus, with clusters of people becoming infected.
"In the past few week we've seen an uptick in COVID-19 in some communities," he said in a press statement.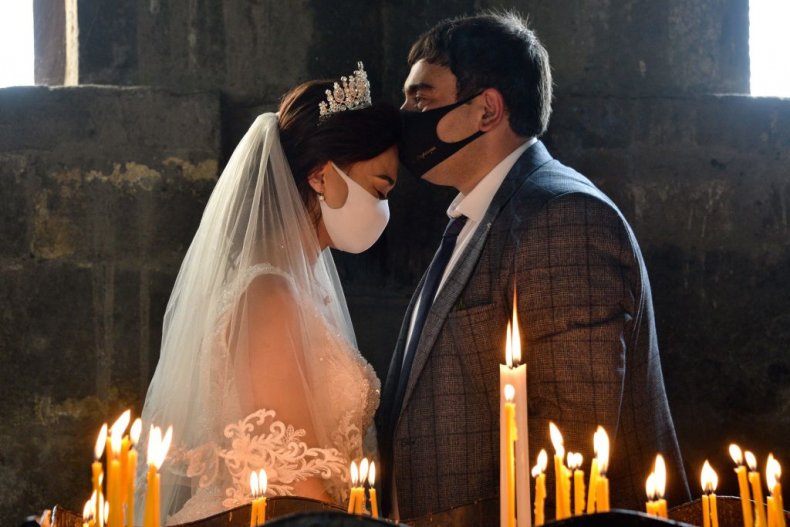 Venues will be hit hard with the new legislations. Wedding venues, for example are finding their clients are simply traveling to the neighboring state of New Hampshire, where coronavirus rules are more lenient.
"They're going to New Hampshire, having their event and then they are coming back to Massachusetts," said Jonathan Saphire, who operates Saphire Estate, a wedding venue.
The notable decline in COVID-19 in Massachusetts compared to other places in the U.S. had made people feel too at ease, said Gov. Baker who believes it had "caused some residents to feel a bit too relaxed about the seriousness of this virus."
Gov. Baker reiterated his concerns. "We can not say this enough, COVID-19 is highly contagious, and can be deadly for individuals who are older, who have pre-existing conditions... and in many cases people of color.
"We have to work hard, always — harder in some respects than ever — to contain COVID-19 and keep our economy open for business," Baker said.
As of August 7, Massachusetts Department of Public Health confirmed 111,853 COVID-19 cases, including 8,488 coronavirus-related deaths.