Massachusetts Woman Who Encouraged Boyfriend to Kill Himself Found Responsible for His Death
The highest court in Massachusetts has upheld the involuntary manslaughter conviction of a woman who sent text messages to her boyfriend encouraging him to kill himself.
Michelle Carter, 22, had been given a 15-month prison sentence for the death of Conrad Roy, who died by carbon monoxide poisoning in his truck in a parking lot in July 2014.
Roy, 18, had climbed out of the truck as it filled with the toxic gas, but Carter convinced him to get back into the vehicle through her texts.
What emerged were thousands of messages sent between the couple in their largely online relationship. Carter, then 17, had initially asked Roy to seek help for his suicidal thoughts.
But shortly before his death, Carter started to urge him to kill himself, with one text stating: "You're just making it harder on yourself by pushing it off, you just have to do it."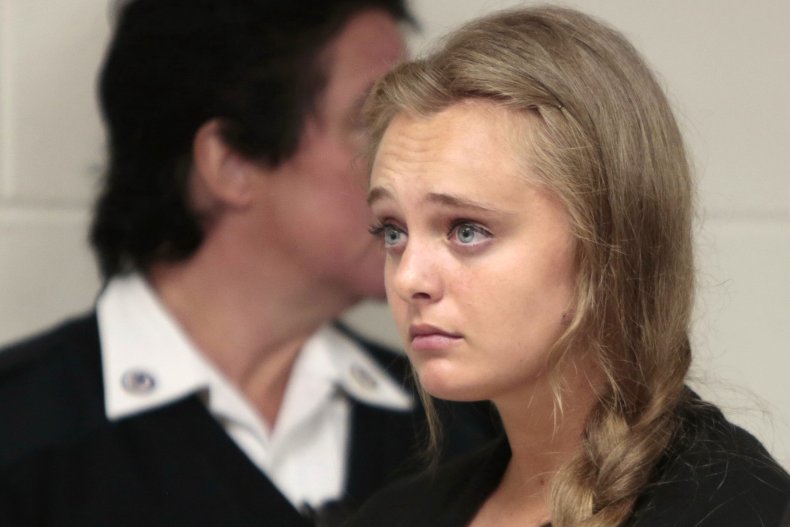 Carter has remained free while her lawyers appealed the Massachusetts juvenile court verdict handed down in 2017.
They argued that Carter was not responsible for Roy's death, that her actions were affected by the antidepressants she was taking and that her texts were protected free speech under the Constitution's First Amendment.
Last February, in their application to the Supreme Judicial Court, her attorneys said she was the first person to be convicted of killing a person who took his own life, "even though she neither provided the fatal means nor was present when the suicide occurred," local news outlet MassLive reported.
But Justice Scott Kafker from the Massachusetts Supreme Judicial Court said in a written decision on Wednesday that Carter was culpable because she "did absolutely nothing to help him: she did not call for help or tell him to get out of the truck as she listened to him choke and die."
Her attorneys criticized the decision, which they said had "very troubling implications, for free speech, due process and the exercise of prosecutorial discretion, that should concern us all," Fox News reported. They may now appeal to the U.S. Supreme Court.
Her defense attorney Daniel Marx said in a statement to The Washington Post: "We continue to believe that Michelle Carter did not cause Conrad Roy's tragic death, and she should not be held criminally responsible for his choice to end his own life."