Massacre in Ethiopia Sees Dozens 'Hacked To Death'
Amnesty International has reported the mass killing of "likely hundreds" of people in Ethiopia's Tigray Region, with the United Nations calling for an inquiry saying the deaths "would amount to war crimes" if confirmed.
The human rights organization said dozens of civilians were "stabbed or hacked to death" in one town with Prime Minister Abiy Ahmed accusing fighters from the Tigray People's Liberation Front (TPLF) for the massacre. Tigrayan officials have denied involvement in the atrocities and the region's leader, Debretsion Gebremichael, told AFP news agency that the accusations were "baseless."
In a statement broadcast on Facebook, Abiy said that TPLF fighters went on a rampage after government troops had "liberated" the western part of Tigray, "brutally" killing innocent civilians in Mai-Kadra, a town in the southwestern zone of Tigray.
Witnesses also blamed forces loyal to TPLF, according to Amnesty, who reported that those visiting the town a day after the attack found dead bodies "soaked in blood" and "strewn all over the town".
"This is a horrific tragedy whose true extent only time will tell as communication in Tigray remains shut down," said Deprose Muchena, Amnesty International's Director for East and Southern Africa. She said the victims appeared to have been day laborers, in no way involved in the ongoing military offensive.
There has been long-standing tension between Ethiopia's government and the TPLF, which controls Tigray, the country's northernmost state. The tension has boiled over into military clashes between TPLF and the government's Ethiopian Defense Forces (EDF), including airstrikes by federal forces.
As a result, thousands of civilians have crossed the border into Sudan, which says it will shelter them in a refugee camp. More than 11,000 Ethiopian refugees have crossed into Sudan since fighting started, according to aid agencies. Amnesty said it has examined and digitally verified photographs and videos of bodies on the ground or being carried away on stretchers. It confirmed the images were recent and using satellite imagery, geolocated them to Mai-Kadra.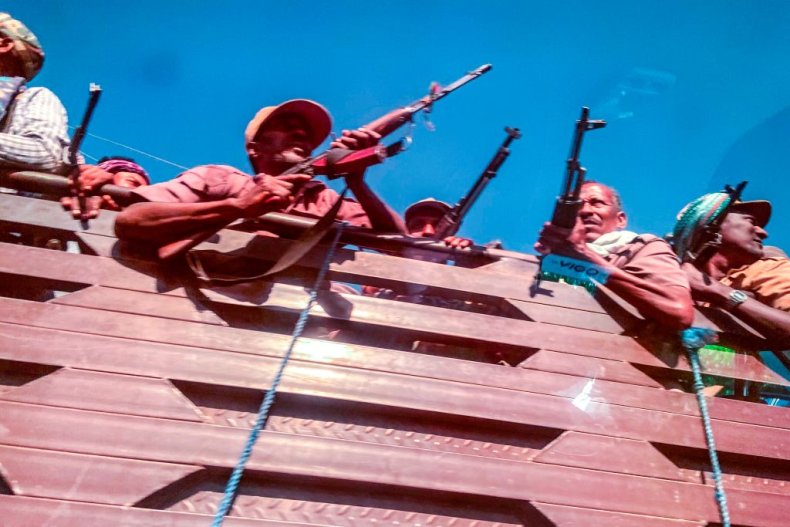 "The government must restore all communication to Tigray as an act of accountability and transparency for its military operations in the region, as well as ensure unfettered access to humanitarian organizations and human rights monitors," the organization said. "Amnesty International will regardless continue to use all means available to document and expose violations by all parties to the conflict."
The rights group said an independent pathologist supported claims made by witnesses that the dead bodies had gaping wounds inflicted by sharp weapons such as knives and machetes.
"Amnesty International has not yet been able to confirm who was responsible for the killings, but has spoken to witnesses who said forces loyal to the TPLF were responsible for the mass killings, apparently after they suffered defeat from the federal EDF forces," it said.
Abiy has accused the TPLF of starting the conflict by attacking a federal military base and defying his authority, while the Tigrayans say they have been persecuted during his two-year rule.
The Ethiopian government has issued arrest warrants for Tigray officials and appointed an "interim administrator" as part of its efforts to oust the regional leadership. The UN has said that vital aid supplies to hundreds of thousands of people in northern Ethiopia are at risk because of the conflict.
UN Human Rights Chief Michelle Bachelet has called for a full inquiry into the massacre, with a spokesman saying: "There is a risk this situation will spiral totally out of control, leading to heavy casualties and destruction, as well as mass displacement within Ethiopia itself and across its borders."