Mexico City Earthquake Pictures: Dozens Dead as Massive 7.1 Magnitude Quake Decimates Buildings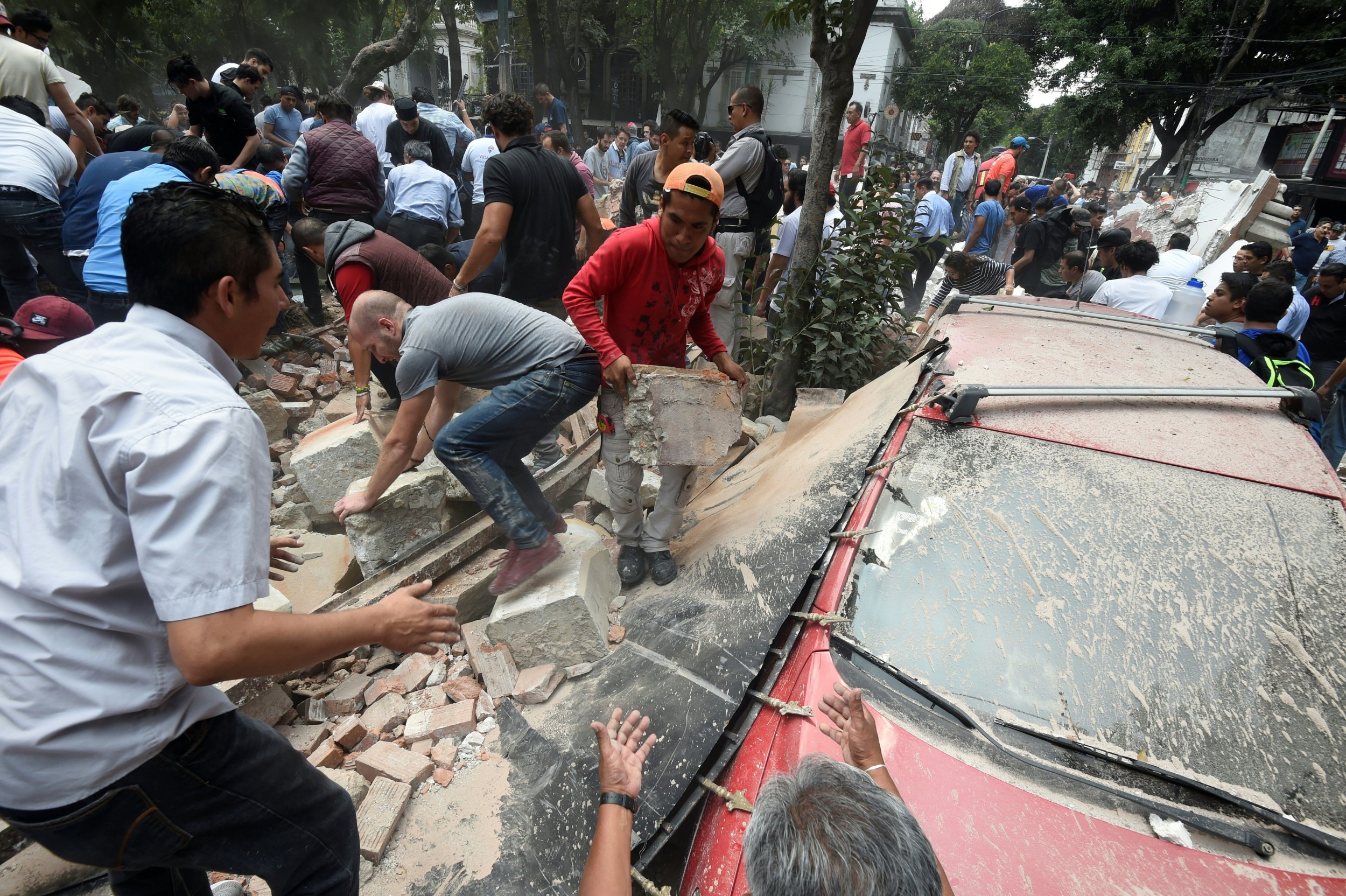 UPDATE | A massive earthquake struck Mexico City Tuesday, causing 79 deaths, according to Mexico's federal government. It has destroyed at least 20 buildings and sent millions of residents of one of the world's largest cities scrambling for cover from the second major temblor in the country in two weeks.
Officials with Mexico's seismological agency calculated the epicenter more than 75 miles south of the capital with a preliminary magnitude at 7.1, which packs a destructive power that was felt from the Pacific Ocean to the Gulf of Mexico.
The death toll continues to rise but as of 6 p.m. it had reached 61, according to the Associated Press. Mexico State Governor Alfredo del Mazo said among the deaths were a quarry worker who was killed after the quake unleashed a rock slide and another died after hit by a lamppost.
First responders worked into the night Tuesday to free those trapped in rubble from fallen buildings. At least 20 structures have fallen in Mexico City.
President Donald Trump tweeted his support for the city after the quake: "God bless the people of Mexico City. We are with you and will be there for you."
Many in the region posted photos and videos of buildings crumbling to the ground as thousands flocked to the streets to help with rescue efforts.
Other videos showed panic as those stuck in office buildings hid under their desks as the roof started to cave in. Another showed a woman repeatedly saying, "Oh my God!" in Spanish as she breaks down in tears watching a building crumble.
Jorge Guajardo, the former Mexican Ambassador to China, posted videos showing a building collapsing, a facade from a brick building that fell on a car and massive fractures in roads that left one van partially dangling in the air.
One video of the aftermath from a highrise building shows clouds of smoke rising from buildings across the area. Another clip shows buildings decimated and some with massive cracks through their foundation. Ash covers cars parked along the street as alarms sound and people yell.
Guajardo says there was "panic and frustration" after the quake.
The quake sent people fleeing from offices along the central Reforma Avenue, the Associated Press reported. After the earth tremor, residents surveyed the streets and helped first responders find survivors buried in the rubble.
At one point, a crowd cheered as rescuers in the Mexico City neighborhood of Roma helped free a woman from remnants of a building, the news agency reported.
Tuesday's earthquake struck on the 35th anniversary of a massive quake in 1985 that killed at least 5,000 people and left major damage to the capital, the AP reported.
Earlier this month, a 8.1 magnitude quake killed nearly 100 people and was so large that it moved the fault up by 32 feet, as the Cocos and North American tectonic plates collided.
It was the biggest earthquake in the region is almost a century.
This is a developing story. Check back for updates.
Mexico City Earthquake Pictures: Dozens Dead as Massive 7.1 Magnitude Quake Decimates Buildings | U.S.