'A Massive Failure': Fox News Host Confronts HHS Secretary Over Trump's COVID Response
Fox News anchor Chris Wallace suggested that the response from President Donald Trump's administration to the COVID-19 pandemic has been "a massive failure" as he interviewed the president's Secretary of Health and Human Services Alex Azar on Sunday.
Trump has repeatedly downplayed the seriousness of the novel coronavirus pandemic and been dismissive of masks, which help curb the spread of new infections. The president has flouted social distancing guidelines, holding large crowded events and rallies indoors with many attendees foregoing masks.
Meanwhile, the pandemic is surging nationwide as the U.S. continues to have the highest number of infections and deaths of any country. As of the early afternoon on Sunday, the U.S. has confirmed more than 14.6 million infections and over 281,000 deaths since the outbreak began here in January. More than 101,000 Americans are currently hospitalized as the U.S. adds an average of more than 190,000 new infections per day and an average of over 2,100 people die daily.
During an interview with Azar on Fox News Sunday, Wallace pointed to the surge in new infections, hospitalizations and deaths, as well as a recent remarks from Centers for Disease Control and Prevention director Robert Redfield warning that the coming months could be the "most difficult time in the public health history of this nation."
"Secretary Azar, isn't this the result of a massive failure by President Trump and his administration?" Wallace asked Azar.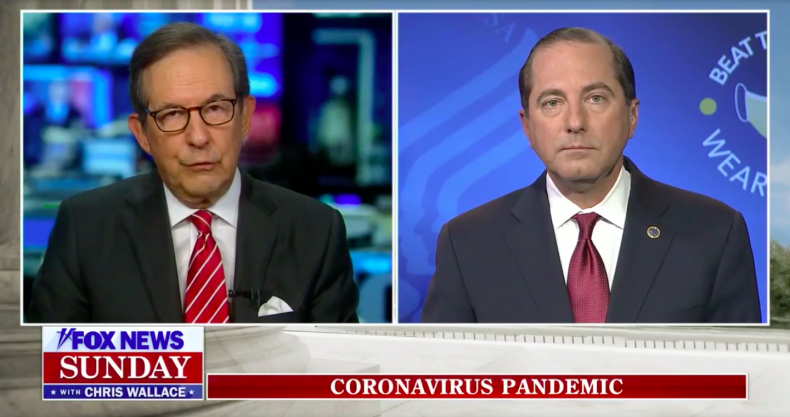 "Chris, we're seeing these surges in cases in the United States but also in Germany, France, U.K., Spain," the Trump administration official responded. "It's about behavior and cold weather. People are going indoors," he said, arguing that Americans are not following guidance from the federal government. "They're not wearing their face coverings."
Wallace went on to confront Azar with a clip of Trump speaking dismissively of guidance from the CDC to wear masks back on April 3. In the video, Trump insisted masks would be "voluntary," saying: "I don't think I'm going to be doing it."
"If President Trump had worn a mask then and urged everyone to wear a mask then, back in April, the way [President-elect] Joe Biden is right now, wouldn't we be in much better shape?" Wallace asked.
Azar responded by pointing out that the Trump administration's guidelines since April have called on Americans to wear masks. "The president has called masks 'patriotic' acts. Every one of his top advisers, we are out there wearing masks. We talk about data," the Trump administration official said.
But Wallace pushed back, reasserting his point that the president has not set an example in line with public health guidelines.
"The fact is, the president said on the first day, April 3rd, that he wasn't going to wear a mask. He didn't wear a mask in public for three months until July and just last night at that rally in Georgia, not only didn't he wear a mask but I was watching the rally—thousands of people packed together. None I could see were wearing a mask," Wallace said. He pointed out that's a "direct violation of what the CDC and you are recommending."
Azar insisted that guidance from the federal government is "always the same," regardless of the setting. But he did not specifically criticize Trump or the Georgia rally. The Trump administration official added again that the president has called masks "patriotic."
Newsweek reached out to the Department of Health and Human Services for further comment but it did not immediately respond.
During the interview, Azar also referred to President-elect Joe Biden as the "former vice president. Wallace cut him off multiple times in a row, saying that the proper title is "President-elect Joe Biden."
Although Biden was projected as the winner of the presidential election nearly a month ago, Trump has refused to concede. The president and his supporters have pushed unfounded claims of widespread voter fraud, insisting that the election was "rigged." They have not provided evidence to substantiate these allegations, and nearly all legal challenges brought by Trump and his attorneys have been dismissed or rejected in court.
In addition to defying social distancing guidelines repeatedly through hosting large indoor rallies and events while foregoing masks, Trump confirmed to journalist Bob Woodward in March that he was intentionally downplaying the seriousness of the pandemic to the public.
"I wanted to always play it down," the president said. "I still like playing it down because I don't want to create a panic."
White House Coronavirus Task Force coordinator Dr. Deborah Birx voiced concern in an interview with NBC News' Meet the Press on Sunday over the president's repeated efforts to flout federal guidance when it comes to the pandemic.
"I hear community members parroting back those situations, parroting back that masks don't work, parroting back that we should work towards herd immunity, parroting back that gatherings don't result in super-spreading events. And I think our job is to constantly say those are myths," Birx said.