Watch: Massive Gas Explosion Rocks Detroit Suburb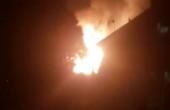 Residents of a Detroit suburb are returning home Saturday after a massive gas explosion forced the evacuation of thousands.
The inferno in Melvindale, Michigan, was so large that some said it could be felt as far as Canada, according to WGNTV.com.
A single motorist is responsible for the blaze that was sparked after 2:30 a.m. Saturday when the driver crashed into a natural gas main, reports the Detroit Free Press. Although the local utility, DTE Energy, was able to shut the gas off, residual gas in the line caught fire and spread to a nearby three-story building.
The rapidly spreading fire could be seen for up to 25 miles from the point of the blast, and its severity forced authorities to evacuate all nearby residents. The city of 10,715 residents saw the relocation of 1,500 residents in an 18-block area.
"It's the worst fire I've ever seen in my life," Melvindale police Chief Chad Hayse told the Press.
The evacuation order was lifted Saturday morning, allowing residents to return home. The blaze is largely under control, although some utility poles continue to smolder.
The motorist was the only person injured in the blast.