Massive Gas Spill Near Creek Triggers Investigation After Fuel Theft
A large fuel spill has triggered a police investigation in Colorado after what is believed to have been a theft from a semitruck's tank caused the leak.
The Lakewood Police Department first reported the incident on Monday in a Facebook post. Officers were called to the scene at 6:42 a.m. local time Monday, police said, following a report that fuel was spilling into the area's Bear Creek.
When officers arrived at the location, near the intersection of West Dartmouth Place and West Dartmouth Avenue, they discovered that a "hole had been drilled into the fuel tank of a semi parked in the area." Several residents in the area where the semitruck was parked told police they smelled a "strong smell of diesel and fuel was spilling out of the tank," according to the Facebook post.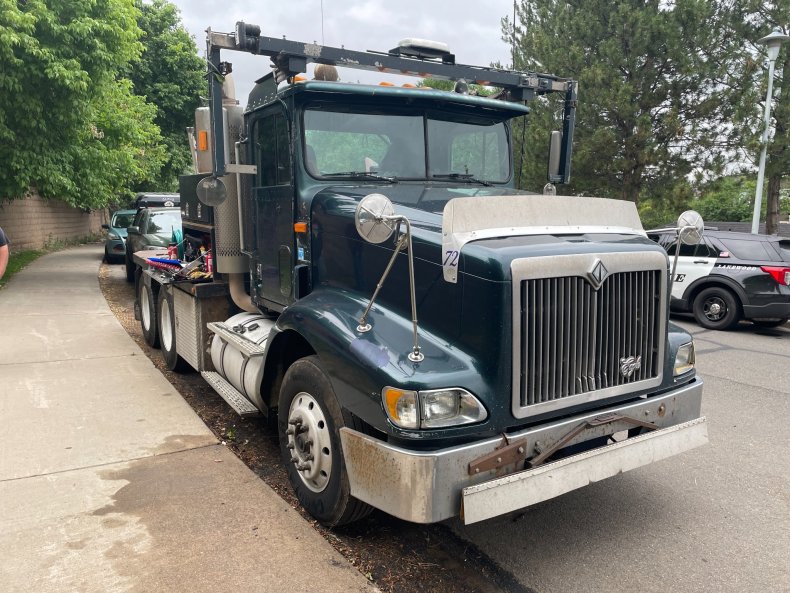 The incident comes shortly after a massive oil spill in Tennessee last month. A pipeline spanning 1,000 miles burst and leaked roughly 200,000 gallons of oil into the rural town of Henderson. The leak, which just missed the state's largest aquifer, was the second-largest oil spill in Tennessee history.
Lakewood police said in their Facebook post that roughly 200 gallons of diesel fuel leaked out of the semitruck "into drainage areas that lead into Bear Creek."
The diesel leak has triggered a police investigation into the apparent theft. "There is no suspect information currently. If anyone has any information on this crime, they are asked to call dispatch at 303-480-7300," the Lakewood Police Department said.
Newsweek reached out to the department for further comment.
Over the past few months, other fuel thefts have been reported as the nation has seen a wave of gas price increases, although pump prices across the U.S. have dropped lately.
Patrick De Haan of GasBuddy tweeted on Monday that gas prices were declining for a 27th straight day, with the national average down 13 cents from a week ago to $4.66 a gallon. "Americans today likely to spend at least $142 million less on gasoline than 27 days ago," he wrote.
Earlier this month, a gas station in Alabama had the pump buttons used to choose a fuel type stolen, resulting in the gas station losing money.
"The buttons cost over 100 dollars," the Flomaton Police Department said at the time. "While the buttons are not installed, gas cannot be sold from the pump due to [their] being mandatory for operation."
In April, a Newsweek analysis of gas theft incidents found that over $140,000 worth of fuel had been stolen from gas stations from March to April.