A Massive Heat Wave Is About to Hit Europe
If you're heading to Europe this summer, you might want to pack a few extra bottles of sunscreen, and maybe some electrolyte supplements, as the temperatures across the continent are expected to go beyond 100 degrees Fahrenheit from this week.
Public health warnings have been issued in Spain, Belgium, France, Germany, Italy, the Czech Republic and Switzerland, with forecasters at Accuweather saying temperatures in those countries may exceed 100 degrees Fahrenheit.
"The whole government is mobilized," French President Emmanuel Macron said on Monday.
Spanish meteorologist Silvia Laplana tweeted on Sunday that 'el infierno,' or hell, is coming, while Weather Underground said that temperatures above 95 degrees Fahrenheit next week in Europe "could break all-time June records."
The weather service also noted that the heatwave could be "especially dangerous because it's happening so early in the summer."
The graphic below, provided by Statista, illustrates the temperatures for June 2019 compared to the historical average.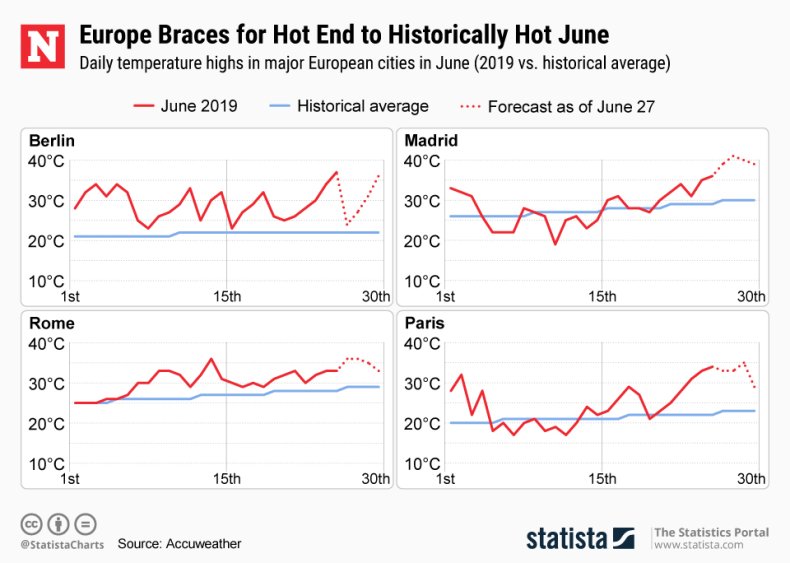 The hottest European summer was in 2003, which resulted in at least 30,000 deaths across the continent.
A 2015 report from the World Meteorological Organization and World Health Organization on heatwaves and health said: "Heatwaves occurring early in the summer have been shown to be associated with greater impacts on mortality in the same population than later heatwaves of comparable or higher temperatures (Hajat et al., 2002; Kinney et al., 2008; Anderson and Bell, 2011) ... In Europe, heatwaves occurring in June result in relatively high mortality compared to later in the summer."
During the 2003 heatwave, more than 14,000 people died in France. To help keep the public safe this summer, French authorities said they have installed more than 1,000 new drinking fountains across Paris, according to France 24.
The Associated Press reported that French Education Minister Jean-Michel Blanquer ordered national exams taken by students heading to high school be postponed due to the extreme heat.
The AP article also noted that international soccer association FIFA may need to implement heat precautions at the Women's World Cup, which France is hosting.
Europe's hot weather follows warm temperatures around the world. In Greenland, large ice melts have been recorded early in the season, and a heat wave in India this month has reportedly killed dozens (there are discrepancies with exactly how many).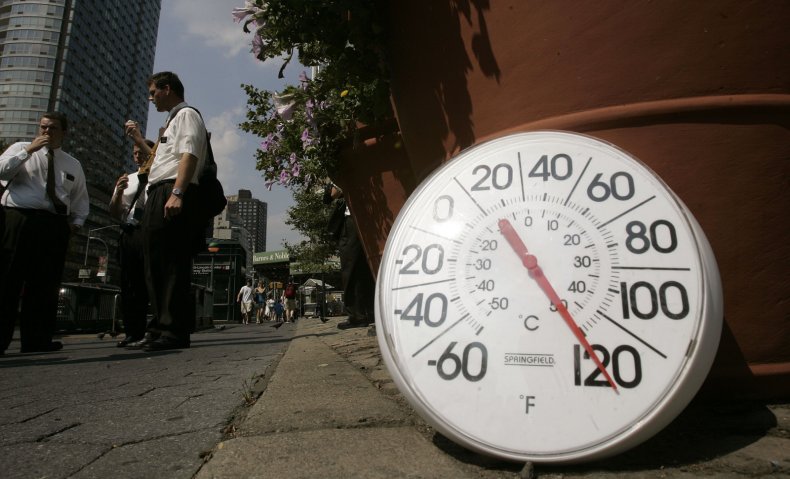 This article was updated to include an infographic.