'Massive Revolts': GOP Rep. Warns Against Mask Mandates After Being Fined for Not Wearing One
Republican U.S. House member Ralph Norman is speaking out regarding potential mask mandates that may be administered due to rising COVID-19 numbers.
The South Carolina congressman spoke to NewsMax on Monday about certain consequences that might occur if Americans are required to wear masks in public places by the Centers for Disease Prevention and Control.
"I don't think they're going to take it well," Norman said to NewsMax. "I think you can see massive revolts against doing this, particularly with this administration and being so hypocritical in other areas. I think they'll revolt against it."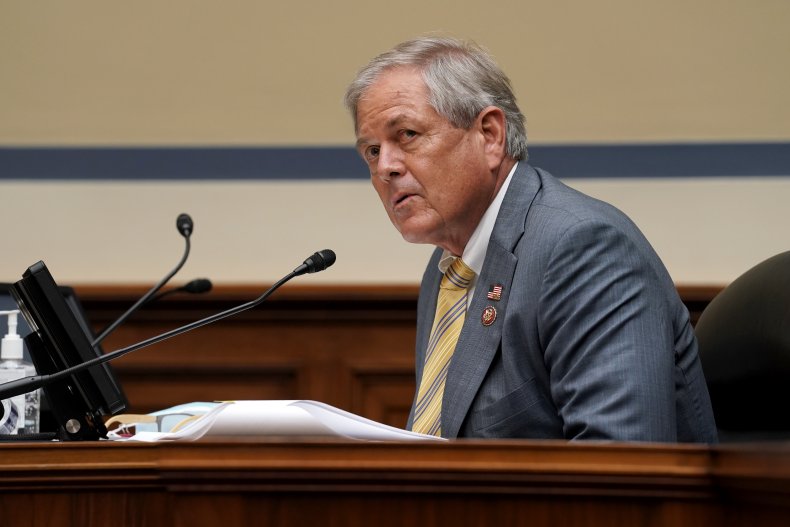 "What will be interesting is when you board an airplane, whether people are gonna decide they want to do it or not, or risk being thrown off the plane," Norman continued. "But it's going to be massive. This is part of their strategy to do this."
"Where is the commission to find out where it [COVID-19] really came from? Does anybody believe it was from a bat in a wet market? No, this is from a foreign country, China, which we think, a lot of us think, they're putting this out on America because they despise America, they're a communist country."
In May, Norman, along with U.S. Representatives Majorie Taylor Greene, of Georgia, and Thomas Massie, of Kentucky, were fined $500 for not wearing a face-covering on the House floor. He lost an appeal on July 20 regarding the specified fine.
Afterward, Norman pushed back on Twitter stating the House missed an opportunity to uphold its orders to allow vaccinated individuals to be without face coverings in public places.
"Americans ought to push back on petty rules that are neither rational nor rooted in science," Norman said on Twitter. "Especially those that are politically motivated. That's exactly what I did on the House floor."
Norman also spoke to NewsMax about a potential vaccine mandate if the FDA approves the COVID-19 vaccine.
"What I'm hearing is they'll probably try it," Norman said. "You know, we've got freedom in this country to choose whether we get vaccinated or not. I got vaccinated. But the same thing on the mask. Most of the doctors I talked with say masks do no good.
"This is another scare tactic that I think this administration is using, and I think they probably will [require vaccines] at some point."
The Delta variant of COVID-19 is spreading rapidly in the United States, "specifically amongst unvaccinated populations," according to the CDC. Also, "Delta has caused over 75 percent of recent COVID-19 cases in the United States, and will likely cause more."