Massive Shelton Fire Spewing Toxic Smoke, Residents Told to Stay Indoors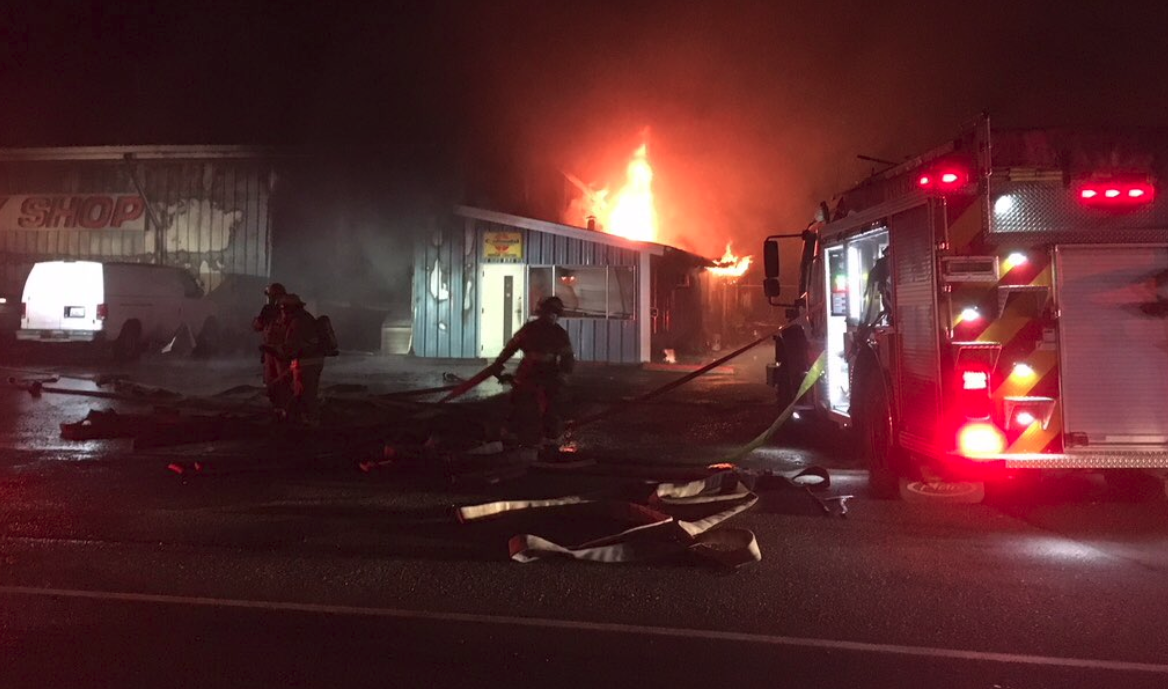 A fire broke out next to a tire warehouse on Wednesday in Shelton, Washington, with firefighters urging citizens to avoid the area due to potentially toxic fumes.
Local residents have been advised to stay indoors while officials get the blaze under control.
"Please avoid the area as heavy smoke from the fire is blowing across State Route 3 and the area increasing the likelihood of collisions with other vehicles," Mason County Fire & EMS said on Facebook. "Residents in the area advised to 'shelter in place' due to smoke fumes from the fire." Authorities also told citizens to close windows and turn off ventilation systems.
Meanwhile, Mason County Search & Rescue shared similar advice on social media. "An industrial fire…is producing toxic smoke and the highway is closed," it wrote. "Residents within 1/2 mile of the fire have been advised to shelter in place, close all windows and turn off air conditioning."
It added: "Those with breathing issues in the half mile zone should evacuate, though not required. Heavy tire smoke for the next 12 hours perhaps."
Fire Chief Bob Burbridge told KomoNews.com: "We have rubber smoke heading due north into the city of Shelton. Basically, the south half of the city." He said no injuries were reported.
Authorities believe the inferno originated from an RV parked next to the shop. Firefighters who arrived on the scene found the vehicle in flames. Wind had helped spread the flames further.
The National Weather Service's summary for Shelton said the region's air quality remains "Unhealthy to Very Unhealthy." It suggested air quality may improve later Thursday.
"Pollutants in smoke can cause burning eyes, runny nose, aggravate heart and lung diseases, and aggravate other serious health problems," it warned. "Limit outdoor activities and keep children indoors if it is smoky. Please follow medical advice if you have a heart or lung condition.
"Children, the elderly, and individuals with respiratory illnesses are most at risk of serious health effects. If you experience respiratory distress, you should speak with your doctor."
Images from the scene shared on Twitter this week by the Dept. of Ecology showed half a dozen firefighters next to piles of vehicle tires while the massive industrial blaze burned behind them.
Local media website Q13fox.com also posted a series of videos from the scene.
Earlier this week, the Mason County Sheriff's Office appealed for information from the public amid suspicions that arsonists were operating in the area, including near Shelton. County sheriff Casey Salisbury told Kiro7 there had been more than a dozen fires reported this summer.
Detectives believe ay least five of those were the result of arson, Kiro7 reported.
"It's very concerning when you start having this many fires in an area," sheriff Salisbury told the outlet. "Obviously, it's dry and there's a lot of things that could set off a fire, but when our fire experts and our wildland firefighters and our people in the fire department are telling us that these are beyond suspicious, that's very concerning that there are so many of those."
The investigation into the latest industrial blaze remains ongoing.