Massive Winter Storm Is Causing Severe Blood Shortages, Red Cross Says
Last week's "bomb cyclone" left behind more than just an inconvenient, freezing, snowy mess across the East Coast. It also created a concerning dip in the amount of donated blood available.
"Last week's massive winter storm had a significant impact on our blood supply with blood drives canceled from South Carolina to Maine," Chris Hrouda, the president of Red Cross Blood Services, said in a statement. Over 150 blood drives were canceled due to dangerous road conditions and power outages caused by the severe weather; those are now being rescheduled, according to Kara Lusk Dudley, a spokesperson for the Red Cross. (The Red Cross holds about 145,000 blood drives each year.)
People with type O and type B negative blood are especially asked to donate. People who want to donate platelets, which help blood clot, are also needed.
Winter Storm Grayson—the proper name of what everyone wound up referring to as a "bomb cyclone"—swept from Florida to New England last week. The storm killed at least 12 people and caused Boston's tides to surge to record-breaking levels, flooding parts of the city's public transit system.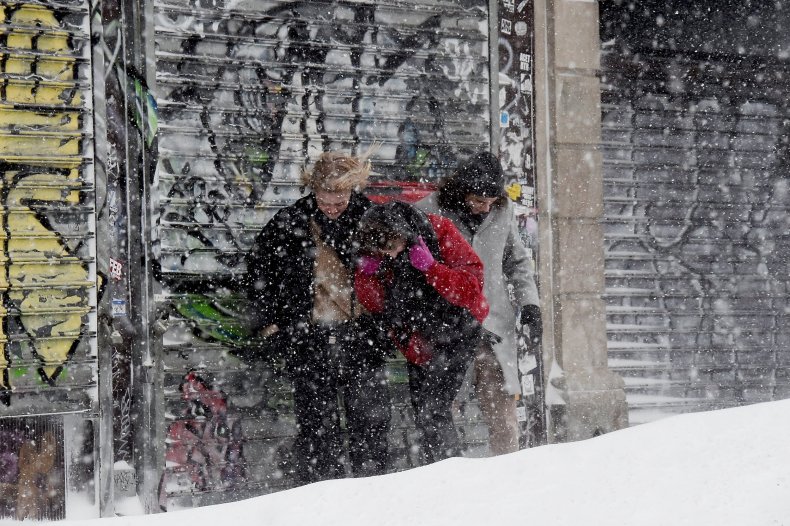 Blood seems to always be in short supply, in part because it can't be stored for long periods of time ahead of a potential disaster. In January 2017, the Red Cross announced a severe blood shortage because of "hectic holiday schedules" as well as snow storms that forced 100 blood drives to cancel. And in July 2017, summer vacation plans meant fewer blood drives, leading to another serious shortage.
The Red Cross provides about 40 percent of the country's blood supply; other organizations, like Community Blood Services in New Jersey, account for the rest.
At Community Blood Services, emergency staff were able to make blood product deliveries to hospitals. However, donation locations did have to close because of concerns about safety. Getting more from other blood centers in other parts of the country was also more difficult due to canceled flights; blood is typically delivered by FedEx and UPS aircraft.
Dennis Todd, the president and CEO of Community Blood Services, said that his organization had brought in more blood than usual from other parts of the country to prepare for the storm. However, that strategy only works for some blood products; platelets, for example, can only be stored for five days. "When you miss out on a collection day, that can become problematic," Todd told Newsweek. (Community Blood Centers is a part of Blood Systems, a non-profit organization that runs blood collection centers.)
"We need more donors," Todd said. "It's a chronic problem, and it just gets worse during these kinds of situations."