Massive Wreck at Daytona 500 Affects 16 Drivers, Race Delayed After 15 Laps
Shortly after a huge wreck Sunday at the Daytona 500, the 63rd annual Great American Race was delayed because of heavy local rains.
For the Daytona 500, which is NASCAR's first and biggest race every season, it's usually not a matter "if" a big wreck will happen, but "when" it will happen.
Last year, it happened on the final lap of the race when Ryan Newman's car flipped and turned into a fireball on the track. This year, the big one happened on the 15th lap, and it involved 16 drivers. There were no reported injuries.
The first big wreck of the day happened on the 15th lap when the front bumper of Christopher Bell's No. 20 car got underneath the back end of Aric Almirola's No. 10 car, sending Almirola's car across the track into the wall. Bell's car was actually pushed from behind on a bump draft by Kyle Busch's 18 car.
These drivers were affected by the massive wreck: Ryan Blaney, Chris Buescher, Tyler Reddick, Anthony Alfredo, Aric Almirola, Alex Bowman, Daniel Suarez, Kurt Busch, David Ragan, Ryan Newman, Matt DiBenedetto, Erik Jones, Martin Truex Jr., William Byron and Jamie McMurray.
While crews began cleaning up the mess, two lightning strikes were detected within three miles of the track, sending the race into a red flag during the 15th lap.
Should the race resume Sunday afternoon at the Daytona International Speedway, drivers will not just battle each other on the track, but mother nature as well. Rains are forecast throughout most of the afternoon and evening. Should the race reach 100 laps today before it gets suspended again, then the race would be final. If not, then it'll likely pick back up Monday where they left off from Sunday.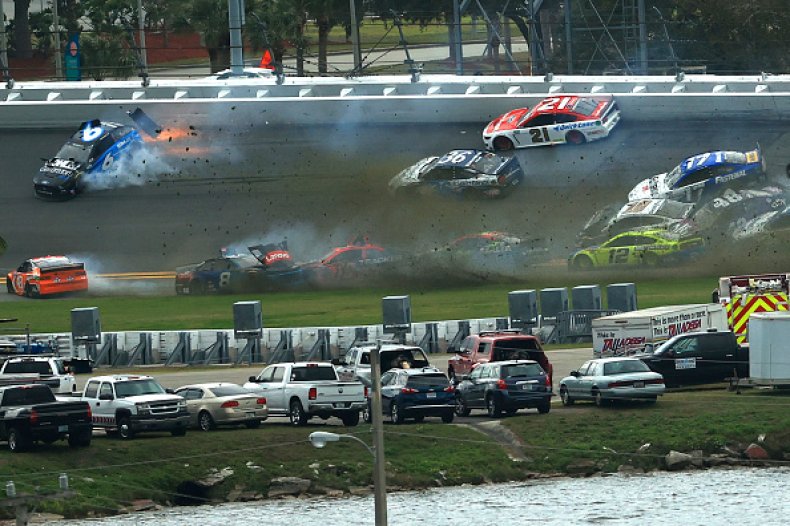 Stage 1 of the race began when Alex Bowman took the lead straight from his outside pole position, and Kevin Harvick took the lead by the fourth lap. The race saw its first caution of the day when 62-year-old Derrick Cope blew a tire in lap three while race fans held up three fingers in remembrance of Dale Earnhardt, who died on this track 20 years ago.
Harvick continues to lead the race Here is the order of drivers at the delay:
Kevin Harvick
Christopher Bell
Austin Dillon
Kyle Busch
Chase Elliott
Kyle Larson
Ryan Preece
Joey Logano
Michael McDowell
Ricky Stenhouse Jr.
Corey LaJoie
Bubba Wallace
Ross Chastain
Chase Briscoe
Cole Custer
Denny Hamlin
Kaz Grala
Brad Keselowski
Quin Houff
B.J. McLeod
Last year's Daytona 500 was won by Denny Hamlin, who claimed his third checkered flag in this race. Hamlin started in the 25th starting spot this year.
The 2020 race was rain-delayed until the next day, and Ryan Newman had a fiery crash while leading on the final lap. Newman was removed from his car and taken to a local hospital, where he was listed in critical condition for several hour. He walked out of the hospital 48 hours later.
Newman's crash last year brought eerie reminders of the Earnhardt crash, which seemed more like yesterday than 19 years earlier. Now, it's the 20th year since Earnhardt perished on February 18, 2001 at age 49.
Earnhardt, who was already a racing legend, did not win his first Daytona 500 until February 15, 1998—on his 20th attempt. He was 46 at the time.