Master & Dynamic MW08 Review: Ceramic ANC Wireless Earphones That Sparkle
There's a saying in Hollywood that an actor or actress is more of a face than a name. It means that you instantly recognize this notable person, but you might not be able to recall their name. I think Master & Dynamic suffers from the same phenomenon despite a long reputation in the audio space. They make highly iconic-looking headphones and earbuds, and yet, a few times I've mentioned them to people in person, I get a blank stare. The company's metal-and-leather headphones are the stereotype of luxury listening.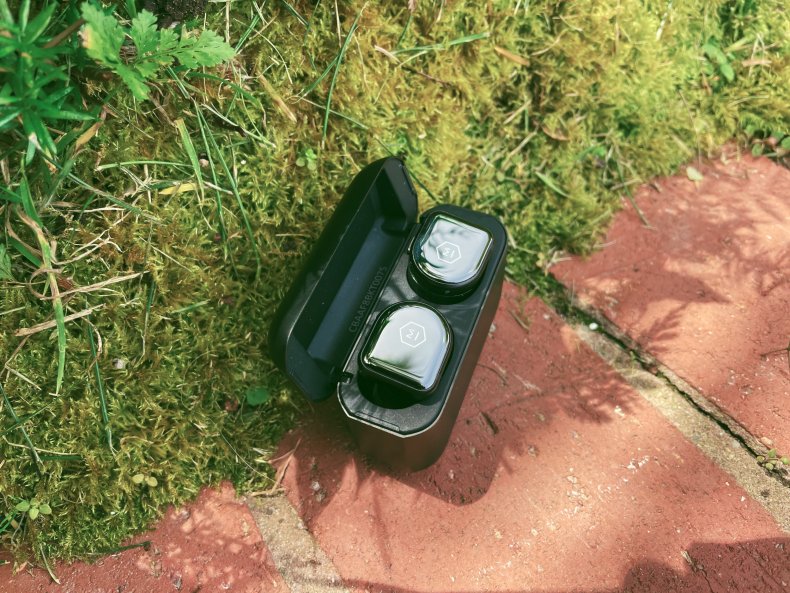 Unfortunately, I doubt these MW08 wireless, active noise-canceling earphones will alter the company's name recognition in any meaningful way, but the design remains spot-on. The point is, while these M&D wireless earphones might not elicit the same initial reaction as AirPods' or Bose's, they should still be considered among any premium audio purchasers.
The latest is definitely the greatest. I've tried and enjoyed the MW07 Plus earbuds from M&D, but with a few minor tweaks to that model, the MW08 have far exceeded expectations. In this latest iteration, the case is slimmer, the noise-canceling sounds stronger, and the sound is even richer.
Their new use of ceramic material is a top-line advertised feature, but it's their many smaller tweaks combined that are making these truly wireless earbuds really sparkle.
Design and Fit
If you didn't know the MW08 model was new, it would be easy to confuse them with past versions. M&D has a distinct look for its earphones, and it's committed to it. It would be nice to get more variety, but the company does plenty of design collaborations after it releases different models to help keep things fresh.
The MWO8 feature the addition of ceramic for the exterior. With a large, flat surface area, it's easy to see why M&D wanted the material to be scratch resistant. The use of ceramic certainly achieves that goal. It looks great, too, but it doesn't immediately appear any different than past iterations. You just have to trust that these are more durable in the long run.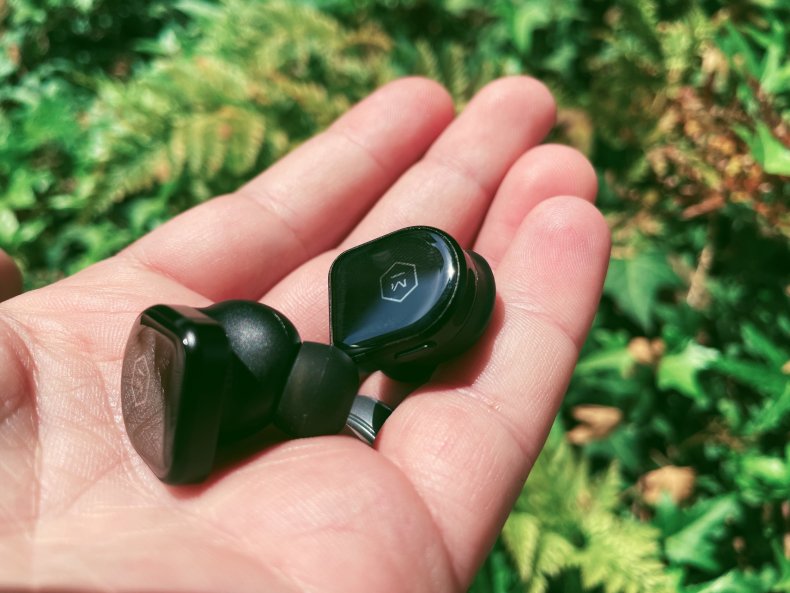 The MW08 don't use rubber wingtips to help secure the earbuds in your ears. They come with different-size ear tips in the box but no wings like the MW07 Plus did. I was expecting this to affect the secure fit negatively, but it didn't. The earbuds still fit my ears well. In standard, everyday use, they never felt like they might fall out. I did a quick lap around the block to see if they handled more jostling. They didn't fall out but didn't feel as secure in my ears during the jog. I would be hesitant to use them for heavy exercise for this reason.
They still fit similarly to past M&D earphones, but they feel ever so slightly more refined. It's hard to put my finger on exactly why that is. If you've been happy with other models in this line, you should be content here, as well.
Performance
I took the MW08 on a plane ride recently to hear how their active noise-canceling worked in a common real-world situation. Here, these earbuds impressed again. They easily blocked out most of the plane noise, so I could watch The Falcon and the Winter Soldier at a comfortable volume.
I also brought a pair of AirPods Pro along for comparison. It's hard to quantify the results, but they both performed to a similar, high level. If pushed, I would probably give the edge to Apple's pro earbuds, but it was close.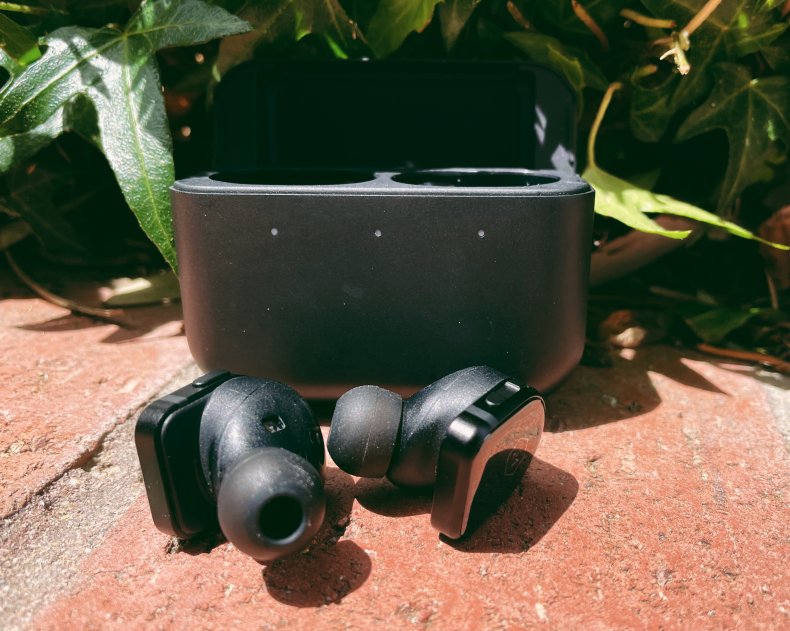 Another area the MW08 improved over the MW07 Plus is with their new, larger 11 mm beryllium drivers. Bigger acoustic drivers can widen the soundstage for better sound. Most people would be hard-pressed to be able to attribute a sound improvement to certain components. Knowing the drivers have increased in size, however, does explain why the audio quality is even better and remains top-notch.
If the tie for ANC performance went to Apple, I would say Master & Dynamic gets the slight edge in a head-to-head comparison of audio quality. The MW08 have a robust range of low-end frequency and warm, accurate mids and highs. Music sounds fantastic.
There are plenty of chill pop songs that like to round out the low-end with bass that knows no depths. "Bleachers" from Dizzy is one of those tracks and is faithfully represented listening on these earbuds. Chasing Highs, Tep No's latest album with KT Tunstall is another fun example that has engulfing bass throughout. Take a listen on your current headphones and if you don't hear it, you may need a new listening device. Overall, the sound quality produced on the MW08 is pristine and makes the music you're listening to come alive.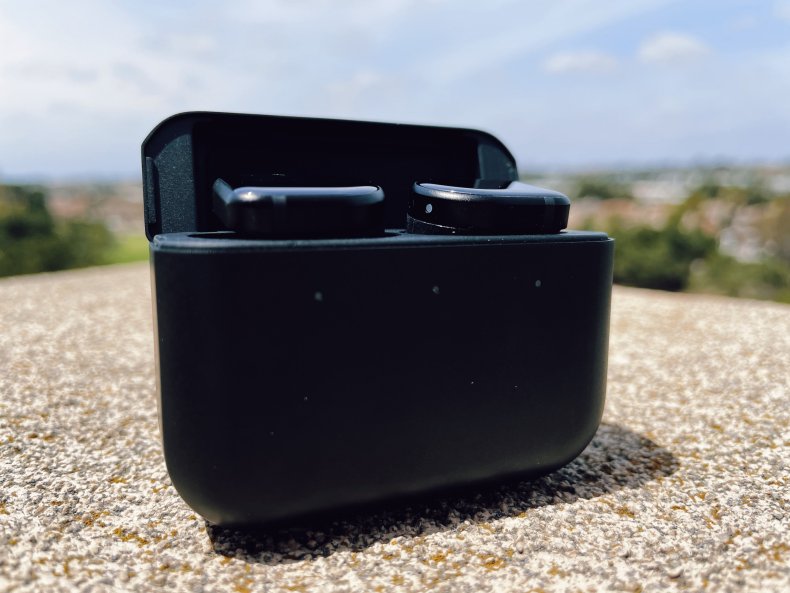 To keep the music flowing, the MW08 hold 12 hours of listening time, or 10 hours if you have ANC turned on. That's quite remarkable compared with a majority of wireless earbuds that get 5 to 6 hours per charge on average. The stainless steel charging case that holds the earbuds adds an extra 30 hours of battery life. One area I have never needed M&D to improve on is its battery life—it has always been quite generous.
The charging case cannot be recharged wirelessly. It's a very minor knock against it, but with the longevity it provides, I think it's a fair trade-off.
Should You Buy M&D MW08 Earphones?
The MW08 retail for $299, easily making them a premium, luxury product in their listening category. They should certainly be a consideration for anyone already shopping at this price point. These don't necessarily make the case that budget buyers should blow their savings to reach outside their spending level.
I love the full sound M&D can provide with these wireless earphones. Even testing past models, I sometimes overlook the high-end features and sound the company delivers. These earbuds are an all-around great example of how continued refinement of a product may make all the difference. The MW08 certainly inch it closer to being a more memorable name in my collection.
Newsweek may earn a commission from links on this page, but we only recommend products we back. We participate in various affiliate marketing programs, which means we may get paid commissions on editorially chosen products purchased through our links to retailer sites.